Priest Compares 'Satanic' Astroworld to 'Gates of Hell'
A priest and exorcist has likened Travis Scott's Astroworld to the "gates of Hell" and has labeled the festival "satanic."
Father Michael Maginot appeared on Fox News on Monday night where he spoke to Jesse Watters about the fatal crowd surge at the concert and he blamed Satanic influences.
As of Monday, the death toll from the Houston, Texas festival stands at 10, after a nine-year-old boy, Ezra Blount, died from the injuries he sustained at the event and a 22-year-old woman, Bharti Shahani, also passed away from her injuries this week.
Leaked documents from Houston firefighters suggest that the crowd was spiraling out of control 12 hours before Scott eventually ended the show.
Attendees have widely described the experience as "hellish" and immediately after the concert, conspiracies that the festival was a "blood sacrifice" began spreading on social media.
Much of the rapper's promotional material for the festival is centered on demonic imagery and symbolism.
"The entrance of the concert seemed to be the mouth of the singer and everyone had to kind of go in through that," Maginot, a catholic priest, said on Fox News, per Mediaite.
"And certainly for a demon, the mouth is the prime part of one's body that it would like to take over because it could communicate and talk."
The slogan for the festival was "See you on the other side," which has not aged well due to the deaths that occurred.
"It seemed like it wanted you to go to the other side and so it did seem, you're kind of going down, you know, Dante's Inferno, various stages of hell," Maginot said. "People are kind of being induced to push forward not realizing the havoc you could cause."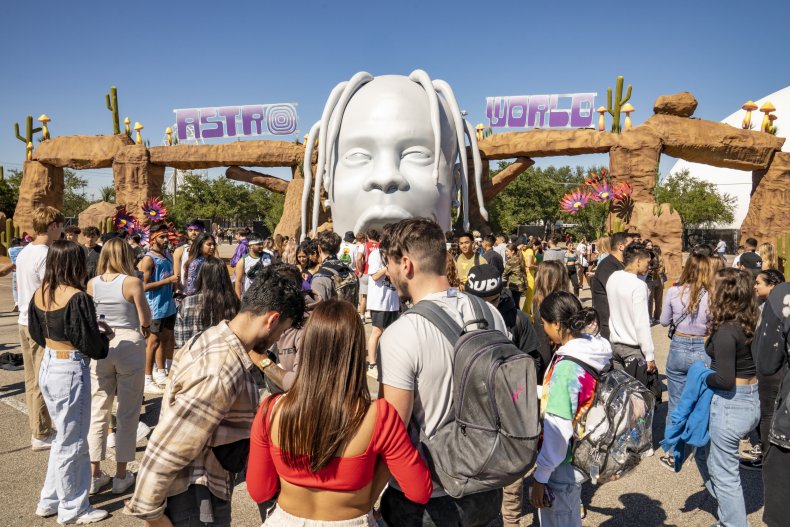 Watters then asked if Scott's lyrics "indicated any sort of satanic leaning."
"Certain vibrations and drum beats and riffs and things get to motivate a person like any music can," Maginot replied. "But this one does seem to be dark and leading to the darker side of things."
The priest said that the stage on which Scott performed resembled the "gates of Hell" and said it seemed like "you're kind of going down Dante's inferno, the various stages of hell."
Maginot also said that "demons" like to "create a mob mentality"—which he compared to flash mobs and protests.
"It waters down moral responsibility and so if everyone is doing it, then it takes away our own personal responsibility for what is happening," he said. "And they love that because they could create a lot of havoc without people questioning it."
A criminal investigation into the incident is ongoing and Scott is facing multiple lawsuits.