Prince Andrew's Ex-Wife Says She Still Loves Him Despite Jeffrey Epstein Accusations
Prince Andrew's ex-wife Sarah Ferguson said "I still love him today" as Queen Elizabeth II's son prepares for a court showdown on Jeffrey Epstein allegations.
In January, the Duke of York will attempt to have allegations he sexually abused a 17-year-old trafficking victim thrown out at a New York court.
Now, his ex-wife Sarah Ferguson, who he remains close to, has told French magazine Madame Figaro Andrew is a "good man."
She said: "I loved him and I still love him today. I will stay by his side, because I believe in him. He is a good man."
The magazine's reporter said the duchess gave a knowing wink while her advisers broke into cold sweats at the reference to a subject they had suggested should be off limits.
Ferguson, nicknamed "Fergie" by the U.K. press, told Madame Figaro she was the most persecuted royal woman in British history, despite the experiences of Henry VIII's wives, not to mention Princess Diana who experienced self-harm and bulimia.
Ferguson told the magazine: "I was maybe the most persecuted woman in the history of the Royal Family, but I'm still here. The bruised reed that doesn't break is in my DNA."
Her defense of Andrew comes despite the fact Epstein was invited to their daughter Princess Beatrice's 18th birthday party.
Virginia Giuffre also accused Andrew of having sex with her at the London townhouse of Ghislaine Maxwell on a night the prince says he was supposed to be at home with his daughters. The duke denies having sex with Giuffre.
Andrew told the BBC in November 2019: "On that particular day that we now understand is the date which is the 10th of March, I was at home, I was with the children and I'd taken Beatrice to a Pizza Express in Woking for a party at I suppose sort of 4 p.m. or 5 p.m. in the afternoon.
"And then because the duchess was away, we have a simple rule in the family that when one is away the other one is there. I was on terminal leave at the time from the Royal Navy so therefore I was at home."
Giuffre included a photograph she says was taken by Epstein on the night of Andrew with his arm around her at Maxwell's home.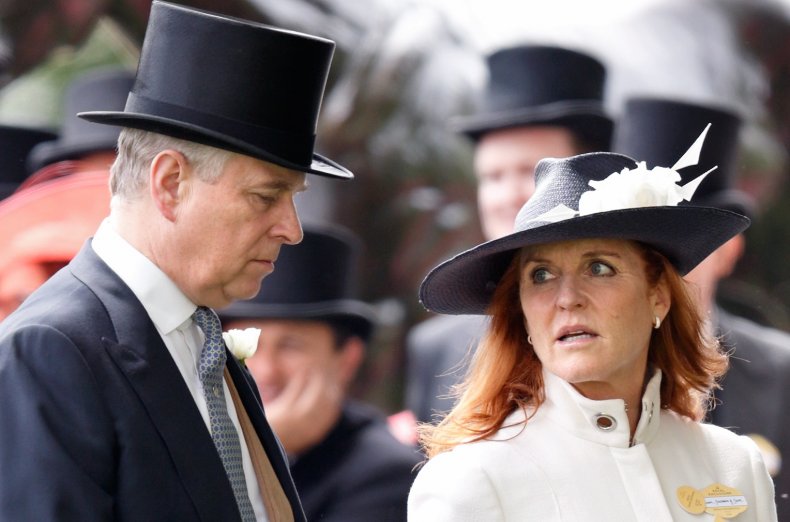 Her lawyers said in a court filing she was made to have sex with Andrew in London, New York and the U.S. Virgin Islands and feared death if she refused.
The prince has asked the judge to throw the case out on the basis Giuffre signed a settlement agreement with Epstein which released certain individuals from future litigation.
However, her lawyers argue Prince Andrew is not covered by the document and the lawsuit should go ahead. A hearing has been set for January 4 when the two parties will get the chance to make their case in court.
In the meantime, Andrew's team has been set a deadline of December 13 to reply to Giuffre's lawyers' counter-arguments on the issue of whether or not the case is dismissed.
A recent court filing by Giuffre's lawyers reads: "In November 2019, after Epstein's second arrest and death in federal custody, Prince Andrew voluntarily sat for an interview with the BBC. During that interview, Prince Andrew said that he could not recall ever meeting Ms. Giuffre, a denial so at odds with photographs and other evidence that it is itself indicative of guilt."
Prince Andrew told the BBC in 2019: "I can tell you categorically I don't remember meeting her at all. I do not remember a photograph being taken and I've said consistently and frequently that we never had any sort of sexual contact whatever."