Prince Andrew Lawsuit Over Jeffrey Epstein Is 'Game Over' for Queen's Son, Lawyer Says
Prince Andrew could "lose his reputation utterly" through a lawsuit brought by a Jeffrey Epstein accuser in New York, a leading privacy lawyer has told Newsweek.
Virginia Giuffre is suing Andrew, the Duke of York, for sexual assault and battery through a court filing that says she was forced to have sex with him when she was 17 years old.
Queen Elizabeth II's second-eldest son must now decide whether to engage in the court process or try to avoid being dragged into the civil lawsuit. He has previously denied any wrongdoing.
He is not facing criminal charges and would not be extradited to America, but the court could rule against him in his absence and award damages to Giuffre.
Amber Melville-Brown, a partner and global head of media and reputation of international law firm Withers, told Newsweek: "Reputationally it may already be effectively 'game over' for Prince Andrew despite the lack of any court decision, and notwithstanding his vehement denials."
She added: "From a reputational perspective, Prince Andrew may be damned if he does respond to the allegations and defend the complaint, and damned if he doesn't.
"Silence in the face of accusations is not necessarily golden—while it may be a proper part of any legal defense strategy, to the public it may evidence improper disrespect for the court system; and while being vocal outside court may seem obvious to defend a reputation from serious accusations, it can be catastrophic if contrary to the strategy employed in court to defend the claim."
Giuffre's lawsuit says she feared for her life if she did not have sex with Prince Andrew in London, New York and on Epstein's private island, Little St James.
She is seeking damages for psychological harm inflicted during the three alleged incidents and the lawsuit alleges that Andrew knew her age after being told by Epstein and his former lover, Ghislaine Maxwell.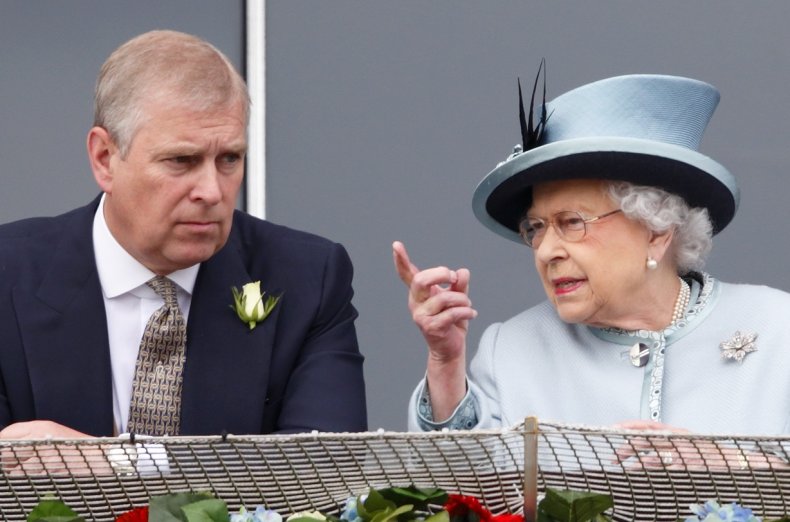 In Focus
Prince Andrew and Queen Elizabeth II watch the racing as they attend Derby Day of the Investec Derby Festival at Epsom Racecourse on June 1, 2013 in Epsom, England. Prince Andrew is being sued in New York by Virginia Giuffre, who says she was forced to have sex with him.
Launch Slideshow

3 PHOTOS
Georges Lederman, who specializes in criminal litigation for Withers, told Newsweek that if Andrew does not answer the complaint, the court could rule against him and award damages to Giuffre.
He said: "It is often the case that an alleged crime can also serve as the basis for civil lawsuits, which is what Virginia Giuffre appears to be doing here.
"If Prince Andrew fails to appear to answer a civil complaint, a default judgment will be entered against him, and Giuffre presumably would receive a monetary award that she would seek to satisfy by attaching Andrew's assets to the extent of the award."
Serving Prince Andrew
The first challenge for Giuffre's team may be serving Andrew with papers while he is in Britain, living at Royal Lodge, in the private grounds of Windsor Great Park.
However, if Andrew does engage with the lawsuit he still has the option to try to negotiate an out of court resolution.
Arick Fudali, of New York-based The Bloom Firm, which represents nine alleged Epstein victims, told BBC Radio 4: "Very few cases actually end up in trial especially these very high profile ones.
"Even once a case is filed, assuming it even gets to litigation, there's always a very strong possibility cases could be resolved or settled in the middle before litigation.
"But what this certainly does is it preserves the claim and puts pressure on the defendant."
He added that "there's absolutely a chance" the case could make it to a full court hearing and said: "I would be confident if I was the plaintiff [Giuffre] going in front of a jury."
One source of the pressure on Prince Andrew may be his existing finances after he was forced to sell his $23 million Alpine home Chalet Helora, in May last year.
He was sued over an $8 million unpaid bill to the previous owner left over from his purchase of the property.
For Giuffre, the plaintiff in the case, time was running out; alleged Epstein victims had been given a deadline for filing civil cases which was due this Saturday.
Melville-Brown told Newsweek: "Let's not forget that a plaintiff in any litigation also risks his or her own reputation when taking the stand, or speaking out in public, where they may be accused of falsifying, being fantasists or unfairly seeking compensation.
"Both parties have a lot to lose, but they also have their reputation to gain and defend.
"If Prince Andrew doesn't pick up the glove thrown down and engage in the fight, the perception may be that he is cowardly or has something to hide; if he strides into the dual to clear his name and face his accuser head on, he may ultimately lose the legal action, and lose his reputation utterly."
A court filing by Giuffre's lawyers states: "This suit arises out of Defendant's sexual abuse of [Giuffre] when she was under the age of 18 years old."
In November 2019, Prince Andrew told the BBC: "It didn't happen. I can absolutely categorically tell you it never happened. I have no recollection of ever meeting this lady, none whatsoever."
Prince Andrew's representatives declined to comment on the lawsuit.