Prince Charles and Camilla were struck by COVID during a series of public visits just days after it was announced she is destined to be queen.
Royal policy since their 2005 wedding had always been that the Duchess of Cornwall would be known as princess consort rather than queen consort when the Prince of Wales becomes King.
That was designed to show respect to Princess Diana, Charles' first wife, who was originally expected to serve as queen by his side.
However, Queen Elizabeth II used a public message on the eve of her Platinum Jubilee year to say she wants Camilla to be queen rather than a princess.
The announcement was a major victory for Charles, who has been campaigning internally for the change for years.
However, the couple's victory lap was soured within days when they were both hit with COVID.
Prince Charles canceled a visit to Winchester on February 10 after testing positive that morning, Clarence House confirmed in a statement.
The evening before he was pictured at a British Asian Trust event with Chancellor Rishi Sunak and Home Secretary Priti Patel.
Camilla went ahead with several visits that day, including to community kitchen The Nourish Hub, in West London, where she took part in a cookery demonstration with refugees.
The duchess also reacted to the news of her planned Queen Consort title for the first time, saying: "I feel very touched. I feel very, very honored."
However, Clarence House confirmed she too has now tested positive for COVID, in a statement released on Valentine's Day.
The statement, released to Newsweek, said: "Her Royal Highness The Duchess of Cornwall has tested positive for COVID-19 and is self-isolating. We continue to follow government guidelines."
Both royals have been triple vaccinated, but cannot continue with their public engagements while they have the virus.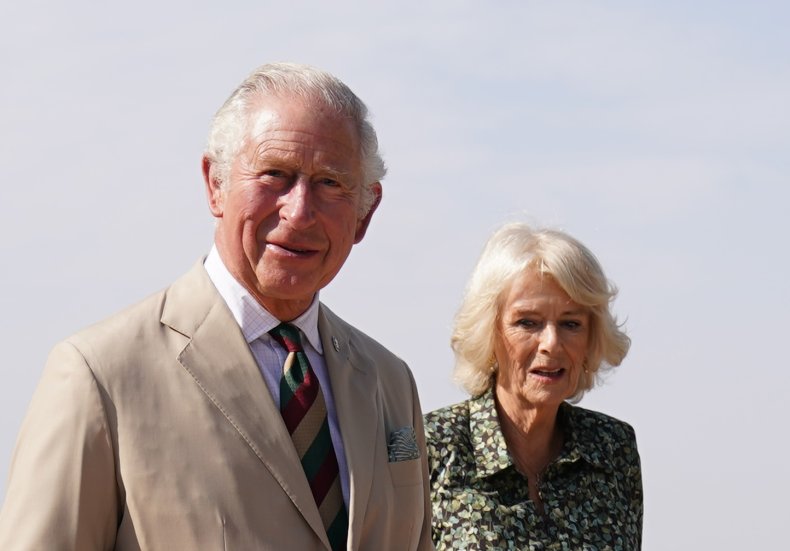 Palace sources said the queen had met Charles within days of him being positive, adding that she does not have symptoms, and giving no indication of whether she took a test.
Elizabeth's message on Camilla's future status was released on February 5 and read: "I remain eternally grateful for, and humbled by, the loyalty and affection that you continue to give me.
"And when, in the fullness of time, my son Charles becomes King, I know you will give him and his wife Camilla the same support that you have given me; and it is my sincere wish that, when that time comes, Camilla will be known as Queen Consort as she continues her own loyal service."
Charles responded a day later with his own message, reading: "We are deeply conscious of the honour represented by my mother's wish. As we have sought together to serve and support Her Majesty and the people of our communities, my darling wife has been my own steadfast support throughout."