Prince George Got 'Masterclass in Cursing' at First Wimbledon Final
On Sunday, Prince George watched an expletive-laden Wimbledon tennis final which, according to social media users, gave him "a masterclass in cursing."
Novak Djokovic won the Wimbledon men's singles final but not before his opponent Nick Kyrgios treated spectators, including the eight-year-old royal and his parents Prince William and Kate Middleton, to a dose of colorful language.
Viewers at home picked up on the contrast between the 27-year-old Australian's behavior on Centre Court and the genteel nature of palace life.
Alex Beresford, the TV weatherman who famously argued with Piers Morgan about Meghan Markle on Good Morning Britain, wrote on Twitter: "Prince George learning some new words for school tomorrow."
While Ryan Gaydos, Fox News sports editor, wrote: "Prince George is getting a masterclass in cursing today."
"Commentator at Wimbledon described Nick Kyrgios' unpleasant characteristics then added that despite that we all love him," royal biographer Angela Levin added. "Really? Insulting [umpire], swearing in front of Prince George, shouting at all sorts of people. You must be joking."
Beyond his X-rated outbursts, Kyrgios also had strong words for the umpire about a woman who he said was heckling him.
"Why is she still here? She's drunk out of her mind and speaking to me in the middle of a game," he said.
Asked to identify the woman, he added: "The one who looks like she's had about 700 drinks."
There appeared to be no hard feelings in the royal box, however, as William and Kate used their official Twitter account to pass on their commiserations to the Wimbledon runner-up.
They posted: "Congratulations@DjokerNole on another @Wimbledon Men's singles Championship. And commiserations to @NickKyrgios, it won't be last time we see you on finals day."
There was also no sign anything said during the tense final dampened Prince George's spirits as met champion Djokovic afterward and got to hold the trophy.
William introduced the Serbian star to his firstborn son, who said his first experience in the stands at Wimbledon was "great."
The Duke of Cambridge told his son "don't drop it" as George, dressed in a suit and tie on a hot English summer day, took the trophy.
Kate lifted it out of his hands after about 30 seconds and returned it to the champion, after apparently becoming concerned the lid might fall off.
The Duchess of Cambridge is patron of the All England Lawn Tennis and Croquet Club and attended both the men's singles final and the women's singles final.
However, William and George only accompanied her to the men's event on Sunday, July 10.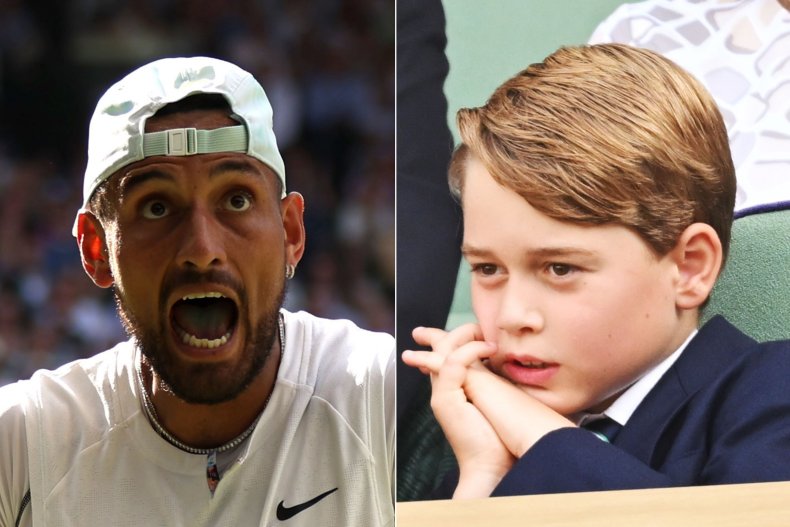 For more royal news and commentary check out Newsweek's The Royal Report podcast: