Prince Harry Cries During Vigil for His Grandmother Queen Elizabeth II
The last week has been emotional for the family of the late Queen Elizabeth II, and Prince Harry shed some tears on Wednesday for his grandmother at a vigil in her honor.
Prince Harry and Prince William walked side-by-side in a procession behind the Queen's coffin as it was carried from Buckingham Palace to Westminster Hall on Wednesday. They were later joined by their wives, Kate Middleton, the Duchess of Cambridge and newly appointed Princess of Wales, and Meghan Markle, the Duchess of Sussex, at the Service for the Reception of Her Majesty's Coffin.
According to Entertainment Tonight, the vigil was solemn in nature, with both Kate and Meghan in black dresses and matching black fascinator hats, and sentimental jewels both gifted to them by the Queen. Prince William donned his military uniform while Prince Harry wore a black mourning suit adorned with military medals.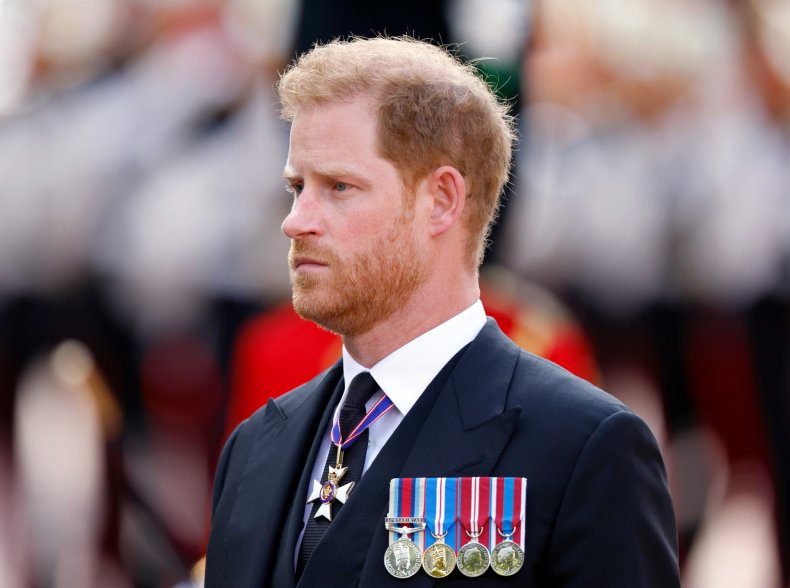 In one touching moment, the Duke of Sussex could be seen wiping a few stray tears from his eyes.
Before filing out of the hall after the service, Harry and Meghan took each other's hands as they walked, which triggered criticism from some people online who branded the act of affection disrespectful.
"The Royal Family leave our beloved Queen in Westminster Hall with grace and dignity except for Harry and Meghan who just have to hold hands like two lovesick teenagers," said one user on Twitter. "They really get on my nerves."
Others defended the Duke and Duchess, including James O'Brien, a host on popular U.K. radio station LBC, who said on the air that critics of Meghan and Harry were "vicious vile individuals."
"A man who has suffered the unimaginable pain of being compelled to walk behind his mother's coffin in the eyes of the entire world held his wife's hand as they came out of a ceremony that would have brought back memory after memory after memory of the worst day of his life, or the second worst day of his life after discovering he'd lost his mum," O'Brien said.
Prince Harry and Prince William no doubt were reminded of their mother Princess Diana's procession and funeral on Wednesday, as the Queen's followed much of the same route that they took 25 years ago this month.
Prince William told several well-wishers in Sandringham on Thursday that walking behind the coffin in the procession for the Queen was "very difficult." According to royal reporter Richard Palmer, "Prince William told a woman sympathising [sic] with him at Sandringham that the procession yesterday had been 'very difficult' and had reminded him of walking behind his mother's coffin. He told another woman: 'Don't cry now, you'll start me.'"
Queen Elizabeth II died on September 8 at Balmoral, her home in Scotland where the young William and Harry were when they learned Diana had died in 1997. Their grandmother kept them in the privacy of the Aberdeenshire castle to allow them to grieve before they had to travel to London for their mother's funeral.
The queen's body will remain at Westminster Hall before a second smaller procession will take her to Westminster Abbey on Monday, September 19, the morning of her funeral.
Newsweek reached out to a representative for the Royal Family for comment.