Prince Harry has had his first publicly confirmed royal visitor to California since moving to America in 2020.
The Duke of Sussex was pictured with Princess Eugenie at the Super Bowl, where they watched the Los Angeles Rams beat the Cincinnati Bengals 23-20.
The pair sat with their masks on at the SoFi Stadium in Los Angeles and were filmed by TV cameras while Meghan Markle stayed at home.
Eugenie, daughter of Prince Andrew, had a special role in her cousin's relationship to wife Meghan and also a parallel experience of the friction of royal life dating back to the 1990s.
The Duchess of Sussex told Oprah Winfrey in an interview in March, 2021 how she knew Eugenie before meeting Harry and how she was also present the first time Meghan met Queen Elizabeth II.
She said: "Eugenie and I had known each other before I knew Harry, so that was comfortable and it turned out the Queen was finishing a church service in Windsor and so she was going to be at the house [Prince Andrew's home at Royal Lodge]."
The princess has shown support for the duchess before, including in August, 2021 when Meghan launched her 40x40 campaign to encourage people to give 40 minutes of mentoring to support women.
Eugenie shared a message on her Instagram stories which read: "To celebrate dear Meghan's 40th birthday, I'm contributing 40 minutes of mentorship to support women reentering the workforce."
However, the connection goes deeper even than that since Harry and Meghan's children, Archie and Lilibet, occupy a similar place in the royal pecking order to Eugenie and her sister Princess Beatrice.
Andrew, like Harry, was the "spare" second son needed only in the event his older brother Charles would not take the throne.
Charles, however, moved to slim down the Monarchy in the 1990s, decreasing the number of working royals paid public money for their service.
Historian Robert Lacey described in Battle of Brothers how this had implications for Beatrice and Eugenie in echoes of the future dispute between Harry and his father more than two decades later.
The royal author wrote: "The Prince of Wales pursued his theme hard, with Andrew resisting fiercely on behalf of Edward and himself—and particularly his own daughters Beatrice and Eugenie, eight and six in 1996.
"Andrew saw royal service as the perfect career path for both his girls, and he also pointed out that if Charles really did intend to limit the family workforce in this drastic fashion, it would make a heavy load for William and Harry, which they would surely appreciate sharing with their female cousins."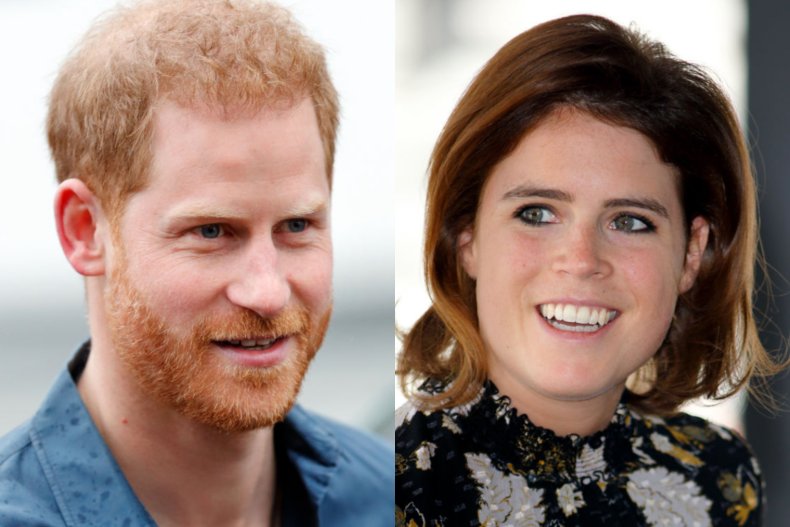 Prince Andrew succeeded in fighting his own corner and also that of his brother Prince Edward but Eugenie and Beatrice did not ultimately become working royals.
The sisters also had their police protection removed in 2011, shorty after graduating university.
Harry got into a dispute with the royals over whether son Archie Mountbatten-Windsor would get police protection.
Meghan told Oprah that when she was pregnant: "That was when they were saying they didn't want him to be a prince or a princess—not knowing what the gender would be, which would be different from protocol—and that he wasn't going to receive security."
After the bombshell tell-all, a source told Newsweek Harry and Meghan wanted their children to get a level of security protection equivalent to what the royals gave Eugenie and Beatrice.
The conflicts over slimming down the monarchy may make Eugenie uniquely placed to understand Harry and Meghan's perspective at a time when some major royal events loom.
It is still unclear whether the Sussexes will attend a service of Thanksgiving in memory of Prince Philip at Westminster Abbey in March.
And Queen Elizabeth II celebrates her Platinum Jubilee over a four day weekend in early June when there will be military parades, a pageant and a star-studded concert at Buckingham Palace.
Harry and Meghan's attendance is in doubt, however, against the backdrop of a lawsuit the prince filed against the U.K. Home Office for removing his police protection.