Prince Harry Faces Crucial Decision on Royal Relations Amid Rift
Prince Harry must choose whether or not to return to Britain for a service of thanksgiving for his late grandfather, Prince Philip, amid an ongoing dispute over his security.
Royals will gather at Westminster Abbey in London on March 29 to remember the life of Queen Elizabeth II's husband of 73 years, who died on April 9, 2021.
However Harry, the Duke of Sussex, is suing the British government at the High Court in London for not providing him police protection, despite his offering to personally cover the financial cost.
He, wife Meghan Markle and their two children—now based in California—"are unable to return to his home" without London's Metropolitan Police protection, a legal representative said in January.
If the government do not provide security, Harry may choose not to join the rest of his family during a sombre moment in his grandfather's honor.
Harry did attend Philip's funeral at St George's Chapel, in Windsor, in April 2021, and was provided police protection in recognition of the terror threat attached to the event.
However, he was not offered a security detail when he visited again in July 2021, to help unveil a statue of his mother, Princess Diana, at Kensington Palace in London.
The service for Philip will be the first big test of the duke's stand, as outlined by his legal representative, in the queen's Platinum Jubilee year.
Further events in honor of the queen are scheduled for early June, with all eyes on whether Harry and Meghan will make their first public appearance on the Buckingham Palace balcony since 2019.
If they do, it would help position them as royal insiders rather than outsiders ahead of the planned release of Harry's memoir towards the end of 2022.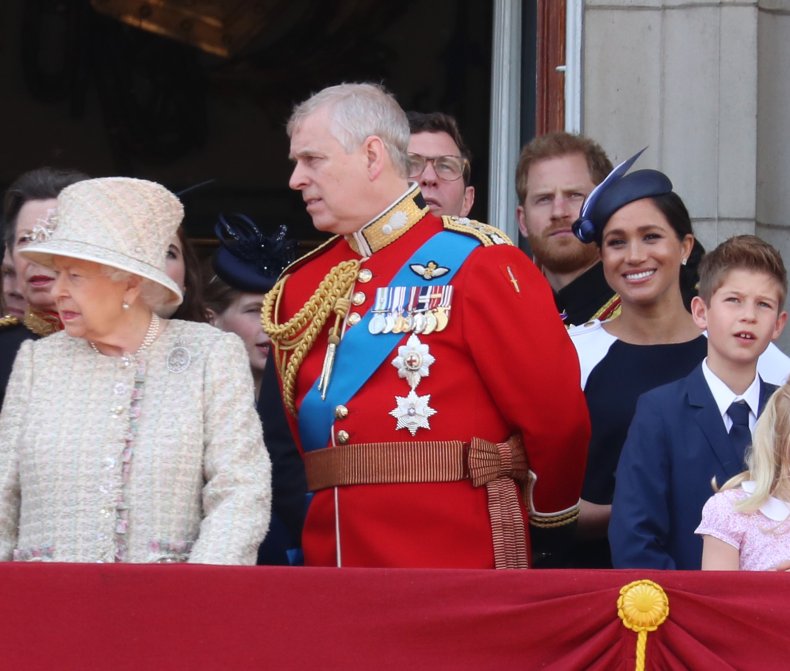 Harry may also wish to visit Europe in April for his Invictus Games sports tournament for wounded, injured and sick servicemen and women.
The decision on which events to attend comes at a time when Harry and Meghan have again slipped in U.K. opinion polls, having made a partial comeback at the end of 2021.
Prince Harry's net approval rating was on +1 and out of negative numbers for the first time since the Oprah Winfrey interview.
However following the lawsuit and public comments about Joe Rogan and COVID-19 misinformation, he slipped back down to -13, according to research by JL Partners for Daily Mail—a newspaper whose sister title, Mail on Sunday, was found in December to have invaded Meghan's privacy.
Harry's legal representative said in January that the prince "inherited a security risk at birth, for life."
"He remains sixth in line to the throne, served two tours of combat duty in Afghanistan, and in recent years his family has been subjected to well-documented neo-Nazi and extremist threats.
"While his role within the Institution has changed, his profile as a member of the Royal Family has not. Nor has the threat to him and his family.
"The Duke and Duchess of Sussex personally fund a private security team for their family, yet that security cannot replicate the necessary police protection needed whilst in the UK. In the absence of such protection, Prince Harry and his family are unable to return to his home."