Prince Harry Interviews Oprah Winfrey and Lady Gaga Cries in Mental Health Show
Prince Harry is shown at his mother's funeral in the trailer for his new docuseries while both Oprah Winfrey and Lady Gaga are left in tears.
Promotional material for "The Me You Can't See" suggests the celebrity guests get into some intense subject matter as they well up recalling their past struggles.
Prince Harry and Oprah teamed up for the project, which sees the duke turn the tables on his own superstar interviewer.
While their CBS prime time special saw Oprah guide Harry through his experiences leaving the royal family, their latest project sees the prince ask her the questions.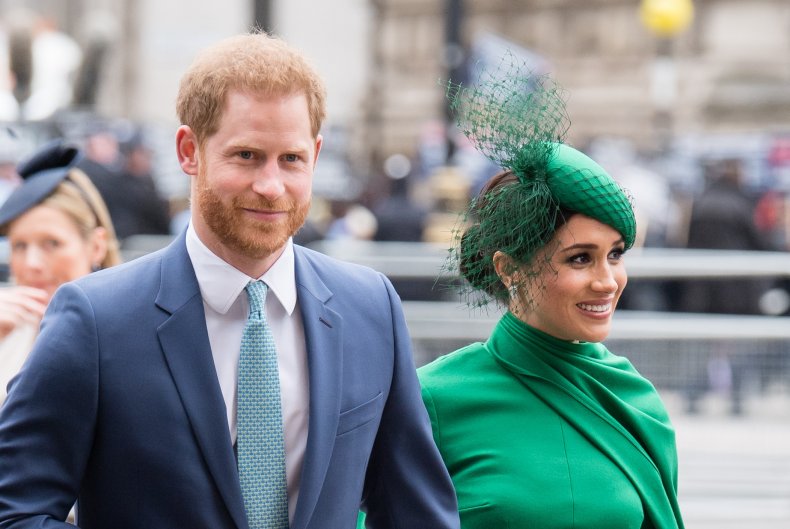 Harry says: "What words have you heard around mental health? Crazy?"
Oprah replies: "Lost it? Can't keep it together. With that stigma of being labeled the other, the telling of the story being able to say this is what happened to me is crucial."
And as her own contribution clearly got more emotionally intense, Oprah's voice cracks as she says: "It's just something I accepted."
In another section of footage, Prince Harry tells her: "To make that decision to receive help is not a sign of weakness.
"In today's world more than ever it is a sign of strength."
The trailer also hints at Harry's own past trauma inside the royal family, showing an image of Prince Charles whispering in his ear at the funeral of Princess Diana.
They are surrounded by the public, behind crowd control barriers, as they watch her coffin being carried past.
The image plays against the backdrop of the narration: "Treating people with dignity is the first act."
In 2017, Prince Harry told Newsweek how strongly he felt about being forced to walk behind his mother's coffin in the glare of the public eye aged just 12 and around a week after her death.
He told Newsweek: "My mother had just died, and I had to walk a long way behind her coffin, surrounded by thousands of people watching me while millions more did on television.
"I don't think any child should be asked to do that, under any circumstances. I don't think it would happen today."
The trailer does not show Prince Harry discussing the funeral, his mother or his relationship with his father and it is not clear whether he will during the full series.
However, the inclusion of the photograph comes after he last week described experiencing "genetic pain" inflicted during childhood by his upbringing.
He told the Armchair Expert podcast: "I don't think we should be pointing the finger or blaming anybody, but certainly when it comes to parenting, if I've experienced some form of pain or suffering because of the pain or suffering that perhaps my father or my parents had suffered, I'm going to make sure I break that cycle so that I don't pass it on, basically.
"It's a lot of genetic pain and suffering that gets passed on anyway so we as parents should be doing the most we can to try and say, 'you know what, that happened to me, I'm going to make sure that doesn't happen to you'."
Lady Gaga is also shown discussing her mental health during the trailer.
She said: "I don't tell this story for my own self service. I've been through it and people need help."
She is then tearful as she added: "I just froze and I just..."