Prince Harry Says Baby Lili is 'Chilled,' Archie 'Running Around like Crazy'
Prince Harry said newborn baby daughter Lili is "chilled," but conceded having two children "is definitely a juggle" at a U.K. charity event attended by Ed Sheeran.
The Duke of Sussex was asked about Lilibet Diana Mountbatten-Windsor when he met the "Bad Habits" singer in London on Wednesday.
The pair had a dad chat after the musician's own wife, Cherry Seaborn, gave birth to their baby daughter Lyra in August 2020.
Hello! reported Sheeran said: "Congratulations, a girl right? We just had a little girl ten months ago now. You're still in the trenches now! How do you manage with two?"
The duke replied: "Two is definitely a juggle."
The pair met at the 2021 WellChild Awards at Kew Gardens, in West London, where the prince was introduced to this year's winners.
Hello! reported Harry chatted to another guest about Lili, saying: "We've been lucky so far, she's very chilled and seems happy to just sit there while Archie is running around like crazy."
The event was Harry's first in person charity gig on U.K. soil since he quit the royal family at the end of March 2020.
He flew into Britain over the weekend and isolated at his British home, Frogmore Cottage, ahead of a face-to-face meeting with his warring brother Prince William at Kensington Palace today, Thursday, July 1.
However, he was out of coronavirus quarantine in time to make the WellChild Awards in person, giving a moment of excitement to the children present.
Among those honored, Harvey Eustace, who is autistic and has ADHD, met Harry after he was given "Special Recognition" for designing a memory garden in his local park.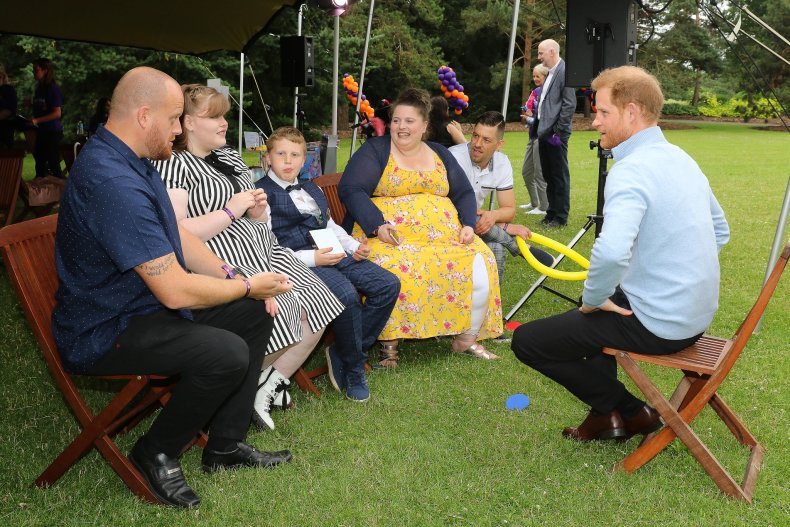 In Focus
Prince Harry at a private garden party during the 2021 WellChild Awards at Kew Gardens, in West London, on June 30, 2021.
Launch Slideshow

3 PHOTOS
His mother Stephanie Freeman said: "He [Harry] was saying the baby [Lili] is lovely. He was so down to earth, it was really nice to see him back here."
And in a statement released to Newsweek, Harry said: "Since becoming patron of WellChild in 2007, this organization and the people within it have held an extraordinarily special place in my heart.
"I wasn't a father at the time, and yet the stories of these children and parents transcended that. I didn't need to be a dad to feel the impact of this invaluable work.
"Now as a father of two, I feel all the more connected, inspired and in awe of the resilience of these families, who power through indescribable challenges with the support of WellChild."
Prince Harry recorded a video message for winners of The Diana Awards 2021, published earlier this week.
In it, he spoke about the statue unveiling today, which will mark what would have been Princess Diana's 60th birthday.
On Monday, he said: "Later this week, my brother and I are recognizing what would have been our mom's 60th birthday, and she would be so proud of you all for living an authentic life with purpose and with compassion for others.
"Our mom believed that young people have the power to change the world. She believed in your strength because she saw it day in and day out, and in the faces of young people exactly like you, she witnessed a boundless enthusiasm and passion."
The 2021 WellChild Award Winners
Carmela Chillery-Watson (Inspirational Child 7-11)
Anzah Arwani (Inspirational Child 7-11)
William Cuthill (Inspirational Young Person 12-14)
Luke Fisher (Inspirational Young Person 15-18)
Isaac Vials Moore (Young Carer 4-11)
Gracie Davis (Young Carer 12-18)
Rhea Talwar (Special Recognition)
Harvey Eustace (Special Recognition)
Becky Bedford (Nurse Award winner)
Dulcie Scott (Volunteer Award winner)
Dr Chris Grime (Doctor Award winner)
Anna-Marie McLachlan (Outstanding Professional)