Prince Harry and Meghan Markle Biographer Says Book Is Not Attack on Queen After Backlash
Prince Harry and Meghan Markle's unofficial biographer says the couple's reported frustrations are with the "royal institution," not Queen Elizabeth II, following a backlash.
Elizabeth's famous "recollections may vary" response to the Oprah Winfrey interview "did not go unnoticed" with Meghan and Harry, according to Finding Freedom.
And a friend of Meghan is quoted as saying: "Months later and little accountability has been taken."
The revelations come from a new epilogue to the re-released paperback version of the book, which caused shockwaves when it was first published last summer.
And after an excerpt of Finding Freedom's new material was published in People the British papers were this morning again full of outrage at the Duke and Duchess of Sussex.
The day after Britain's House of Commons debated the fall of Afghanistan, the front page of The Sun reads: "Blame of Thrones."

It describes quotes from Omid Scobie and Carolyn Durand's book as a "swipe at the Queen."
However, Scobie himself took to Twitter to dispute the interpretation, saying their source was talking about the "royal institution."
He posted: "Back at this rodeo and, predictably, words are being twisted again.
"The comments made by a SOURCE (a detail some outlets have purposefully ignored) were about a lack of ownership from the royal institution as a whole. There is no 'attack' against the Queen anywhere in the book."
The extract published by People read: "Those three words, 'recollections may vary,' did not go unnoticed by the couple, who a close source said were 'not surprised' that full ownership was not taken."
The book continues: "A pal of Meghan's added: 'Months later and little accountability has been taken. How can you move forward without that?'"
Quoted by The Daily Mail, Scobie said: "There are people within the family who [the Sussexes] are much closer to today than they were a year ago.
"But in terms of Harry's relationship with his father and brother, that progress has been very little.
"I think he [Harry] is quite willing to own his part in everything but I have been told that he is also waiting to see some of that from the other side. As of now, there hasn't been that."
Finding Freedom has long been a controversial book, initially perceived within some sections of the British press as an attack on the royal family from Meghan and Harry themselves—though this was denied.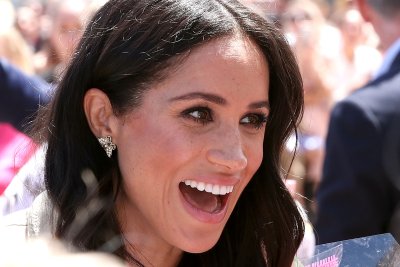 Meghan said through her lawyers that neither she nor her husband gave interviews for the biography.
However, one court filing from her lawsuit against the Mail on Sunday did confirm that she authorized a person to give at least some information to the authors.
At the same time however, her lawyers also challenged some of the factual content of the book in an effort to dispute the suggestion she secretly supplied Scobie and Durand with their information.
Scobie himself acknowledged "the palace" had facilitated some of the interviews with Meghan and Harry's circle—but not all.
In a witness statement, he said: "We were not solely relying on the palace to introduce us to people close to the duke and duchess."
Publicity material suggested they conducted numerous interviews with members of Harry and Meghan's inner circle.