Prince Harry and Meghan Markle 'Brave' for Taking on Big Pharma on Vaccines
Prince Harry and Meghan Markle have been called "brave" for taking on the pharmaceutical sector and signing an open letter criticizing world governments' vaccine aid response, calling for a suspension of Intellectual Property (IP) rules in regards to COVID-19 vaccines and products.
In response to Harry and Meghan's signing of the People's Vaccine Alliance letter, marking the two year anniversary of the COVID-19 pandemic, Tim Bierley, pharma campaign manager at social justice organization Global Justice Now, told Newsweek: "It's a brave step for Harry and Meghan to take on the vested interests of the pharmaceutical sector in this way, and they should be commended for supporting action that tackles the root causes of vaccine inequality, rather than just offering band aids like too many others."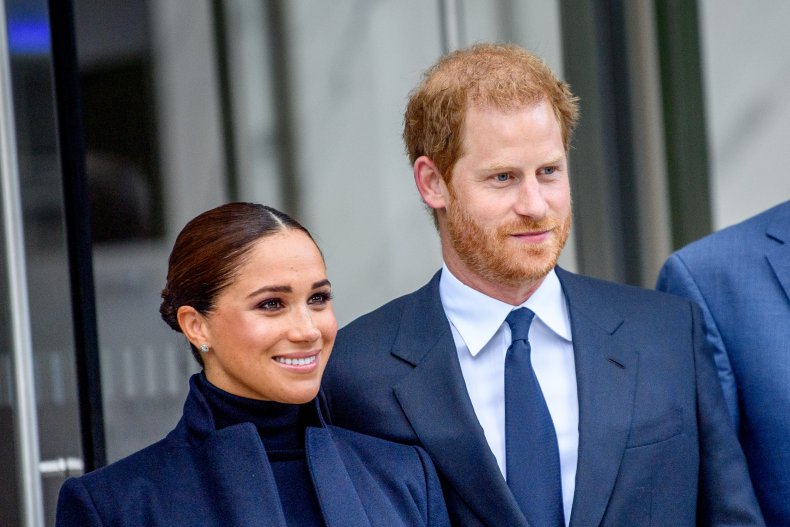 The letter has been signed by the royal couple alongside more than 130 public figures, including Archewell charity boss James Holt. Dutch businessman Paul Polman, a co-signer of the letter, tweeted he is "proud to stand among these global voices and the many people calling for an end to #vaccineapartheid"
The letter targeted governments who opposed a three-year suspension of IP rights rules proposed at a 2021 WTO.
The suspension was proposed with the aim of a free pooling of patent and manufacturing knowledge in regards to COVID-19 vaccines and products. This free access and use of information protected by IP rights rules would, in the People's Vaccine Alliance's opinion, create an opportunity for mass, low-cost manufacturing of vaccines crucial in meeting the WHO's goal of vaccinating 70 percent of the world's population by mid-2022.
The letter specifically targeted the U.K government in its criticism, stating: "The European Union, the United Kingdom, and Switzerland continue to block the lifting of intellectual property rules which would enable the redistribution and scale-up of COVID-19 vaccines, test and treatment manufacturing in the global south.
"The transfer of largely publicly funded vaccine technology and know-how from pharmaceutical corporations would fast track production to a matter of months. Yet still today, a handful of these corporations retain the power to dictate vaccine supply, distribution and price—and the power to decide who lives and who dies."
The British government has disputed the claim that suspending IP rights rules is necessary to meet WHO's vaccination target. In a research paper published by the House of Commons Library laying out the government's position in this matter, it cites the WHO's own statement that there is already "sufficient vaccine from a supply perspective to achieve global vaccination targets."
Regarding claims made in Harry and Meghan's letter, a U.K. government spokesperson told Newsweek: "The U.K. has been a world leader in ensuring developing countries can access vaccines, delivering 34.5 million vaccine doses to countries in need, with a further 10 million shortly to be allocated and shipped.
"We remain committed to equitable access and have engaged in discussions on intellectual property at the World Trade Organisation. A fit for purpose IP system has been crucial in supporting the rapid development of new vaccines, and ensuring the framework retains its ability to continue doing this is essential."
In his response, Bierley highlighted the importance of the inequality facing the worldwide distribution of COVID-19 vaccine supplies, which Harry and Meghan have been leading voices on. He said: "Globally, the fact that people in majority-white countries are on their third or fourth COVID-19 jabs while people in majority-Black countries have in many cases not even had their first is a historic injustice that has rightly been labeled 'vaccine apartheid'.
"The power of Harry and Meghan's involvement is that they can help bring this standing disgrace to a wider audience and generate the mass public pressure we need to change it. Everyone who wants to see this pandemic finally brought to an end should hope that they and we succeed."
The signing of the People's Vaccine Alliance letter marks a continuation of Harry and Meghan's vocal support for vaccine equality over the course of the COVID-19 pandemic. In 2021 the royal couple spoke at the Global Citizen Live and "Vax-Live" events in promotion of this charitable endeavor.
A statement released by the People's Vaccine Alliance in regards to Harry and Meghan's support read:
"We are proud to welcome Archewell Foundation to the Alliance and appreciate their support, alongside Prince Harry and Meghan, The Duke and Duchess of Sussex. We will work together to end vaccine inequity and ensure COVID-19 vaccines, treatments + tests are available to everyone."