Prince Harry and Meghan Markle have reportedly taken at least 21 private jets since the start of 2019—leaving an ex U.K. government minister telling Newsweek they are "completely hypocritical."
The Duke and Duchess of Sussex flew home from their tour of New York last week on a Dassault Falcon 2000, The Sun reported.
The trip saw them campaign for vaccine equity at the Global Citizen Live concert in Central Park on Saturday but also created an estimated 17 tons of carbon, the newspaper reported.
And it came on the back of Prince Harry flying home from a polo tournament in Aspen, Colorado, by private jet in August.
The duke took a Gulfstream jet belonging to friend and businessman Marc Ganzi after the tournament, according to The Independent.
During the event, the prince committed to donating $1.5 million to his own charity Sentebale, which supports young people with HIV in Lesotho and Botswana.
The couple were also flown from Canada to Los Angeles by private jet when they first moved to America in March 2020, The Daily Mail online reported.
Tyler Perry's private plane picked them up at 7.35 am on March 14, 2020, from Victoria International Airport before dropping them off at Hollywood Burbank airport just after 10 am, according to the website.
Prior to that, the couple had taken 18 private jet trips in a 12 month period from January 2019 to January 2020, according to research by ex-government minister Norman Baker.
That brings them to 21, though the true total could be higher as it is not known whether they flew by private jet on their way out to New York and Aspen as well as catching private planes home.
Baker, who wrote the royal book And What Do You Do?, told Newsweek: "It's completely hypocritical for Prince Harry or other members of the royal family to lecture people about climate change when they're emitting more carbon than almost everyone else on the planet.
"People using private jets are in the top one percent of carbon emitters in the world.
"Prince Harry needs to stop using private jets or if he wants to use private jets he needs to stop lecturing people on climate change.
"It is not particularly challenging to get a flight from New York to California—people do it all the time."
Prince Harry also flew long haul to Britain and back twice, for Prince Philip's funeral, in April, and to unveil a statue to his mother Princess Diana, in July, though there is nothing to suggest these trips were by private jet.
Meghan and Harry also flew from Canada to London and back for their final royal jobs in March 2020, though again there is no indication they took private planes.
That means they have taken approximately 64 flights since January 2019, of which roughly 30 percent were private jets.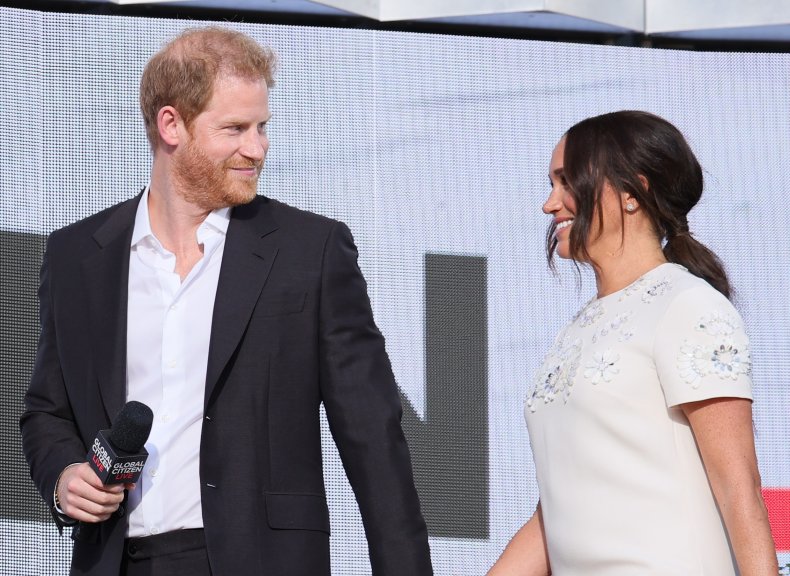 During that time, Prince Harry has spoken of the devastating impact of climate change and the possibility for collective action to save the planet.
In December, Harry helped launch WaterBear, a Netflix-style streaming service for environmental content.
In a video message, he said: "For me, it's about putting the dos behind the says and that is something which WaterBear is doing, is going to be doing, and you're capitalizing on a community of doers.
"There's a lot of people that say but this is about action."
Harry added: "Every single raindrop that falls from the sky relieves the parched ground. What if every single one of us was a raindrop?
"And if every single one of us cared, which we do, because we have to care because at the end of the day nature is our life source."