Prince Harry and Meghan Markle Recreate Fanfare of Royal Tour 18 Months After Quitting
Prince Harry and Meghan Markle swept through New York on a whirlwind tour that had all the hallmarks of a royal visit.
The Duke and Duchess of Sussex looked like they might never have left their royal duties last week, judging from the crowd control barriers, their meeting with New York Mayor Bill De Blasio and the sombre moment they spent at the 9/11 memorial.
However, there were some differences as the couple appeared to have their own videographer in tow, sparking unconfirmed speculation among the tabloids on both sides of the pond that they may have been filming for Netflix.
During the meeting with De Blasio there were the familiar photographs of them lined up with fellow dignitaries, which tend to emerge after each royal engagement.
Harry and Meghan also fielded a few shouted questions from the press pack—a practice all but outlawed on royal jobs, apart from under exceptional circumstances.
AP News video footage shows Meghan replying "It's wonderful to be back," after she was asked: "Duchess are you enjoying your visit to New York?"
The similarities have seemingly not been lost on supporters either, with global women's empowerment network Black Girls Rock! describing them as "ever so royal."
BGR! wrote on Twitter: "The ever-so royal Meghan Markle and Prince Harry visited students on Friday at P.S. 123 Mahalia Jackson in Harlem. The Duchess read her children's book The Bench to a class of second graders and asked them what special places they share with the important people in their lives."
Their first joint trip outside of palace life came three months after their daughter, Lilibet, was born in June, and 18 months after their final royal job in March 2020.
The first stop on their tour was at One World Trade Center, where they met de Blasio and Kathy Hochul, the new governor of New York State, on Thursday.
Meghan dressed all in black, reflecting the sombre mood a little more than a week after the anniversary of 9/11, went to see the memorial to those lost in the terror attacks. They then visited the school on Friday.
The center piece for the visit came on Saturday, when they attended the Global Citizen Live concert in Central Park.
Among the stars to play at the live music event were Coldplay, Billie Eilish, Jennifer Lopez, Camila Cabello and Shawn Mendes.
Meghan told the crowd: "There is so much that we can do today, now that can get us closer to ending this pandemic and that's why we're all here."
Prince Harry added: "We're battling more than the virus alone. This is a battle of misinformation, bureaucracy, lack of transparency.
And ahead of the concert they stopped in at the United Nations headquarters where they met Deputy Secretary-General Amina Mohammed.
Royal Tours
The couple went on several tours while working royals, including two steeped in controversy.
Their first was to Australia, New Zealand and the South Pacific, where tensions reportedly flared with their staff.
After they returned home, Kensington Palace Press Secretary Jason Knauf accused Meghan of bullying in an email to a superior.
Their final tour was to southern Africa, during which Meghan and Harry spoke out about their experiences within the royal family for the first time.
The duke publicly acknowledged his rift with Prince William while Meghan discussed the pressures of life in the public eye and famously said: "Not many people have asked if I'm OK."
This time, there were no apparent signs of conflict and the couple were pictured hugging their staff after touching back down in California following what appears to have been a PR success.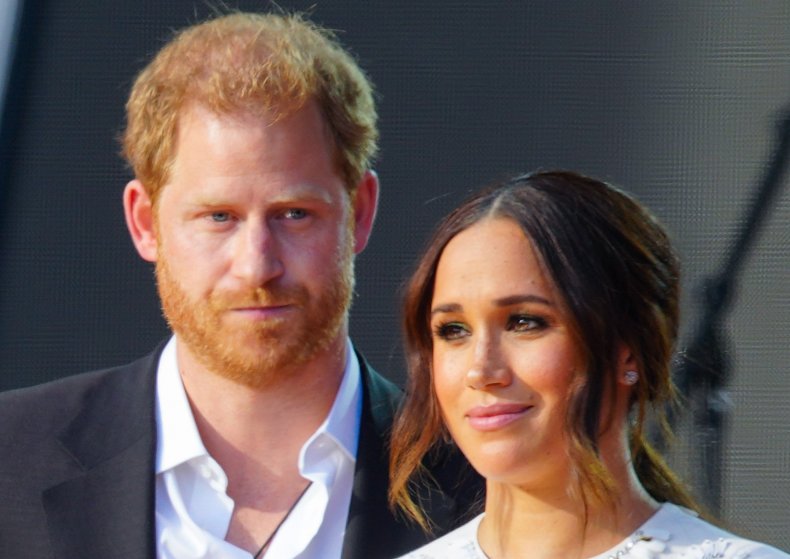 In Focus
Prince Harry and Meghan Markle speak on stage at Global Citizen Live: New York on September 25, 2021 in New York City. The couple's visit to the East Coast had all the hallmarks of a traditional royal tour.
Launch Slideshow

5 PHOTOS