All of Prince Harry and Meghan Markle's Projects Since Leaving Royal Family
Prince Harry and Meghan Markle have become partners at an ethical investment company—adding to more than 10 projects including Netflix and Spotify deals.
The Duke and Duchess of Sussex have become podcasters, TV producers, authors, vaccine equity champions, public speakers and now bankers.
The couple performed their final royal duties in March 2020 before moving to California for a new life as high-earning celebrities.
Over a year and a half they committed to a fast-growing list of projects with their latest roles at investment firm Ethic announced Tuesday.
Impact Partners at Ethic
Harry and Meghan invested with the ethical finance company earlier in the year and have now joined as impact partners.
The company said it wanted to shine a light on the role of the corporate world in shaping the lives of everyday families.
Meghan told The New York Times: "From the world I come from, you don't talk about investing, right? You don't have the luxury to invest. That sounds so fancy.
"My husband has been saying for years, 'Gosh, don't you wish there was a place where, if your values were aligned like this, you could put your money to that same sort of thing?'"
Growth in sustainable investment over the last decade has been largely driven by young people, and in the U.S. new investments in ethical funds more than doubled to $51bn between 2019 and 2020, the BBC reported.
Prince Harry added: "You already have the younger generation voting with their dollars and their pounds, you know, all over the world, when it comes to brands they select and choose from."
The company said: "Prince Harry and Meghan, The Duke and Duchess of Sussex, share a lot of values with us, and we suspect, with many of you as well. That's why we're so excited that they're joining us as impact partners."
Books
Prince Harry is writing a memoir with Penguin Random House due to be published at the end of next year.
The duke said in a statement in July: "I'm writing this not as the prince I was born but as the man I have become. I've worn many hats over the years, both literally and figuratively, and my hope is that in telling my story—the highs and lows, the mistakes, the lessons learned—I can help show that no matter where we come from, we have more in common than we think."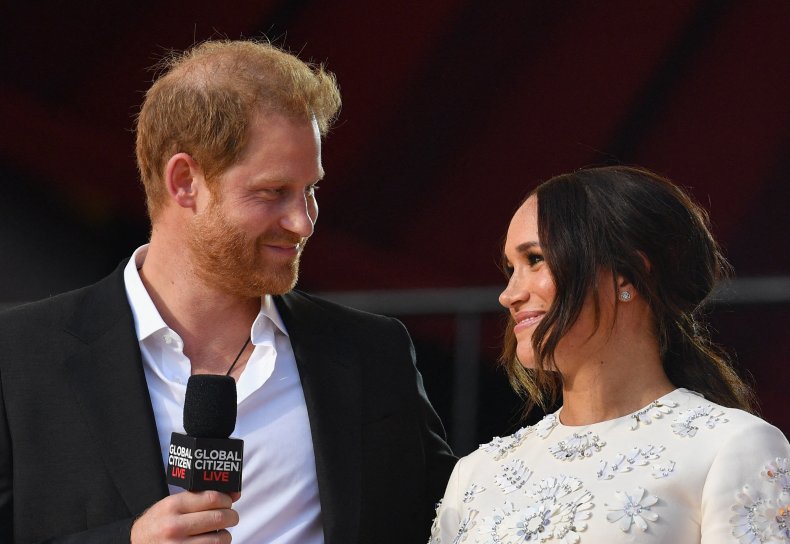 Meghan published her first children's picture book with Random House in June, titled The Bench and inspired by Prince Harry's relationship with Archie.
The story, illustrated by Christian Robinson, became a New York Times bestseller and she read it to children at a school in Harlem during a visit to New York last month.
Meghan said in a statement on her website in June: "While this poem began as a love letter to my husband and son, I'm encouraged to see that its universal themes of love, representation and inclusivity are resonating with communities everywhere."
Netflix and Spotify
Meghan and Harry last year signed multiyear Netflix and Spotify deals estimated to be worth hundreds of millions of dollars.
The prince's first Netflix project, Heart of Invictus, will follow participants in The Invictus Games 2022, due to take place in The Hague, Netherlands.
Meghan's will be Pearl—an animated series about a 12-year-old girl who is inspired by famous women from history.
She is doing the series with David Furnish, husband of Elton John and former friend of Princess Diana, meaning all eyes will be on whether Harry's mother makes an appearance in the show.
Furnish said: "She's a fantastic collaborator, amazing leader. And we're just very, very excited to be working with, you know, someone as influential and as supportive as Netflix."
The couple are yet to begin their Spotify podcast, though they released a festive special in December which featured son Archie Mountbatten-Windsor as the star guest.
Archewell
Harry and Meghan's philanthropic endeavours are organized under their Archewell Foundation.
The charity has partnered with a number of other organizations including Global Citizen, where they were campaign chairs of VAX LIVE: The Concert to Reunite the World, in Los Angeles.
They also teamed up with World Central Kitchen which has created disaster relief centers in countries including in Dominica, Puerto Rico, and Mumbai, in India.
Other Projects
Harry was named chief impact officer at career coaching app Better Up, while Meghan launched mentoring project 40 x 40 to coincide with her 40th birthday in August.
One of their first money making initiatives was signing up as public speakers with the Harry Walker Agency, which also represents the Clintons and Obamas.
Meghan also invested in Clevr Blends, an instant oat milk latte company.
Prince Harry
Impact partner at Ethic
Netflix project Heart of Invictus
Archewell Audio Spotify podcast
Chief Impact Officer at Better Up
Memoir with Penguin Random House
Global Citizen
Archewell
Harry Walker Agency
Meghan Markle
Impact officer at Ethic
Netflix Series Pearl
Spotify
The Bench
Clevr Blends
Global Citizen
40 x 40
Archewell
Harry Walker Agency