Prince Harry and Meghan Markle Seen as Climate Hypocrites by Most Brits
Two-thirds of Britons think it is hypocritical for Prince Harry and Meghan Markle to advocate taking on climate change while flying by private jet, exclusive polling for Newsweek reveals.
The Duke of Sussex has spoken in strong terms about saving the environment, saying we have just ten years to change course.
However, he has been criticized for taking private planes rather than flying commercial and a former transport minister calculated the couple's carbon footprint may be 26 times higher than average.
A survey of 2,000 U.K. adults showed 66 percent believe Harry and Meghan are hypocritical on air travel, including 37 percent who strongly agreed.
Just eight percent said their actions were not hypocritical while 21 percent neither agree nor disagree, according to research conducted for Newsweek by Redfield & Wilton Strategies.
Opinions hardened among older people with 75 percent of over 65s viewing them as hypocrites compared to 53 percent of 18 to 24-year-olds.
The polling, conducted on July 22, has a 2.19 percent margin of error.
In June, Prince Harry said: "We are currently living through an extinction crisis and now a global pandemic that has shaken us to our core and brought the world to a standstill.
"On the extinction crisis the science is clear we have perhaps a decade to course-correct before we lock in our fate."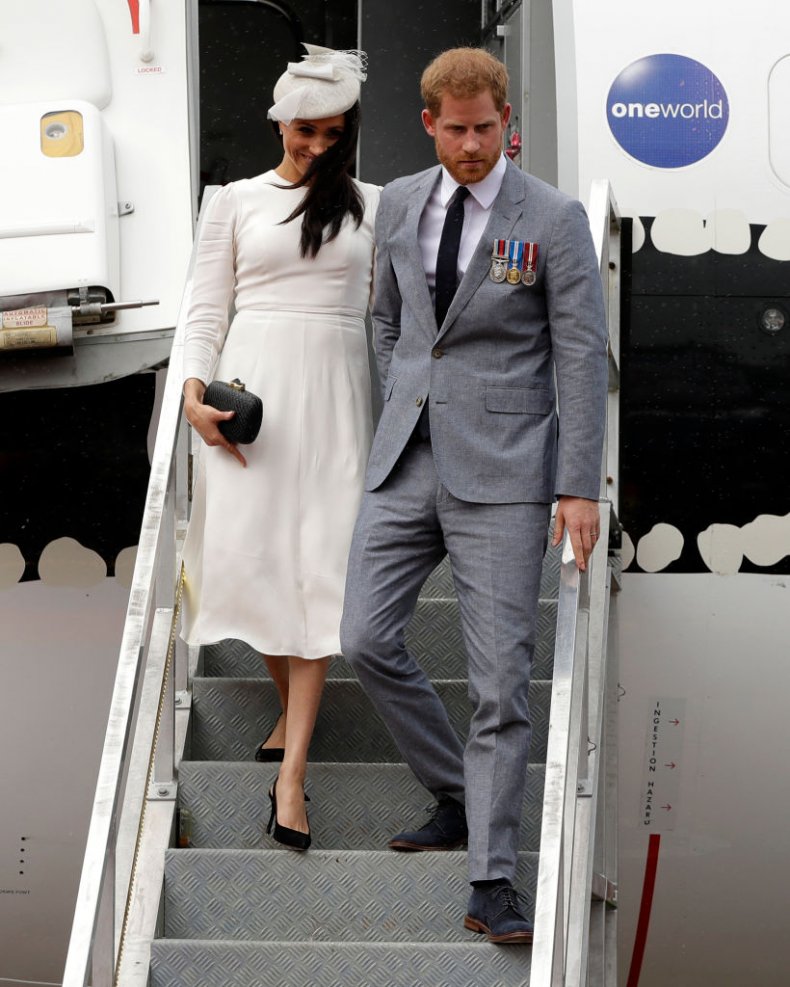 In the annual report for NGO African Parks, he added: "I want us all to be able to tell our children that yes we saw this coming and with the determination and help from an extraordinary group of committed individuals, we did what was needed to restore these essential ecosystems."
However, former U.K. transport minister Norman Baker calculated the couple took at least 53 international flights, including 18 on private jets, in the 12 months to January 2020.
The Liberal Democrat ex-MP said this would create 215 tonnes of carbon over the year, 26 times higher than the British average of 8.3 tons.
In the autumn, Prince Harry launched eco-tourism venture Travalyst which aims to promote sustainable travel.
Its slogan is "travel as a catalyst for good" and it partners with major brands including Visa, Skyscanner, Tripadvisor, Booking.com, and Trip.com.
The organization is hosting a virtual global summit on Thursday.
Anti-monarchy campaigners Republic called for watchdog the Charity Commission to investigate $366,000 of payments made between the non-profit and Harry's other former charities.
The move prompted the Duke of Sussex to threaten legal action against the pressure group.