Why Harry Can't Wear Military Uniform to Queen's Funeral
Prince Harry will not be permitted to wear a military uniform during Queen Elizabeth's state funeral, as only working members of the royal family will be allowed to do so, according to reports.
Members of the royal family who undertake duties on behalf of the crown will be permitted to wear their military uniforms during the ceremonial events. They are scheduled to take place during the period of national mourning that will last until the queen's September 19 funeral.
Reports also say that Prince Andrew, who was stripped of his military patronages earlier this year in the wake of a sexual assault lawsuit brought against him by Jeffrey Epstein accuser Virginia Giuffre, will be granted special permission by his brother the king to appear in uniform for the lying in state vigil for the queen at Westminster Hall. That decision has provoked criticism.
A spokesperson for the prince told Newsweek: "Prince Harry, the Duke of Sussex will wear a morning suit throughout events honoring his grandmother. His decade of military service is not determined by the uniform he wears, and we respectfully ask that focus remain on the life and legacy of Her Majesty Queen Elizabeth II."
Harry was stripped of his armed services patronages in 2021 when he officially stepped down from his role as a working royal, along with his wife, Meghan Markle. This followed a year's cooling-off period after the couple announced their intention to seek "financial independence" and move to the U.S.
The prince, it is understood, will not attend the lying in state vigil.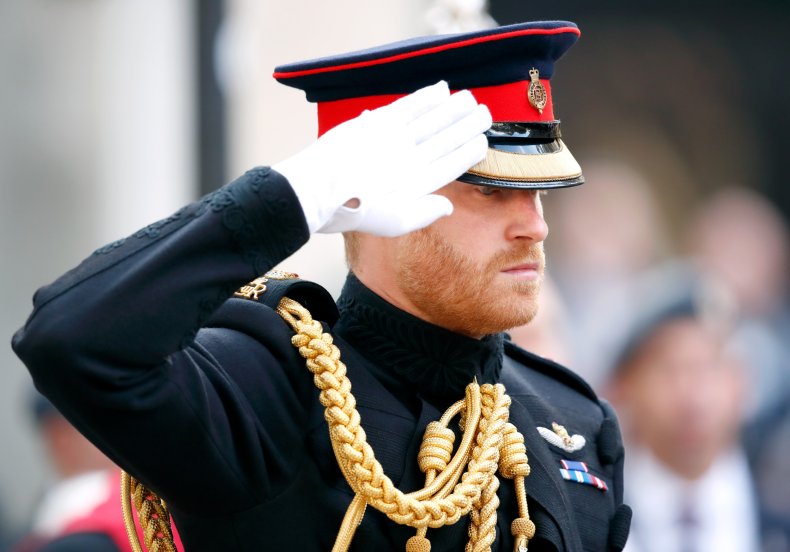 Harry is one of only two living senior members of the royal family to have served in active combat. He did two tours in Afghanistan in 2007 and 2012. The other is Andrew, who served as a helicopter pilot in the Falklands War between Argentina and the United Kingdom in 1982.
Since Harry stepped down as a working royal and was stripped of his honorary military patronages, including his role as a Royal Marines captain-general, there has been discussion over whether he can or will wear his uniform to ceremonial events.
The last time the subject was raised in earnest was in April 2021 when the prince traveled from his home in Santa Barbara, California, to Windsor for the funeral of his grandfather, Prince Philip.
It was decided that all members of the royal family would wear morning dress for the funeral, which avoided the matter of who would wear what uniform.
As Harry no longer serves in the armed forces in a personal or ceremonial capacity, it is understood that he does not legally have the right to wear a ceremonial uniform, according to the Uniform Act of 1894, despite having been a service member.
The Uniform Act says: "It shall not be lawful for any person not serving in Her Majesty's Military Forces to wear without Her Majesty's permission the uniform of any of those forces, or any dress having the appearance or bearing any of the regimental or other distinctive marks of any such uniform."
The act goes on to say that "this enactment shall not prevent any persons from wearing any uniform or dress in the course of a stage play performed in a place duly licensed or authorized for the public performance of stage plays, or in the course of a music hall or circus performance, or in the course of any bona fide military representation."
For Harry to wear the uniform for the state funeral of the late queen, it is likely he would have needed the permission of his father, King Charles III, to circumvent the Uniform Act.
With the decision that only working members of the royal family will be permitted to wear military uniforms for the state funeral, an intervention by Charles has been avoided.
Newsweek contacted Buckingham Palace for confirmation of the uniform arrangements for the queen's state funeral.
Do you have a question about Queen Elizabeth II, King Charles III or their family that you would like our experienced royal correspondents to answer? Email royals@newsweek.com. We'd love to hear from you.
Update 9/13/22, 12:45 p.m. ET: This story has been updated with a comment from a spokesperson for Prince Harry.