Harry's Next Big Speech Nods to Inspiring Moment in Meghan's Early Career
Prince Harry will give a keynote speech at the United Nations in honor of Nelson Mandela Day—seven years after Meghan Markle set out her feminist credentials in a speech for the organization.
On July 18 The Duke and Duchess of Sussex will visit New York for the third time since quitting royal duties.
Harry will address the U.N. General Assembly in one of his most high-profile public appearances since the couple tapped out of royal life in March 2020.
The visit will give him the opportunity to appear on a major global stage, alongside key players in international diplomacy.
Meghan also made one of her biggest pre-royal speeches for the United Nations in 2015, at its U.N. Women conference.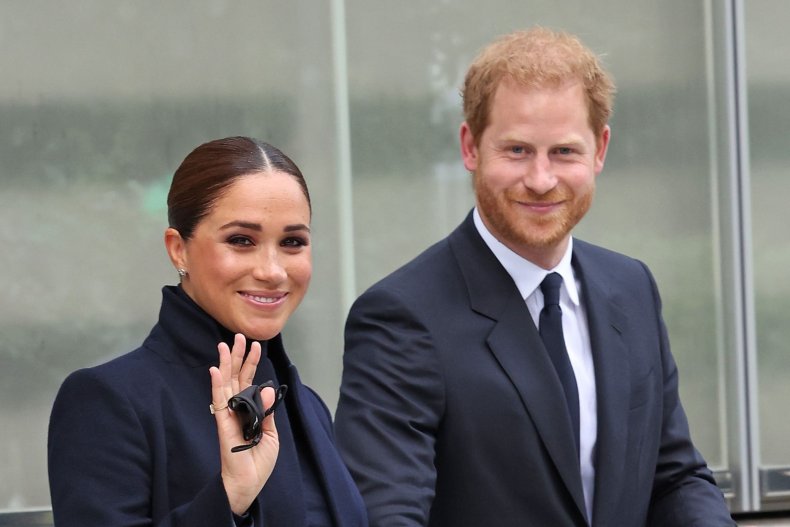 Meghan's Speech for U.N. Women in 2015
Meghan's proud feminist beliefs were among the first things new fans learned about her when her relationship with Prince Harry was first revealed in October 2016.
A year earlier, she gave a speech in her capacity as UN Women's Advocate for Women's Political Participation and Leadership where she outlined her principles in strong terms.
Meghan told the conference: "UN Women, as you guys know, has defined the year 2030 as the expiration date for gender inequality. Here's what's staggering: the studies show that, at the current rate, the elimination of gender inequality won't be possible until 2095.
"That's another 80 years from now. When it comes to women's political participation and leadership the percentage of female parliamentarians globally has only increased by 11 percent since 1995.
"Eleven percent in 20 years. Come on, this has to change. Women make up more than half of the world's population and potential so it is neither just nor practical for their voices—for our voices—to go unheard at the highest levels of decision-making.
"The way that we change that in my opinion is to mobilize girls and women to see their value as leaders and to support them in these efforts."
She added: "Women need a seat at the table, they need an invitation to be seated there and, in some cases, where this isn't available, well then you know what, then they need to create their own table."
Meghan Markle Writes to Procter & Gamble Aged 11
Meghan also told a now-famous story about how aged 11 she wrote to Procter & Gamble to ask them to change an advert that said women across America were fighting greasy pots and pans.
The future duchess told the audience: "Two boys from my class said 'yeah, that's where women belong, in the kitchen.'
"I remember feeling shocked and angry and also just feeling so hurt. It just wasn't right and something needed to be done. So, I went home and I told my dad what had happened and he encouraged me to write letters, so I did. To the most powerful people I could think of."
Meghan's letters went to everyone, from then-first lady Hillary Clinton to attorney Gloria Allred and finally the Procter & Gamble.
She said: "It was roughly a month later when the soap manufacturer Procter & Gamble changed the commercial for their Ivory Clear dishwashing liquid.
"They changed it from 'women all over America are fighting greasy pots and pans' to 'people all over America.'
"It was at that moment that I realized the magnitude of my actions at the age of eleven. I had created my small level of impact by standing up for equality."
Harry and Meghan in New York
The Duke and Duchess of Sussex staged successful trips to New York in September and November 2021.
The first saw them speak at Global Citizen Live, in Central Park, during a trip when they also met with U.N. Deputy Secretary-General Amina Mohammed.
Quoted by Sky News, Meghan said afterwards that "it was a lovely meeting," while Mohammed said they talked about "how to engage on issues we care about deeply."
The second visit saw the couple attend Intrepid Museum's 2021 Salute To Freedom Gala, where Harry presented an award.
The public appearances seemingly contributed to a slight uptick in their U.K. popularity at the time.
Royal fans may be looking out for any sign of a similar boost off the back of Monday's visit by the couple.