Prince Harry is no longer underwater in U.K. public opinion for the first time since making allegations against his family in his Oprah Winfrey interview.
The Duke of Sussex's net approval rating was at zero in data collected by Deltapoll—following a crash in his popularity following the CBS tell-all in March 2021.
Meghan's net approval was -17 in the same data which, while low, is an improvement on recent polling by YouGov which had her at -23.
Deltapoll's research was conducted for The Mail on Sunday, the same newspaper Meghan successfully sued for privacy and copyright over a letter she sent her father.
Between December 23 and December 30, 2021, 1,567 British adults were asked their opinions on a range of British royals.
The queen proved the most popular with a net approval of +60, while Prince William came in second with +55.
Kate Middleton was third on +47, while Prince Charles was on +25 and his wife Camilla, Duchess of Cornwall, was on +5.
The most unpopular royal remains Prince Andrew, whose net approval was -50.
Prince Harry once polled better even than the queen, with figures of +70 percent at the time of his engagement to Meghan in November 2017, according to YouGov.
Meghan polled at +35 at that time and also had her head firmly above water at +20 as late as November 2019.
Quitting royal duties in January 2020 sent their approval rating into free fall, however, Harry was still in positive numbers right up until Oprah, which was broadcast on March 7, 2021.
Research for YouGov between March 1 and March 2, 2021, before the interview, put him on +12 but within days he was down to -3 and he has remained underwater until now.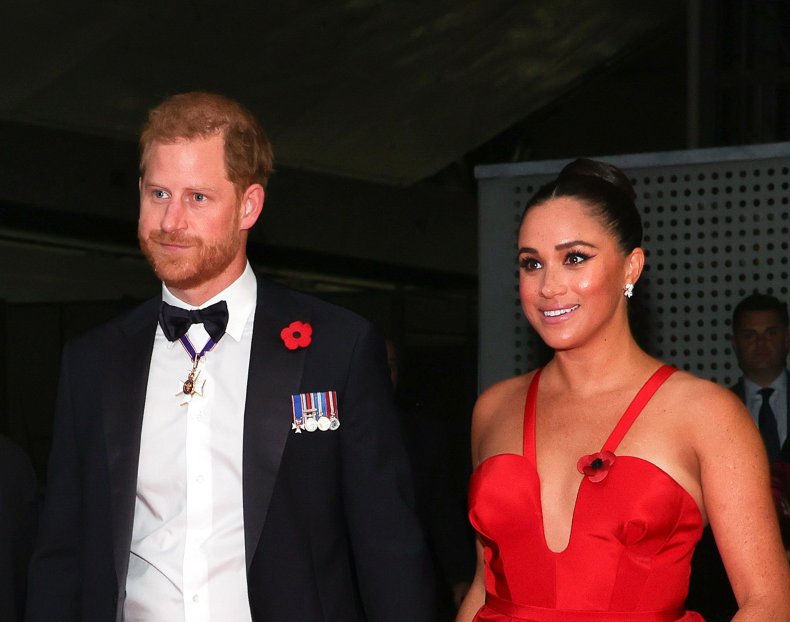 Meghan dropped from -14 before the interview to -27 afterwards, according to the data collected on March 10 to March 11, 2021.
However, they continued to sink further, hitting their lowest U.K. ratings at the end of August 2021, when Meghan was on -39 and Harry was on -25, according to YouGov.
Since then, Harry in particular has clawed his way back and now for the first time is no longer viewed more negatively than positively.
If the trend continues, it suggests the couple might still find their way back into Britain's good books, though there are potential collision points on the horizon.
Prince Harry is writing a memoir due for publication towards the end of 2022, which is expected to give more detail to his past suggestion he experienced "genetic pain" from his royal upbringing.
Since the British public appeared to react badly to the Oprah interview, it is possible they will have a similar response to further attacks on the royal family.
Harry and Meghan may also get an invite to the queen's Platinum Jubilee in June, which if they both go would be the duchess' first meeting with the royal family since March 2020.