Meghan Markle and Prince Harry Sink to Their Lowest Ever U.K. Favorability Rating
Meghan Markle and Prince Harry have plunged to their lowest net approval ratings of all time—six months on from their Oprah Winfrey interview.
The Duchess of Sussex is liked by 26 percent of the British population and disliked by 65 percent giving her a net approval rating of -39 percent, according to data from polling agency YouGov.
The Duke of Sussex is liked by 34 percent and disliked by 59 percent, giving him a net favorability of -25 percent, according to the survey.
Meghan's net rating is a nine-point drop since April, while Prince Harry's is a 25 point drop.
The news comes after Piers Morgan was cleared by an Ofcom investigation over comments doubting Meghan's account of feeling suicidal while a working royal.
However, the fieldwork with 1667 U.K. adults was carried out between August 27 and August 29, before the U.K. broadcast regulator's ruling on September 1.
The duke and duchess have also been in the news recently due to a new epilogue of biography Finding Freedom, which quoted a friend of Meghan's suggesting "little accountability" has been taken by the royals since the Oprah interview.
The drop continues a long-term trend for the couple who have been losing support in Britain since January 2020, when they announced their royal exit, according to YouGov polling.
Prince William was liked by 78 percent of people compared to Harry's 34 percent, making the Duke of Cambridge twice as popular as his younger brother.
The second-in-line to the throne was disliked by just 16 percent of people, giving him a net favorability of +62 percent, down from +68 percent in April.
Prince William, Kate Middleton, Queen Elizabeth II and Prince Charles have all seen their approval ratings narrow a little but they remain significantly more popular than Harry and Meghan.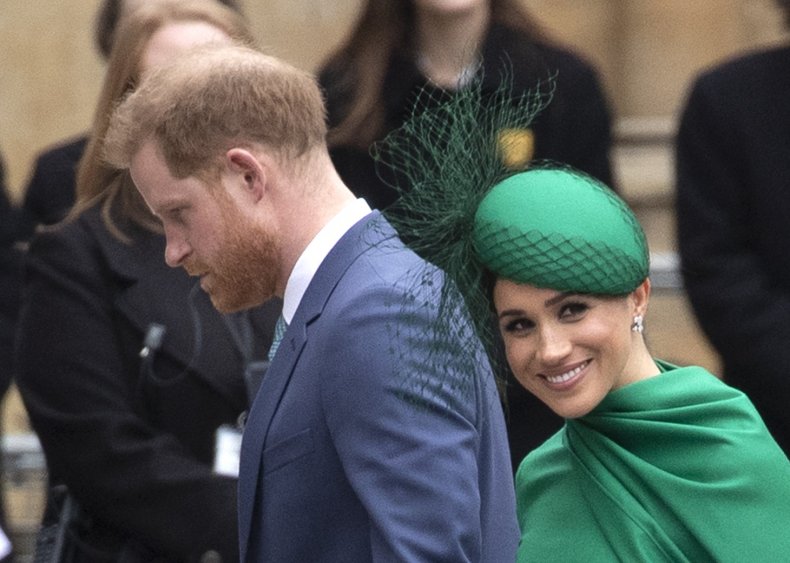 Elizabeth was viewed positively by 80 percent of people and negatively by 13 percent, giving her a net rating of +67 percent, down from +76 percent in April.
Kate Middleton was viewed positively by 75 percent and negatively by 16 giving her a net favorability of +59, down from +67 percent in April.
Prince Charles was viewed positively by 54 percent and negatively by 37 percent giving him a net rating of +17 percent, down from +25 percent in April.
While Harry and Meghan have quit royal duties, they have not completely turned their backs on Britain.
The Duke of Sussex this week gave a speech over video link at the Men Of The Year Awards ceremony run by U.K. men's magazine GQ.
Harry presented the Heroes Of The Year award to the team from Oxford University who developed the AstraZeneca vaccine.
The prince said: "More than a third of the global population has received at least one dose of the vaccine. That's more than five billion shots given around the world so far. It sounds like a major accomplishment, and in many ways is. But there is a huge disparity between who can and cannot access the vaccine.
"Less than two percent of people in the developing world have received a single dose at this point, and many of their healthcare workers are still not even vaccinated. We cannot move forward together unless we address this imbalance as one.
"At the same time, families around the world are being overwhelmed by mass-scale misinformation across 'news' media and social media, where those who peddle in lies and fear are creating vaccine hesitancy, which in turn is dividing communities and eroding trust."
The couple have also continued to work with U.K. causes, including charity WellChild which got a visit from the prince as recently as July during only his second trip to Britain since quitting royal duties.
Harry and Meghan's popularity appeared to survive a period of negative press coverage which the duchess told Oprah Winfrey triggered suicidal feelings for her in January 2019.
The decline appeared to begin at the point they announced their intention to step back from royal duties and they are now polling worse than Prince Charles did in 1996, the year he divorced Princess Diana.