Prince Harry, Meghan Markle Poll Slump Exceeds Charles' After Diana Divorce
Prince Harry and Meghan Markle crashed further in U.K. opinion polling since their royal exit than Prince Charles at the time of his divorce from Princess Diana.
Prince Charles' affair with Camilla Parker Bowles and the messy breakup of his marriage to Princess Diana led to a 40 point plunge in polling about whether he would make a good king, according to Ipsos Mori data.
Queen Elizabeth II's firstborn son and heir had the support of 82 percent of Britons in 1991 but by 1996 was down to 41 percent.
The figures are similar but less severe than the more recent decline in British popularity of Prince Harry and Meghan.
The Duke of Sussex has dropped 50 points in his U.K. approval rating compared to the 81 percent he enjoyed when his engagement to Meghan Markle was announced in November 2017.
The decline appeared to begin in January 2020 after Harry and Meghan quit royal duties. It continued through their Oprah Winfrey interview, reaching an all time low of 31 percent for the duke in the second quarter of this year.
Meghan's fall in British popularity has been less sharp, because she ranked lower to begin with, but it has taken her to a similar position, from 55 percent in October 2019 to 32 percent now.
The data comes from rolling YouGov surveys that measure approval ratings for members of the royal family in an ongoing way and the latest set is based on representative interview with 1,489 respondents.
The plunge is so deep it takes them beyond the drop experienced by Prince Charles in the aftermath of the breakdown in his relationship with Princess Diana.
The next-in-line to the throne had been riding in the opinion polls, just like Harry, with Ipsos Mori data suggesting 82 percent of Britain felt he would make a good king in 1991 compared to 5 percent who did not.
However, in 1992 an incendiary book by biographer Andrew Morton, written with Diana's secret support, exposed his affair with Camilla, who is now his wife the Duchess of Cornwall.
After the publication of Diana: Her True Story, marital problems that had been stifled for years were played out in the British press before Prince Charles eventually admitted cheating in a BBC interview in 1994.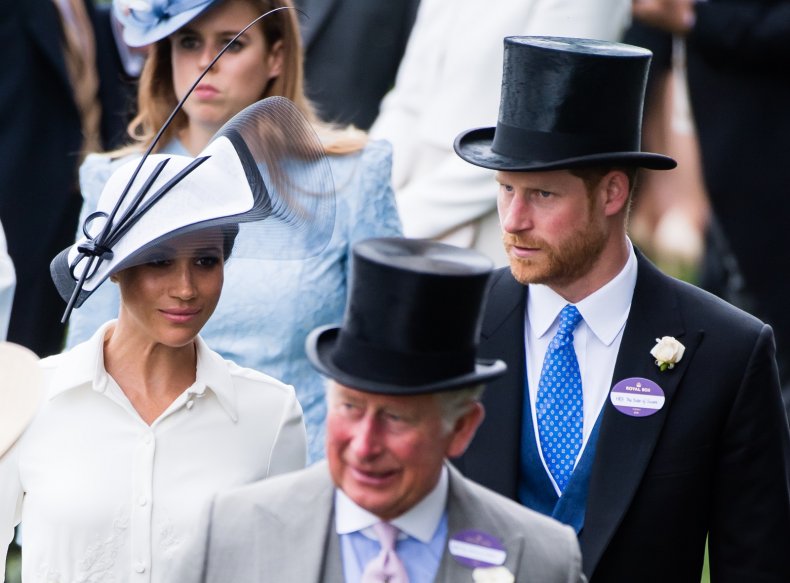 The following year Princess Diana went on camera to famously tell the world: "Well, there were three of us in this marriage, so it was a bit crowded."
By February 1996, the year their divorce was finalised, Prince Charles had crashed by 41 points, according to Ipsos Mori data.
The polling agency found that 41 percent felt he would make a good king compared to 40 percent who did not.
By July 1997, Prince Charles was back up to 53 percent before dropping again after Princess Diana's death on August 31, 1997.
A September poll that year recorded 42 percent who thought he would make a good king compared to 34 percent who did not.
Another Ipsos Mori poll in August 1997, before Diana's death, approached the question slightly differently.
Asked whether they were satisfied with the job Charles was doing, 42 percent said "yes" and 46 percent said "no."
While the picture appeared bleak at the time, Newsweek has not been able to find polling from the era in which his support was as low as Harry and Meghan's now, on 31 and 32 percent.