Prince Harry Picture Spotted at President Joe Biden Inauguration
Prince Harry made a surprise appearance at President Joe Biden's inauguration—via a picture on the wall of Arlington National Cemetery.
While there is nothing to suggest the Duke and Duchess of Sussex were at the inauguration in person, a photo of the prince was spotted.
As the incoming president met Bill and Hillary Clinton, a picture was visible in the background of a past visit to the cemetery by the prince.
The moment came after the inauguration ceremony yesterday, when Biden left the U.S. Capitol to lay a wreath at the Tomb of the Unknown Soldier.
The photo was posted to Twitter by Clinton staffer Jon Davidson who wrote: "It's a new day in America."
Royal commentator Victoria Arbiter retweeted the image, writing: "That's an impressively large image of Prince Harry top right..."
The picture dates back to a U.S. tour in which he visited Arlington National Cemetery on May 10, 2013—years before he met wife Meghan Markle.
On the same trip he met incoming first lady Dr. Jill Biden at a White House event to honor military veterans.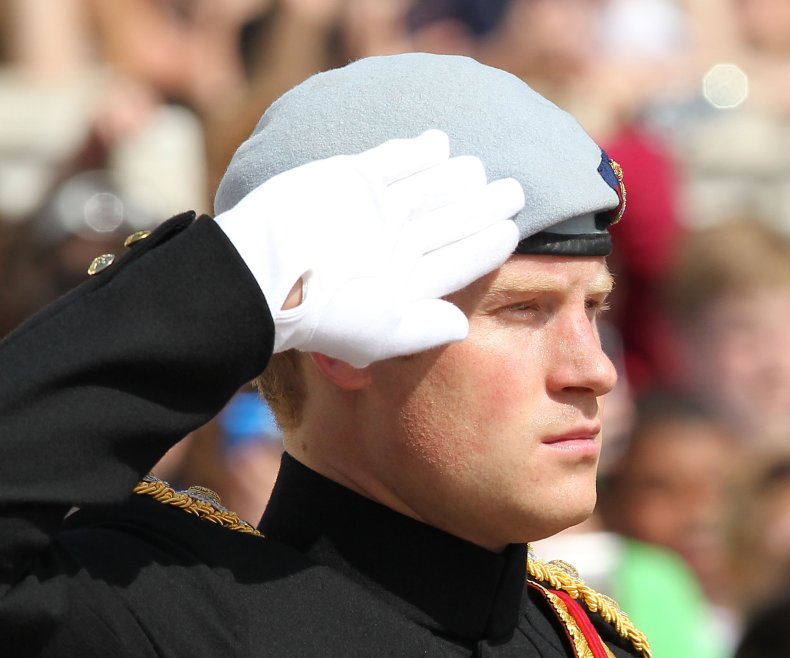 Harry has met Dr. Biden a number of times as she is a regular in the crowds at his Invictus Games for wounded, injured or sick veterans, being photographed with the prince every year from 2014 to 2017.
Fan account @_Duchess_of_Sussex Tweeted: "A picture of Harry from years ago at the Arlington Cemetery was seen in the background of @Potus, Bill Clinton and Hillary Clinton today.
"Harry is truly a military man through and through! So nice seeing him in the background."
It comes as Queen Elizabeth II sent a message to President Biden ahead of the inauguration, Buckingham Palace confirmed.
The contents have been kept private.
Harry and Meghan made a series of public comments ahead of the election, urging Americans. This led to allegations they had breached royal impartiality requirements.
In August, Meghan told Michelle Obama initiative When We All Vote: "We vote to honor those who came before us and to protect those who will come after us.
"Because that's what community is all about and that's specifically what this election is all about.
"We're only 75 days away from election day. That is so very close and yet there's so much work to be done in that amount of time.
"Because we all know what's at stake this year. I know it."
Prince Harry told Time in September: "This election I'm not going to be able to vote here in the U.S. but many of you may not know I haven't been able to vote in the U.K. my entire life.
"As we approach this November, it's vital that we reject hate speech, misinformation and online negativity."