Prince Harry's Police Security Lawsuit Could Become a Costly Error
Prince Harry's decision to sue the British government over the removal of his police security could give him a legal bill in excess of $360,000 if he loses, a Freedom of Information Act request shows.
The Duke of Sussex is suing the U.K. Home Office for denying him Metropolitan Police bodyguards during trips to Britain, arguing he should have been consulted about the decision.
If he wins, he may get the chance to have his team of specially trained police, armed with guns, reinstated, but if he loses he will likely have to pay the government's costs.
A Freedom of Information Act request by U.K. tabloid The Sun shows the Home Office has already notched up £199,978.52 (around $241,000) on legal department costs, £93,268 (around $112,000) on general counsel and £660 (around $800) in court fees.
He would then have to pay his own legal costs, sending the total figure even higher.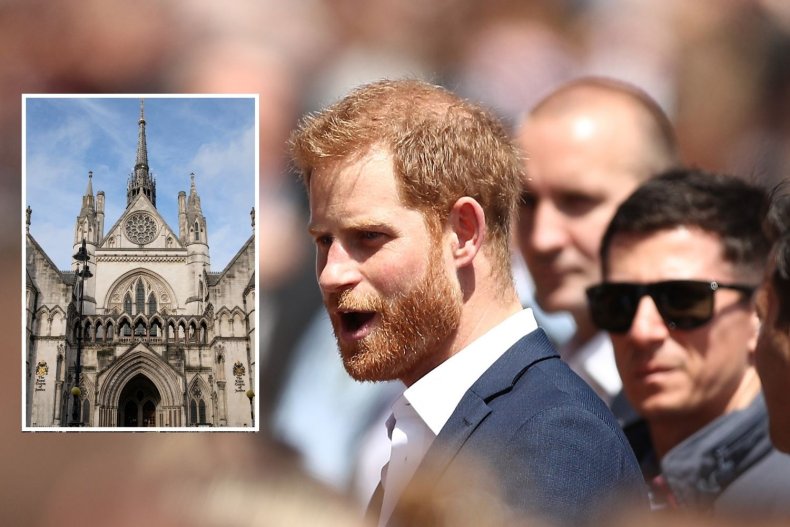 Attorney Mark Stephens of U.K. law firm Howard Kennedy told Newsweek: "Costs will follow the event. If Harry loses he'll end up paying the Home Office costs, but if he wins the Home Office will end up paying his costs and the costs of the security.
"I think he's unlikely to win," Kennedy continued. "There will be a degree of sympathy, but I think it's all wrapped up in the bigger decision."
Harry's legal campaign, if successful, could break new ground, as he wants to have the team reinstated and also to have the right to pay for the service himself.
There is currently no legal right in Britain to pay for police protection if you have been judged ineligible, and experts have suggested Harry could create a security "Wild West" if successful.
As Newsweek revealed in July 2022, he has filed a second lawsuit specifically focusing on the issue of his offer to pay.
A Home Office court filing that July, seen by Newsweek, gave a strong indication that government lawyers will try to recover any costs from the duke.
"This is an exceptional case in which a very significant burden has been imposed by [Prince Harry] on the public purse through pursuit of an unarguable claim and requiring detailed and lengthy engagement in advance of a permission decision," the filing said. "The public purse should not have to bear the cost of the conduct of this litigation and a claim which ought not to have been brought at all."
However, costs may not be the only concern. Harry's case could expose the inner workings of royalty protection, leading to reputational risks for both himself and the rest of the royal family.
Stephens told Newsweek: "The more interesting part is that it's more likely to come out through disclosure the inner working of the deal between the two sides. I don't think anyone comes out of this particularly well. There are practical motivations which are hard, but there is some score settling going on as well."
British newspapers have also reported that Prince Andrew is in line to lose his Metropolitan Police protection, switching to private security guards like Prince Harry.
Stephens said the move would weaken Harry's case: "It shows that there's not one rule for Harry and another for others, which was always the position. So that was the issue, and so now they seem to be treating Andrew."
A U.K. government spokesperson told Newsweek: "The U.K. government's protective security system is rigorous and proportionate. It is our long-standing policy not to provide detailed information on those arrangements, as doing so could compromise their integrity and affect individuals' security. It would not be appropriate to comment on ongoing legal proceedings."
Jack Royston is the chief royal correspondent at Newsweek, based in London. You can find him on Twitter at @jack_royston and read his stories on Newsweek's The Royals Facebook page.
Do you have a question about King Charles III, William and Kate, Meghan and Harry, or their family that you would like our experienced royal correspondents to answer? Email royals@newsweek.com. We'd love to hear from you.