Prince Harry has formally filed a second lawsuit against the U.K. government at a time when commentators have suggested tensions with the royal family are easing.
The Duke of Sussex is already suing the British Home Office over its decision to remove his police protection, first taken in 2020, which he says means it is unsafe in Britain for him, Meghan Markle and their children Archie and Lilibet Mountbatten-Windsor.
Now he has filed a second lawsuit against the same government department but also naming the Metropolitan Police as a second defendant, the High Court confirmed to Newsweek.
It will focus on a decision in January 2022 that individuals should not be allowed to pay privately to receive police protection.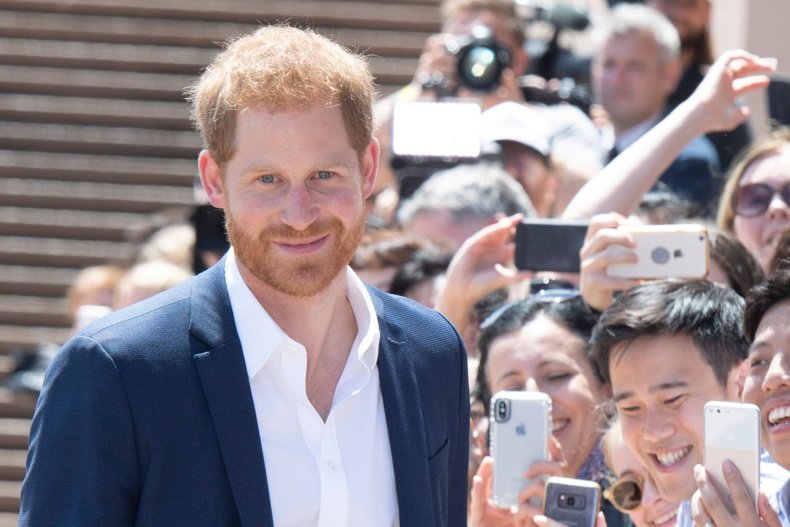 A legal expert previously told Newsweek that if he wins, there is the potential it could pave the way for a much wider crop of the rich and famous to file similar claims against the government to upgrade their own security arrangements, though the devil, she said, will be in the detail.
Amber Melville-Brown, of international law firm Withers, said: "Currently, state security is not available on a privately funded basis—but a change in the rules, if it applied to any 'individual' who did not justify private security, could theoretically enable those with the will and the wherewithal to pay privately for protection, leading to armed entourages accompanying them as they toured around the British Isles."
The new case also serves as a barometer for how Prince Harry currently feels about dealings with the palace in his post-royal era.
Commentators recently suggested there had been a soothing of tensions over the Platinum Jubilee, with journalist and former friend of Princess Diana, Richard Kay, telling The Royal Beat: "Since [January], there has been a measure of a rapprochement. We saw it at the Jubilee, there was a bit of an attempt by Harry to sort of wind it down a bit."
However, the fact he has filed a second judicial review over his police protection before the first has even concluded shows the strength of feeling in Camp Sussex that there remain problems that have not been solved—and key to the dispute is Queen Elizabeth II's closest aide.
Harry's first "judicial review" revealed in July that the prince was not initially told that members of the royal household were involved in the committee that took the decision to strip him of his police protection.
The prince has discovered through the litigation that a former palace nemesis, the queen's private secretary Sir Edward Young, sits on the Royal and VIP Executive Committee (RAVEC).
The prince's frustration was plain as his lawyers outlined that Harry had told the royals, Young and other courtiers he was willing to pay for his private security himself as early January 2020 but his offer had not been passed on to RAVEC.
A July court filing by the duke's team spoke of "significant tensions" with Young and added: "[Prince Harry's] offer was made at a meeting on 13 January 2020 at which members of TRH [The Royal Household] were present and is also referred to in an email to Sir Edward Young of 16 April 2020. There has been no explanation of why the offer was not conveyed."
The security dispute remained a live issue during the Platinum Jubilee, when Harry and Meghan confined their activities to events where they were offered police bodyguards.
These comprised just two appearances, by invitation, at official events, Trooping the Colour, on June 2, and a service at St. Paul's Cathedral in the queen's honor, on June 3.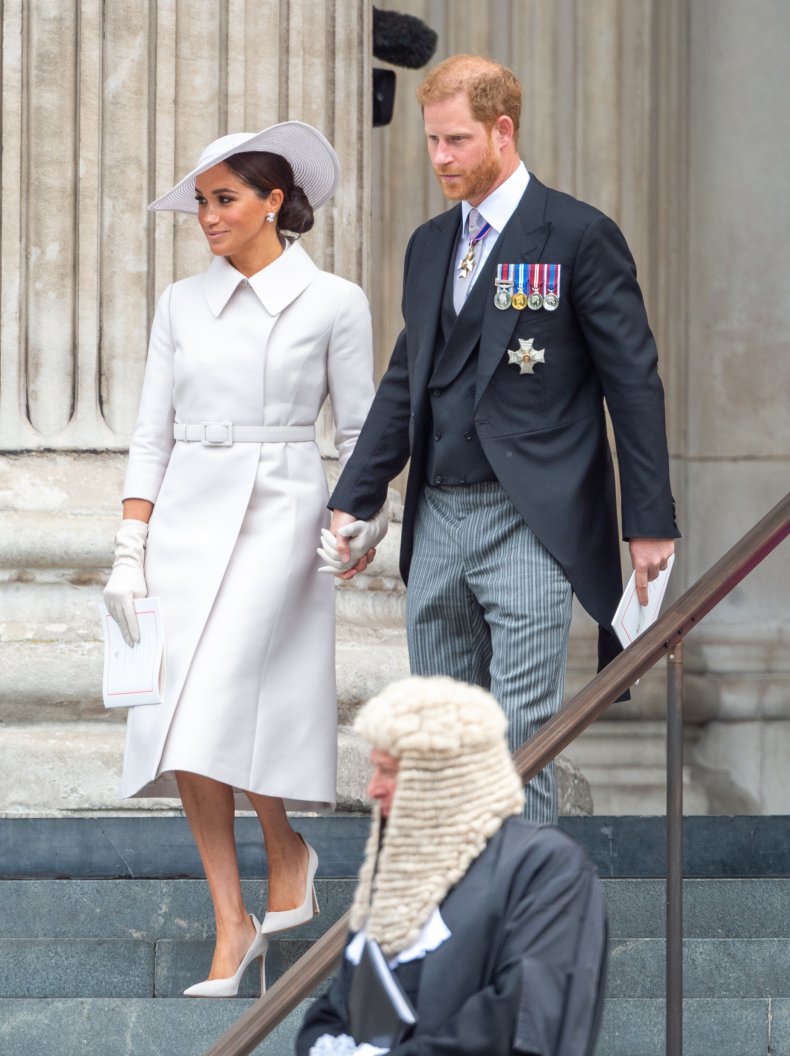 The new judicial review is at an early stage, meaning few details are known, however, Harry's lawyers recently gave some information in their July court filing in the first case.
The document, seen by Newsweek, read: "On 21 December 2021 [The Home Office] asked RAVEC to determine in principle whether an individual whose position had been determined by RAVEC not to justify Protective Security should be permitted to receive Protective Security but to reimburse the public purse for the cost of that security.
"On 24 January 2022, RAVEC took the decision that State security should not be available on a privately financed basis."
The filing added: "[Prince Harry] has engaged in pre-action correspondence for a proposed second judicial review claim in relation to these matters, and intends to issue that claim shortly."
Harry has now filed that claim paving the way for a further showdown, though Home Office lawyers were scathing about the first case.
The government's own July court filing read: "This is an exceptional case in which a very significant burden has been imposed by [Prince Harry] on the public purse through pursuit of an unarguable claim and requiring detailed and lengthy engagement in advance of a permission decision.
"The public purse should not have to bear the cost of the conduct of this litigation and a claim which ought not to have been brought at all."
Harry was, however, given permission to argue his case in the first judicial review in a boost for the duke at the end of July.
Whether or not he wins is yet to be seen.
For more royal news and commentary check out Newsweek's The Royal Report podcast: