Harry 'Was Still at Peak Rage' at Key Stage of Memoir and May Now Tone Down
Prince Harry may "want to readjust" his forthcoming memoir after interviews with his ghostwriter were undertaken during a period of "peak rage, with Britain, with the Royal Family, with his sibling," according to a journalist friend of Princess Diana's.
The Duke of Sussex is publishing his life story with Penguin Random House and the book is expected to drop towards the end of 2022. Royal watchers will be keen to see whether the book re-ignites royal feuds or serves as an olive branch after the bombshells of Harry and Meghan Markle's interview with Oprah Winfrey in March 2021.
Richard Kay, a friend of Harry's mother and a Daily Mail columnist, told True Royalty TV's The Royal Beat: "There is still that possibility that the entreaties of the Royal Family have not fallen on deaf ears, and that Harry is having second thoughts about when he publishes this book at all.
"The book was completed, we believe in, about January—at least Harry's part in it—the interviews. That was really when Harry was still at peak rage with Britain, with the Royal Family, with his sibling and family."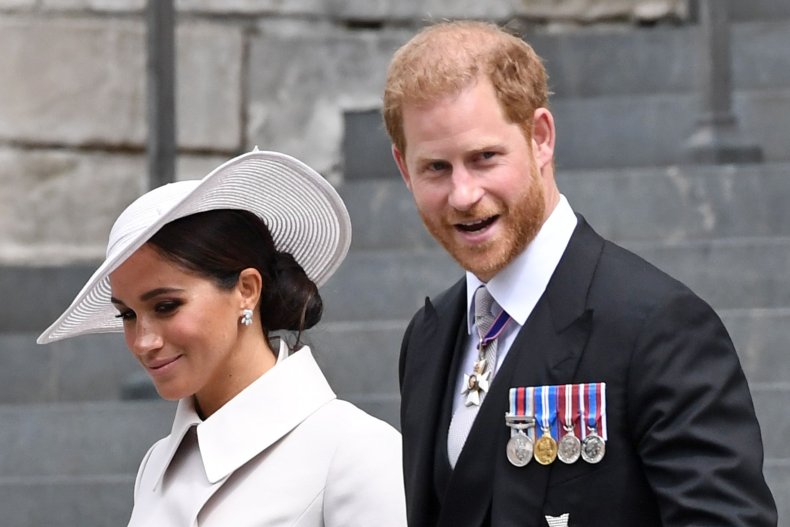 Kay continued: "Since then, there has been a measure of a rapprochement. We saw it at the Jubilee, there was a bit of an attempt by Harry to sort of wind it down a bit. Will he want to readjust what he's written? All these things must be going through his mind."
Royal biographer Duncan Larcombe, author of Prince Harry: The Inside Story, said: "I think Harry seems to have just slightly spiked his guns. The Queen has slightly calmed the situation down."
There may, however, be a reason to question the account the writers provided of the recent soothing of tensions.
Prince Harry as recently as April dodged a question about whether he missed Prince Charles and Prince William, during an interview with Today's Hoda Kotb two months before his grandmother's Platinum Jubilee celebration.
Harry and Meghan then had a scaled-down jubilee in June, attending just two events after they were denied police protection for any outings that they had not been officially invited to. That meant any attempt to engage with their other British charity partners would have been done without police protection, and Harry is on record saying that he believes that would be unsafe.
His legal representative said in a January statement: "The Duke and Duchess of Sussex personally fund a private security team for their family, yet that security cannot replicate the necessary police protection needed whilst in the UK. In the absence of such protection, Prince Harry and his family are unable to return to his home."
It all meant the only other item in their schedule was a private party at their U.K. home, Frogmore Cottage, for daughter Lilibet Mountbatten-Windsor's first birthday. They were not seen publicly engaging with Prince William and Kate Middleton, having been sat on the opposite side of a June 3 church service, and the Cambridges were also out of London for Lilibet's birthday party.
Prince Harry's lawyers said in July that they are preparing to file a second lawsuit on the subject over a ruling by the Royal and VIP Executive Committee (RAVEC) of the Home Office that he could not pay to continue his Metropolitan Police security detail.
At the same hearing, it emerged that Prince Harry has objected to the fact he was not told about the involvement in the decision-making of a specific courtier who he has clashed with in the past.
Sir Edward Young, Queen Elizabeth II's private secretary and her closest aide, the court heard, does not get on with the duke, and "significant tensions" cited by Harry's lawyer do not appear to have subsided since the couple left the palace in 2020.
It may be that the Platinum Jubilee appeared to be a rapprochement because it went the way the palace wanted, with Harry and Meghan remaining in the background and the queen in the spotlight. However, there is little visible public evidence of Harry and Meghan feeling the same way while the evidence at the High Court in London appears anything but tranquil.
Harry's lawyers said in a court filing seen by Newsweek: "[Prince Harry] should have been given a clear and full explanation of the composition of RAVEC and those involved in its decision-making, i.e. that this included The Royal Household ('TRH').
"He should have been given the opportunity to make direct representations to RAVEC as a body to ensure that all his points were fully and properly communicated to RAVEC; he should have been informed about the RAVEC Policy/how it was applied and points being made by others involved in the process, including TRH; and he should have been given an opportunity to respond to those points/make any others he wished, such as whether it was appropriate for TRH/certain individuals to be involved in making the Decision."
For more royal news and commentary check out Newsweek's The Royal Report podcast: