How Harry, Meghan's Jubilee May Have Been Hit by Police Protection Dispute
Prince Harry and Meghan Markle's scaled-down Platinum Jubilee visit to Britain may have been impacted by arrangements for police protection for the couple and their children.
The Duke and Duchess of Sussex attended just two events during Queen Elizabeth II's official celebrations marking 70 years of her reign, in June 2022.
It was Meghan's first public visit to Britain since the couple quit royal duties in March 2020 and both royals still have partnerships with charities in the U.K.
However, they only attended Elizabeth's Trooping the Colour birthday parade on June 2 and an official church service in her honor at St. Paul's Cathedral on June 3.
They then held a private birthday celebration for daughter Lilibet Mountbatten-Windsor at their Frogmore Cottage home on June 4, before flying back to America.
Some speculated the reason may have been to avoid outshining the 96-year-old monarch, but a document made public at the High Court on Thursday, July 7, hints at another possible explanation.
A Home Office court filing, seen by Newsweek, shows there have been confidential discussions about the level of police protection the couple were provided during the historic celebrations.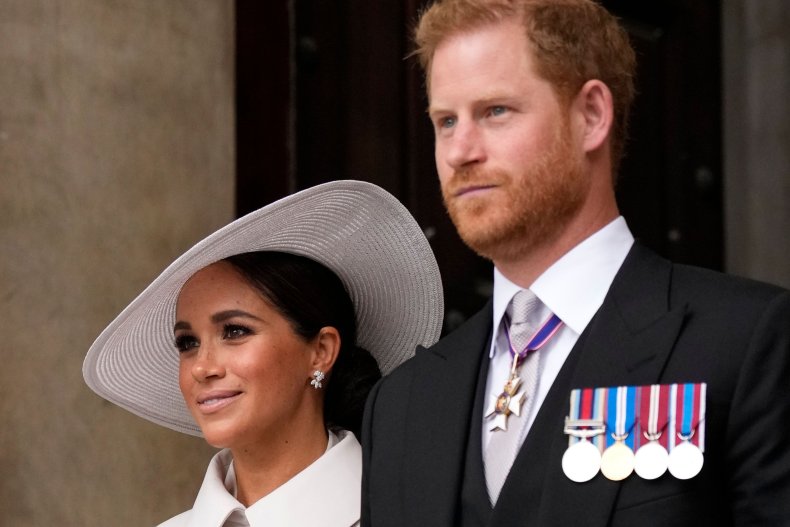 "This [court filing] does not deal with confidential matters; and thus does not repeat the discussion of the factual background, the role of [Home Office committee] RAVEC, the scope of those in receipt of Protective Security from RAVEC, and the Protective Security measures which have been applied to [Prince Harry] on his visits to Great Britain—including for the Platinum Jubilee," the document read.
Prince Harry was already known to have been offered police protection on at least one previous return to Britain, for Prince Philip's funeral, in April 2021.
The decision then arose out of an assessment of the nature of the event and the threat level associated with it, factors that were all also present during the official events marking the Platinum Jubilee.
However, at other times, the duke has not been offered security, most notably in July, 2021, when he travelled to Britain to unveil a statue of Princess Diana at Kensington Palace.
He also attended an event for charity WellChild on the same visit and was chased by photographers as he left.
A statement from his legal representative in January 2020 read: "During his last visit to the U.K. in July 2021—to unveil a statue in honor of his late mother—his security was compromised due to the absence of police protection, whilst leaving a charity event."
"In the absence of such protection, Prince Harry and his family are unable to return to his home," the statement continued.
The fact Harry and Meghan only attended two official Platinum Jubilee events is perhaps no surprise given those are the only events for which they would have been offered police protection.
The distinction underlines how high the stakes are for Harry and Meghan and their relationship with the royal family, including for their children Lilibet and Archie Mountbatten-Windsor.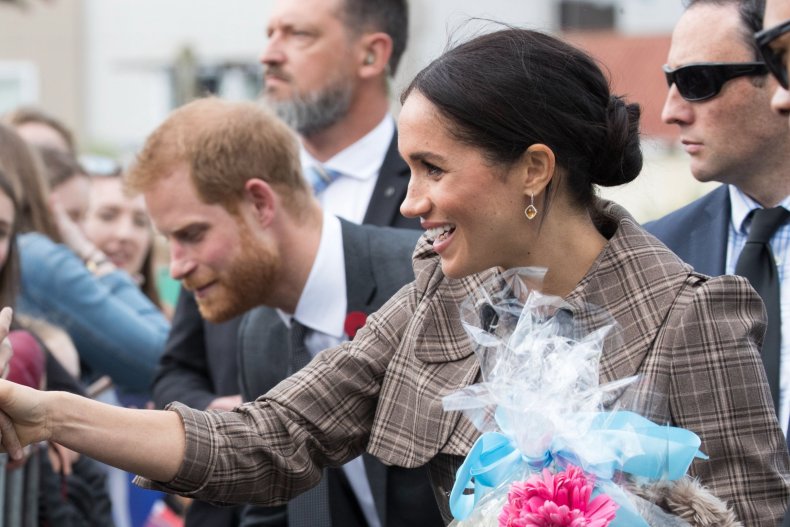 It suggests that if the security dispute is not resolved, the Sussexes will only feel able to visit Britain, and give their children the chance to build a relationship with royal relatives, when they have been formally, officially invited.
That would mean that, from the Sussex perspective, the royal family would decide when and how Harry and Meghan saw the U.K.-based royals.
Harry told Oprah Winfrey how seriously he took the removal of his police protection in March 2021: "I never thought that I would have my security removed, because I was born into this position. I inherited the risk. So that was a shock to me. That was what completely changed the whole plan."
The dispute is clearly still high up the prince's priority list as he is poised to launch his third lawsuit related to the issue.
The first was filed against the Home Office over its decision to remove his protection while the second was a libel case against The Mail on Sunday arising from an article about his offer to pay for his protection.
The third, imminent, case is set to cover a decision by the Royal and VIP Executive Committee (RAVEC) that private citizens should not be allowed to fund their own Metropolitan Police protection.
The issues also speaks to deep seated and enduring tensions between Harry and the Royal Household, including the queen's most senior aide, Sir Edward Young, who sits on RAVEC.
Harry's lawyers told the High Court he believed "the decision was made 'independently' of [the Royal Household] (which is relevant in light of the significant tensions between [Prince Harry] and [Sir Edward Young])."
The revelations also shed further light on cryptic comments Harry made during an NBC interview during the Invictus Games in April 2022, shortly after a private visit with Meghan to Britain to see the queen.
"She's always got a great sense of humor with me and I'm just making sure that she's, you know, protected and got the right people around her," Harry said.
For more royal news and commentary check out Newsweek's The Royal Report podcast: