Harry, Meghan Jubilee Visit: 'The Palace Knew Who They Were Dealing With'
Buckingham Palace "knew who they were dealing with" when it came to handling the public appearances of Prince Harry and Meghan Markle for Queen Elizabeth II's Platinum Jubilee celebrations in June, according to a prominent royal commentator.
Richard Fitzwilliams, a regular commentator on royal affairs, told British political figure Nigel Farage on the GB News network that Harry and Meghan have done "a lot of damage in the United States" to the monarchy but that the institution "has lasted over a thousand years."
When told by Farage that there is "worse to come" with the expected publication of Harry's memoir later this year, Fitzwilliams responded by saying, "there is undoubtedly potentially worse to come but what impressed me during the Platinum Jubilee celebrations which you mentioned to begin with, the palace knew who they were dealing with."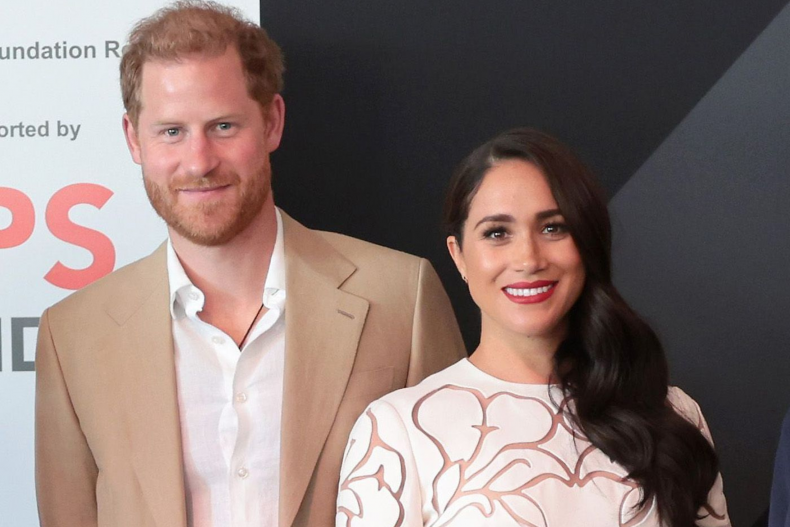 He went on to give examples of the palace's apparent handling of the Sussexes as they made their first joint public return to the U.K since stepping down as full-time working royals in March 2020. The visit was also the couple's first U.K public appearance since the broadcast of their interview with Oprah Winfrey in 2021.
"The queen apparently saw Lilibet, [Harry and Meghan's] daughter, but there were no photographs taken," Fitzwilliams said.
He then went on to add that at the national service of thanksgiving for the queen's historic 70-year reign at which the Sussexes were present, "they were on the other side of the aisle seated with Eugenie and Beatrice, with whom they get on apparently," this meant that the couple did not interact with Prince William and Kate Middleton, nor were they photographed together.
The relationship between Harry and William is reportedly strained since the "Megxit" period which saw Harry and Meghan move to the United States culminating in the Winfrey interview and subsequent media commentaries.
According to Tina Brown, author of The Palace Papers and former editor of Vanity Fair, William's reaction to claims made by Meghan during the interview with Winfrey that Kate Middleton made her cry before her wedding and bringing up reports that she was known as "Waity Katy" before her marriage worsened the siblings' relations.
"William was disgusted about Meghan's attack on Kate because she can't answer back," Brown told The Telegraph. "But that's nothing compared to how furious he's going to be when this book comes out."
Fitzwilliams agreed with Brown's feelings, telling Farage that William is "deeply deeply embittered by that interview and some of the subsequent comments."
He then adds that he would like to see Harry's memoir "postponed" but added, "they might very well want the money."
It was reported that Harry signed a book deal with the publishing house Penguin Random House for an estimated $20 million. A statement released by the prince alongside the announcement of the project said:
"I'm writing this not as the prince I was born but as the man I have become. I've worn many hats over the years, both literally and figuratively, and my hope is that in telling my story—the highs and lows, the mistakes, the lessons learned—I can help show that no matter where we come from, we have more in common than we think.
"I'm deeply grateful for the opportunity to share what I've learned over the course of my life so far and excited for people to read a firsthand account of my life that's accurate and wholly truthful."
To Brown though, this memoir could be potentially more damaging than the Winfrey interview.
"Harry's announcement that he's also going to do a tell-all memoir coming out this September was just a huge issue for the whole family," Brown told the Washington Post.
"They have it now hanging over them like the sword of Damocles, that come the fall they're gonna get another boatload of flack from inside their own family. Just at a point where the monarchy's very fragile with the Queen on a glide path to the end of her life. So there's a lot of anger about that."