Harry, Meghan Cheered by Jubilee Service Crowds Despite Dire Polling
Prince Harry and Meghan Markle were greeted with cheers at their first public appearance in Britain since stepping down as full-time working royals in 2020—despite receiving their lowest ever popularity polling results in the build-up to the Platinum Jubilee.
The Sussexes arrived at St Paul's Cathedral for the national service of thanksgiving marking Queen Elizabeth II's historic 70-year reign on Friday and were greeted with a wave of enthusiastic cheering from crowds gathered outside which outweighed a small amount of booing that could be distinguished amid the tolling of St Paul's famous bells.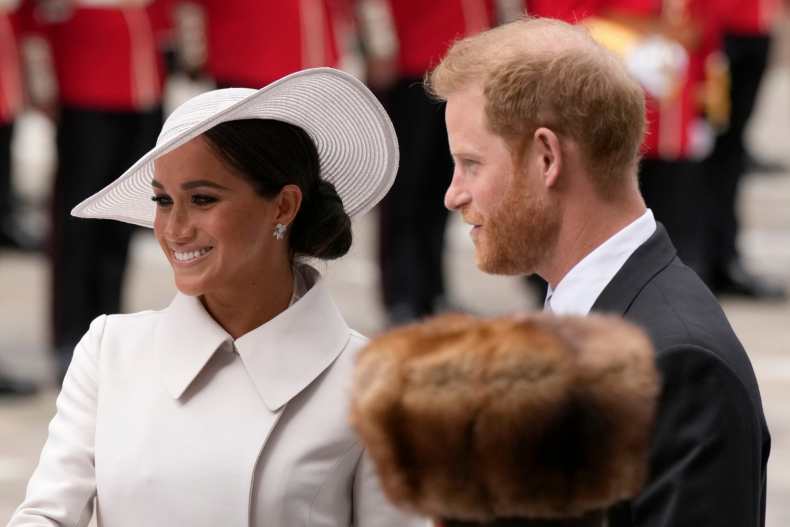 The royals' attendance comes as the queen canceled her appearance at the special event after suffering discomfort during her Trooping the Colour balcony appearance on Thursday. An announcement by Buckingham Palace on Thursday evening read:
"The Queen greatly enjoyed today's Birthday Parade and Flypast but did experience some discomfort.
Taking into account the journey and activity required to participate in tomorrow's National Service of Thanksgiving at St Paul's Cathedral, Her Majesty with great reluctance has concluded that she will not attend."
Harry and Meghan attended Trooping the Colour alongside other members of the extended royal family but did not make an appearance in public, following speculation that they would not be well received after stepping away from official royal life.
A poll by YouGov released on Tuesday found that the Sussexes' popularity in the U.K has taken a nosedive since their 2018 wedding. Meghan's popularity was at a record low with the duchess being viewed negatively by 63 percent of adults surveyed.
Harry did not fare much better with 58 percent of respondents saying they disliked the prince against 32 percent who responded that they liked him.
This comes in stark contrast to results in 2017, the year of his engagement to Meghan where Harry received an 81 percent favorable response from YouGov survey participants, eclipsing even the queen herself.
The Sussexes' warm reception by crowds on their arrival at St Paul's was shown on the live coverage of the event by the British national broadcaster the BBC.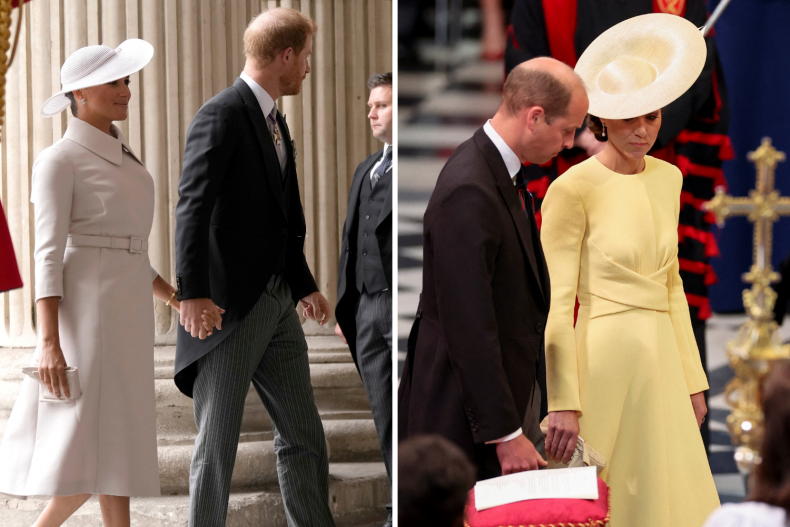 Meghan appeared in a glamorous pastel ensemble comprising a classic coat dress with back venting detail and a sculpted wide-brimmed hat. Harry appeared in a morning suit wearing his military medals—significant because he was forced to relinquish his official ceremonial links with the armed forces as part of stepping down as a full-time working royal.
The Sussexes' arrival at the service was followed by brother-and sister-in-law, Prince William and Kate Middleton.
The couple's unfavorable polling numbers have been attributed in part to the claims made in Harry and Meghan's 2021 interview with Oprah Winfrey in which Meghan told the host that Kate had made her cry before her wedding and also that a member of the royal family had made racially insensitive comments about the skin color of her future children.
Prince William broke his usual silence following the interview when after he was asked if the royal family were racist he responded: "We are very much not a racist family."
The couples have not been photographed together since the Commonwealth Day service at Westminster Abbey in 2020 where attention was drawn to the fact that there was little to no interaction between the foursome.
At Thursday's service, William and Kate were seated between Prince Charles, Camilla, Duchess of Cornwall, and Princess Anne. Harry and Meghan were placed in a row behind the senior royals, with Meghan next to Princess Margaret's daughter, Lady Sarah Chatto.
The service forms part of a jubilee tradition dating back to the reign of King George III with Queen Victoria marking her diamond jubilee with a similar service and Elizabeth II attending national thanksgiving events celebrating her three previous jubilees in 1977, 2002 and 2012.
The couple received a round of cheering again as they exited the cathedral though they were not seen alongside the Cambridges who left ahead of them in the procession.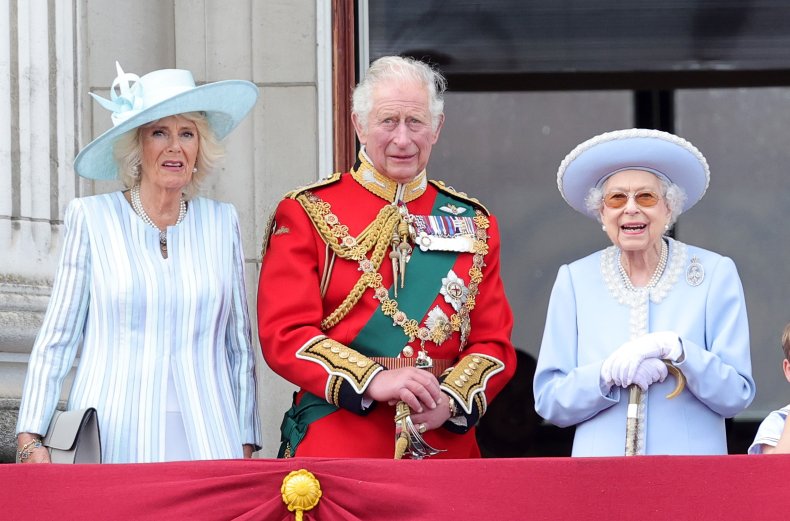 Harry and Meghan made the journey from their California home to Britain with their two children, Archie, 3, and Lilibet, 11 months.
The visit marks Lilibet's first visit to the U.K and will provide the first opportunity for her to be introduced to her namesake, her great-grandmother the queen, whose family nickname is "Lilibet."
Lilibet will celebrate her first birthday in Britain on Saturday and is expected to have a private family party at the Sussexes' Windsor home, next to the queen's castle residence.