William, Kate To Miss Lilibet's Birthday as Harry, Meghan Celebrate in U.K.
Prince William and Kate Middleton are to travel to Wales on the day Meghan Markle and Prince Harry mark daughter Lilibet's birthday.
The Duke and Duchess of Cambridge are due to visit Cardiff Castle on Saturday, June 4, to meet performers and crew as they prepare to stage the Platinum Jubilee Celebration Concert.
Music will fill the grounds of the castle as performers including Bonnie Tyler play for ticketholders until 7:00 p.m. local time (2:00 p.m. ET) when a separate concert taking place in London at Buckingham Palace will be screened.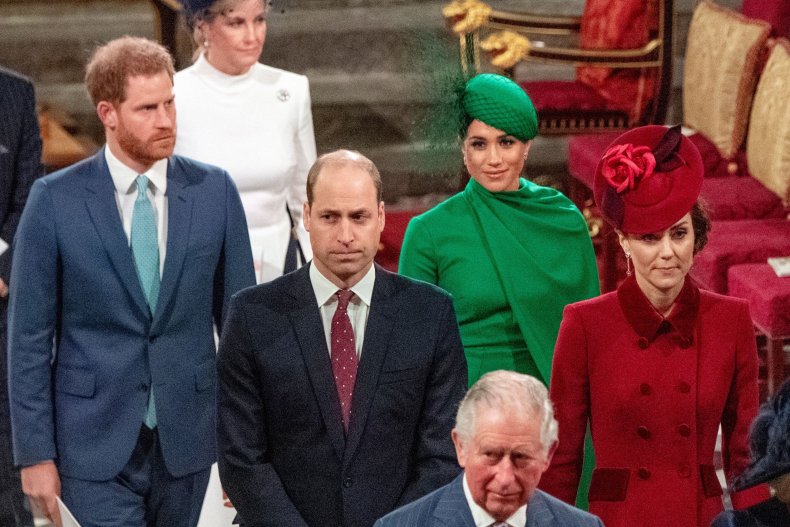 However, William and Kate's visit, around two hours from London and Windsor, coincides with Lilibet Mountbatten-Windsor's first birthday.
A palace press release read: "The Duke and Duchess of Cambridge will visit Cardiff Castle on Saturday, 4th June to meet performers and crew involved in the special Platinum Jubilee Celebration Concert taking place in the castle grounds later that afternoon."
Harry and Meghan are coming to Britain for the Platinum Jubilee and are expected at a Service of Thanksgiving for the Queen's Reign, at St Paul's Cathedral, the day before on Friday, June 3.
That would leave them free to celebrate Lilibet's birthday the following day with any of the royals not tied up with Platinum Jubilee visits.
British newspapers, including The Daily Telegraph, reported that the monarch, 96, will use the occasion to see her great-granddaughter.
Elizabeth has never met Lilibet, who was named in tribute to the queen's childhood nickname, and is thought to have cleared her schedule.
The royals are expected to make an appearance at Epsom Derby on the Saturday, but The Sun was among those reporting Queen Elizabeth II would likely not make it, despite her love of horse racing.
The queen, who has been experiencing episodic mobility problems, has a busy program of events, with most taking place in London.
The derby, however, is in Surrey, an hour away from Buckingham Palace, meaning it is the only item in her jubilee schedule that would involve a lengthy drive.
Royal watchers will be looking out for any hint during the jubilee of a reconciliation between Harry, Meghan and senior royals.
The Duke of Sussex regularly speaks positively about his grandmother but dodged a question in April 2022, about whether he missed Prince Charles and Prince William.
Asked a direct question about his father and brother, Harry told NBC's Hoda Kotb: "Look, I mean... at the moment, I'm here focused on these guys [at the Invictus Games] and these families and giving everything I can, 120 percent to them to make sure that they have the experience of a lifetime. That's my focus here."
The four-day jubilee weekend will be a busy time for the royals but fans will be hoping there is also time for clear-the-air talks amid the celebrations.
Meghan and Harry had a face-to-face meeting with the queen, Prince Charles and Camilla, the Duchess of Cornwall, in April as the Sussexes traveled to the Invictus Games, in Holland.
But Meghan has yet to see William and Kate face to face since the bombshell Oprah Winfrey interview in which she described feeling suicidal while operating out of a shared household with them at Kensington Palace.
The duchess also told Oprah stories in the British media wrongly accused her of making Kate cry during a bridesmaid's dress fitting in the run-up to the 2018 royal wedding when in fact "the reverse happened."
Meghan said: "A few days before the wedding, she was upset about something pertaining—yes, the issue was correct—about flower-girl dresses, and it made me cry, and it really hurt my feelings.
"And I thought, in the context of everything else that was going on in those days leading to the wedding, that it didn't make sense to not be just doing whatever everyone else was doing, which was trying to be supportive, knowing what was going on with my dad and whatnot."
Robert Lacey's biography Battle of Brothers quoted a friend saying "William threw Harry out" of the shared household at Kensington Palace in 2019.
New chapters, released months after the Oprah interview, read: "William, for his part, felt just as strongly about Meghan and the need for her subversive 'agenda' to be removed from the operations of the British monarchy, which she did not appear to understand or respect.
"He certainly wanted Meghan removed, for a start, from the hitherto harmonious joint household that he and his brother had operated together for the best part of a decade. William simply did not want her or Harry around anymore."
There may be a lot to talk about if Meghan and Harry can sit down in private with Kate and William.
It is equally possible they will simply avoid each other and let royal tensions bubble below the surface during the queen's celebrations.
For more royal news and commentary check out Newsweek's The Royal Report podcast: