Lilibet and Charles Had Emotional First Meeting During Harry, Meghan Visit
Prince Harry and Meghan Markle's daughter Lilibet's first introduction to her grandfather, Prince Charles, was "very emotional," a senior royal source said.
Lilibet, named after Queen Elizabeth II and known as Lili within her family, was introduced to her grandfather for the first time during the queen's Platinum Jubilee celebrations in June.
The Sussex family's visit to Britain for the celebrations marking the 96-year-old Elizabeth's 70th year on the throne was significant as it was their first time in the country as a family since stepping down as working royals and moving to the United States in 2020.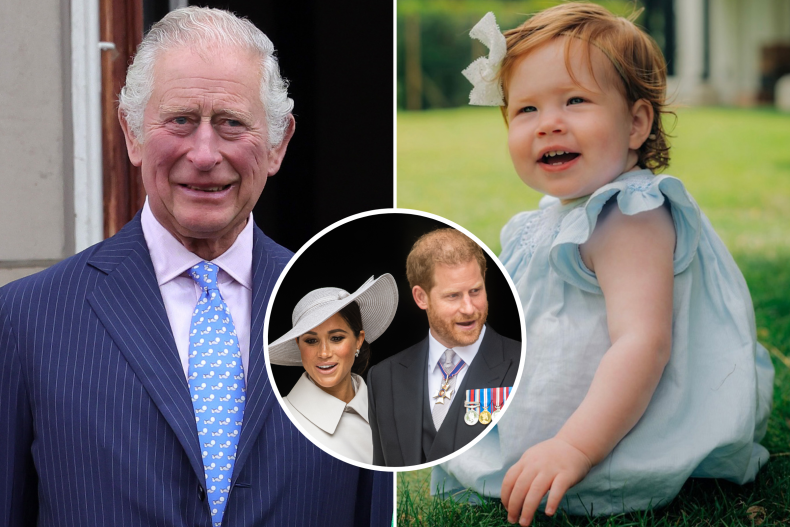 A senior royal aide commented on Wednesday, that Charles was "thrilled" to be reunited with his youngest son and daughter-in-law who arrived in Britain shortly before the jubilee celebrations began, Newsweek confirmed this was said.
"It was wonderful to see them," the source explained. "The prince and the duchess were absolutely thrilled to see them."
"The prince of course hasn't seen his grandson Archie for a bit of time, so it was very, very special to have some time with him," the source said. "He hadn't met Lilibet, his granddaughter, so to meet her for the first time was very emotional and a very wonderful thing. I say that without any great surprise, What grandparent wouldn't think that was a good day all round."
Charles is reported to be a doting grandparent whose appearance with Prince Louis during the Platinum Jubilee pageant was widely commented on by royal watchers online.
As well as not previously having met Lilibet, it is understood that Charles had not seen his grandson, Archie, in person since the winter of 2019 when Harry and Meghan spent the holiday period in Canada following their exhaustive tour of South Africa.
While in Canada with Archie, who was not yet one year old, Harry and Meghan announced their intention to step down as senior royals, the couple returned to Britain in January to negotiate their working exit but left Archie behind. The couple also did not bring their son back to Britain with them for their March 2020 visit during which they fulfilled their last royal duties.
Shortly after Harry and Meghan returned to Canada, the COVID-19 pandemic broke out and the couple moved to Los Angeles before finally settling in Santa Barbara.
Archie's accompanying his parents and sister to Britain for the jubilee was his first time back in the country of his birth for over two years.
Meghan announced that she was pregnant with her second child, Lilibet, in February 2021 and later announced that she was expecting a baby girl during her landmark interview with Oprah Winfrey the following month.
At the time of the interview, Harry said that his relationship with his father was still strained following the experiences he and Meghan had during their time as working royals and their stepping down.
"He stopped taking my calls," Harry said of Charles during the period termed by the press as "Megxit." When Winfrey asked whether the prince had started taking his son's calls again he said:
"Yeah, he is. There's a lot to work through there, you know? I feel really let down, because he's been through something similar. He knows what pain feels like, and Archie's his grandson. But, at the same time, you know, of course I will always ...I will always love him, but there's a lot of hurt that's happened."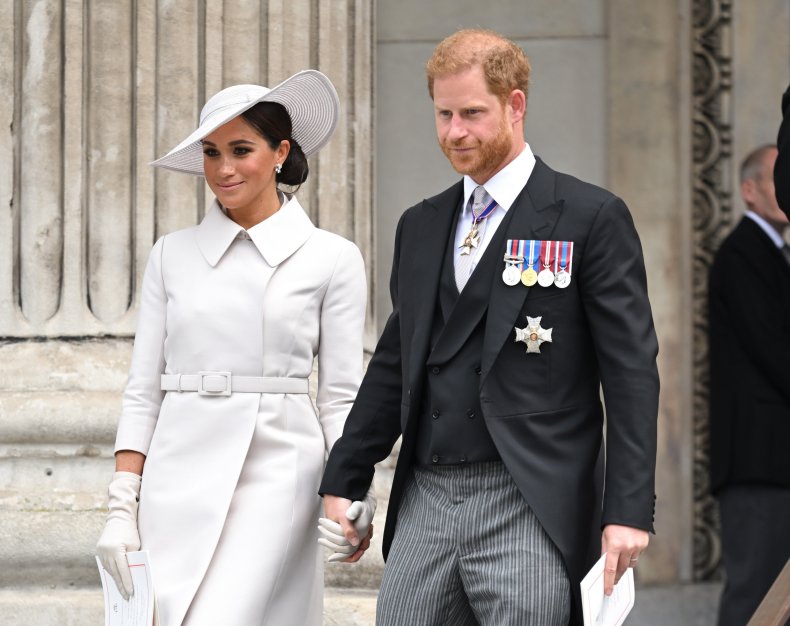 Relations between Harry and his father have reportedly warmed since the time of the Winfrey interview, though Harry swerved answering a question in April 2022 at the Invictus Games asking whether he missed Charles and brother William.
Lilibet Diana Mountbatten-Windsor, Charles' second granddaughter, was born on June 4, 2021 in Santa Barbara, California.
The Sussex family's visit to Britain for the Platinum Jubilee not only marked the first time that Charles met Lilibet but it also provided an opportunity for the youngest member of the family to meet her namesake great-grandmother, the queen.
A small intimate first birthday party was held for Lilibet at Harry and Meghan's Frogmore Cottage, which is reported to have been attended by close friends and some family members, though notably not Prince William and Kate Middleton who, with Prince George and Princess Charlotte, visited Wales as part of the jubilee.