How Prince Harry and Prince William Honored Their Mother in Two Very Different Ways
Prince Harry and Prince William showed their appreciation for Princess Diana through two very different tributes.
Harry wrote a forward to a book for children who lost a parent during the pandemic in which he said: "When I was a young boy I lost my mum."
And Prince William's children made cards in Diana's honor for U.K. Mother's Day, on Sunday, March 14, with Charlotte's reading: "Papa is missing you."
The two tributes come after Princess Diana's memory loomed large over Harry and Meghan's interview with Oprah Winfrey.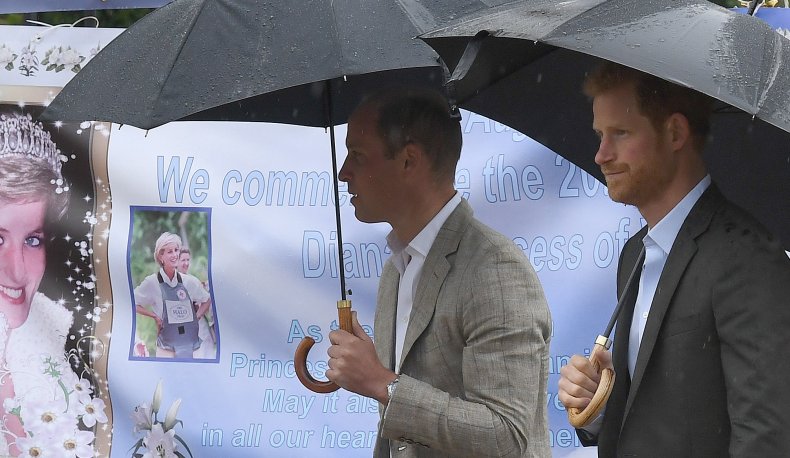 Harry said in the CBS prime time special broadcast on March 7: "I'm just really relieved and happy to be sitting here talking to you with my wife by my side because I can't begin to imagine what it must have been like for her [Diana] going through this process by herself all those years ago. Because it has been unbelievably tough for the two of us. But at least we had each other."
Chased by the paparazzi, Diana died alongside boyfriend Dodi Fayed in a 1997 Paris car crash, when Harry was 12 and William was 15.
The younger prince wrote the forward to Hospital by the Hill, by Chris Connaughton, aimed at helping children who lost a parent due to the pandemic.
Quoted by the Associated Press, Harry wrote: "While I wish I was able to hug you right now, I hope this story is able to provide you comfort in knowing that you're not alone.
"When I was a young boy I lost my mum. At the time, I didn't want to believe it or accept it, and it left a huge hole inside of me.
"I know how you feel, and I want to assure you that over time that hole will be filled with so much love and support."
He added: "We all cope with loss in a different way, but when a parent goes to heaven, I was told their spirit, their love and the memories of them do not.
"They are always with you, and you can hold on to them forever. I find this to be true."
Meanwhile, Prince William's Twitter account posted pictures of cards his children Prince George, Princess Charlotte and Prince Louis made in honor of Diana for Mother's Day.
George's card read: "Dear Granny Diana, Happy Happy mothers day. I love you very much and think of you always, Sending lots of love from George xxxxx."
Charlotte's read: "Dear Granny Diana, I am thinking of you on mother's day. I love you very much. Papa is missing you. Lots of love Charlotte xxxxxxxxx."
The Twitter post read: "This year Mother's Day will be different once again. Many of us will be apart from our loved ones, but looking forward to a time in the not too distant future when we can give our mother a hug again.
"But for those experiencing bereavement, today may be particularly challenging. Each year on Mother's Day, George, Charlotte and Louis make cards remembering their Granny, Diana, for William.
"Whatever your circumstances, we are thinking of you this Mother's Day."