Prince Harry Says Queen Meeting 'Great' After Meghan's First U.K. Return
Prince Harry said it was "great" to see Queen Elizabeth II during a secret meeting on wife Meghan Markle's first return to Britain since quitting royal duties.
The Duke and Duchess of Sussex sat down with the monarch last week, days before her 96th birthday, and reportedly also saw father Prince Charles and stepmother Camilla, the Duchess of Cornwall.
It was the first time Meghan has been face-to-face with senior, working royals since the couple's Oprah Winfrey interview leveled allegations of racism at a mystery, unidentified family member.
Prince Harry was asked about the meeting during coverage of his Invictus Games sporting event for wounded ex-service personnel, which is currently taking place in The Hague, in The Netherlands.
He told the BBC on Monday, April 18: "She [the queen] had plenty of messages for team U.K. which I've already passed on to most of them.
"No, it was great to see her, I'm sure she'd love to be here if she could."
The Oprah interview was broadcast on CBS on March 7, 2021, while Prince Philip was in hospital following minor surgery.
The Duke of Edinburgh died a month later, on April 9, and his funeral on April 17 was Harry's first return to Britain since the couple's final royal jobs in March 2020.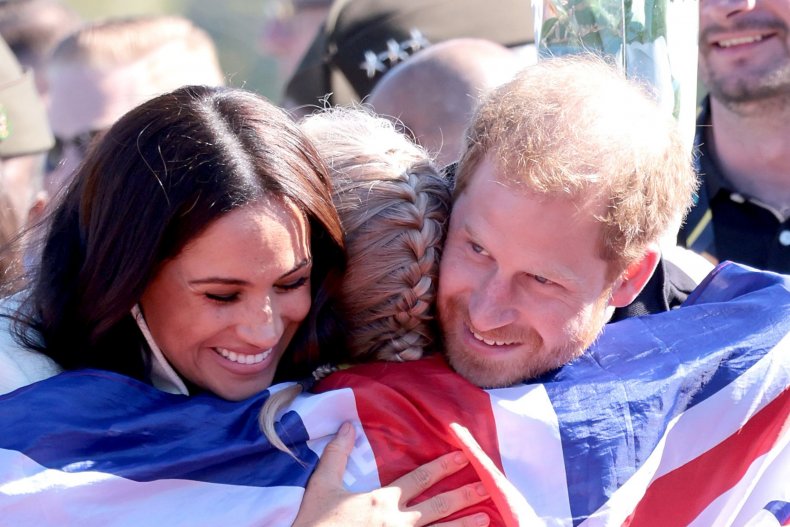 Meghan's visit to the U.K. came after speculation among royal commentators that she might never step foot on British shores again.
Tom Bower, whose books about the rich and famous are usually scathing, is writing an unauthorised biography of the duchess and told The Sun in February: "In truth, I suspect Meghan no longer cares whether she is welcome in London. She has no intention of returning."
Royal author Phil Dampier also told the newspaper in January that a lawsuit Prince Harry brought against the U.K. Home Office over his police protection might prevent a return to the country for the duchess.
He said: "I don't think Meghan will ever come back to this country and I think this is a very good excuse for not coming back—I don't think realistically (Harry) expects to win this case."
Ultimately, however, it was The Sun that learned of the secret meeting last week, which was not officially publicized by the royals.
Elsewhere in Harry's BBC interview he paid tribute to the Ukrainian Invictus team for making the games amid the Russian invasion.
He said: "I think what people need to remember, or perhaps don't even know yet, is the vast majority of the Ukrainian team was serving in some shape or form.
"So, they removed their uniforms, put their team strips on, jumped on the coach, came over here, slept for a couple of days, tried to decompress, and then were straight into it.
"And then they've got to go back. So, I think, to have them here is extraordinary."
For more royal news and commentary check out Newsweek's The Royal Report podcast: