Prince Harry Skipping Coronation Would Admit Royal Relationships Are 'Over'
If Prince Harry were to skip the coronation of his father, King Charles III, in May it would be "admitting defeat" that the royal rift between the California-based Sussexes and the wider royal family will "never heal," according to a new episode of Newsweek's The Royal Report podcast.
Charles' coronation takes place on May 6 at Westminster Abbey in London and will be held 70 years after the coronation of his late mother, Queen Elizabeth II.
Formal invites to the ceremony are not yet expected to have been sent out. However, a spokesperson for Harry and his wife, Meghan Markle confirmed earlier this month that the couple had received "email correspondence from His Majesty's office regarding the coronation. An immediate decision on whether the Duke and Duchess will attend will not be disclosed by us at this time."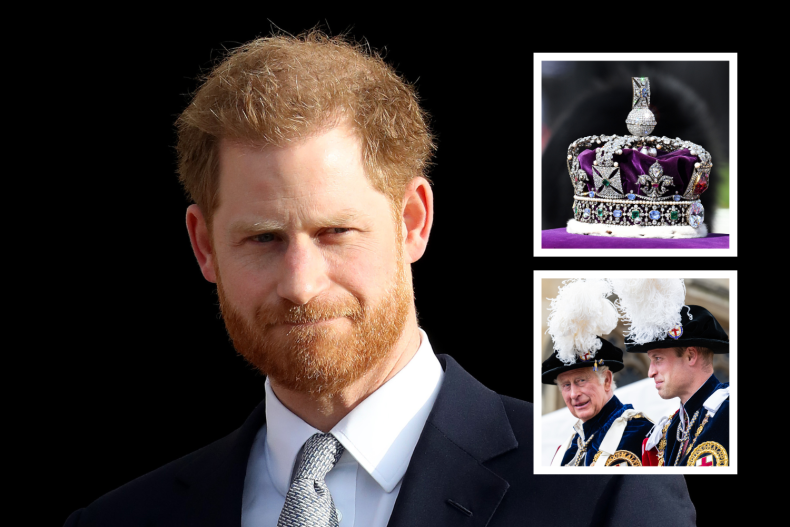 Though considerable speculation has developed in Britain over whether the couple will make the journey to London for the event—with or without their two children Prince Archie and Princess Lilibet—the couple could decide to decline the invitation.
Newsweek's chief royal correspondent, Jack Royston, told The Royal Report that to do so would risk being seen to admit "defeat" after the prince's bombshell memoir and Netflix docuseries exposed a widening rift in the family.
"The kind of symbolism of not going feels a little bit like giving up on the relationship with the royals," he said. "It feels like just kind of admitting defeat and that the rift will never heal. You know, if you don't go back to Britain to see your family for the coronation, then what do you go back for? What is going to be bigger than this?"
After the coronation, the next biggest royal event to take place is unlikely to be until Prince William and Kate Middleton's eldest son, Prince George, marries unless Charles' reign should end before then.
"But George is still, you know, an elementary school-age kid," Royston said. "Like, who is going to have an event of a scale that will actually bring Harry and Meghan back? They might come back to see friends but that's not the same as seeing family members.
"That's the thing about the royal family, is that you really do have to make a deliberate effort to see somebody," he continued. "You have to get it in the calendar or it won't happen. So, you know, going [to the coronation], I guess is keeping hope alive."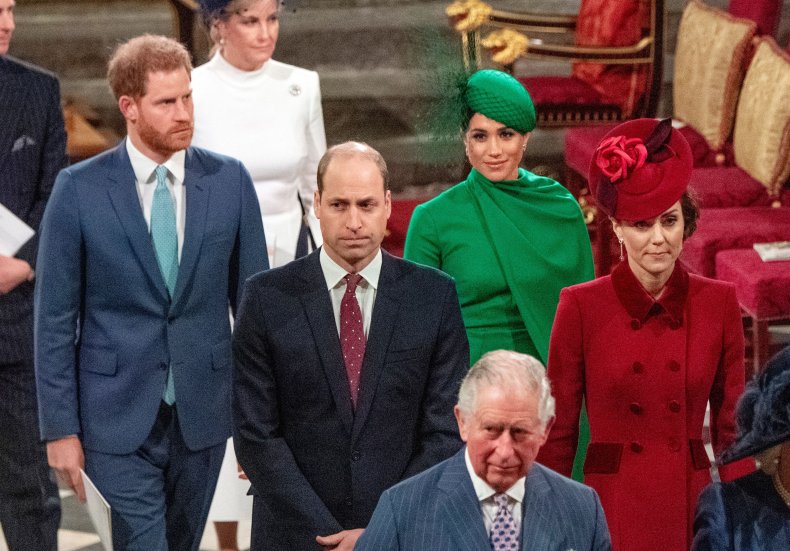 In a number of his media appearances promoting his memoir, Harry spoke of a desire to reconcile with his family but said he requires there to be a "constructive conversation" in order to do so, adding that "the ball is very much in their court."
On whether this work towards repairing royal relationships can happen over the coronation period, Royston voiced skepticism.
"I have very little hope that actual progress would be made if they came to the coronation," he said. "Apart from anything else, it would be a very busy time, but to not go is to basically put your hands up and admit that it's over."
So far, no member of the royal family has officially commented on Harry and Meghan's claims made in their Netflix series, the prince's memoir or his interviews promoting it.
In addition to the Sussexes, all senior members of the royal family are expected to receive invitations to the coronation, with William and Kate, now the Prince and Princess of Wales, expected to take prominent seats in the abbey and for the weekend of events marking the royal milestone.
James Crawford-Smith is Newsweek's royal reporter based in London. You can find him on Twitter at @jrcrawfordsmith and read his stories on Newsweek's The Royals Facebook page.
Do you have a question about King Charles III, William and Kate, Meghan and Harry or their family that you would like our experienced royal correspondents to answer? Email royals@newsweek.com. We'd love to hear from you.