Why Meghan Markle and Prince Harry Must Face a Public That Dislikes Them
Prince Harry and Meghan Markle must choose between the risk of getting booed at King Charles III's Coronation or staying at home while global attention turns to the monarchy they left behind.
The Duke and Duchess of Sussex have been invited to the historic ceremony at Westminster Abbey on May 6, their spokesperson confirmed over the weekend, though they are yet to say whether they will attend.
"I can confirm the duke has recently received email correspondence from his majesty's office regarding the coronation," the statement read. "An immediate decision on whether the duke and duchess will attend will not be disclosed by us at this time."
There may be a number of factors influencing that delay, including that they will likely want to ensure they will be offered police protection for the event.
However, there are a whole series of implications to weigh up as they make their decision about whether to travel to Britain.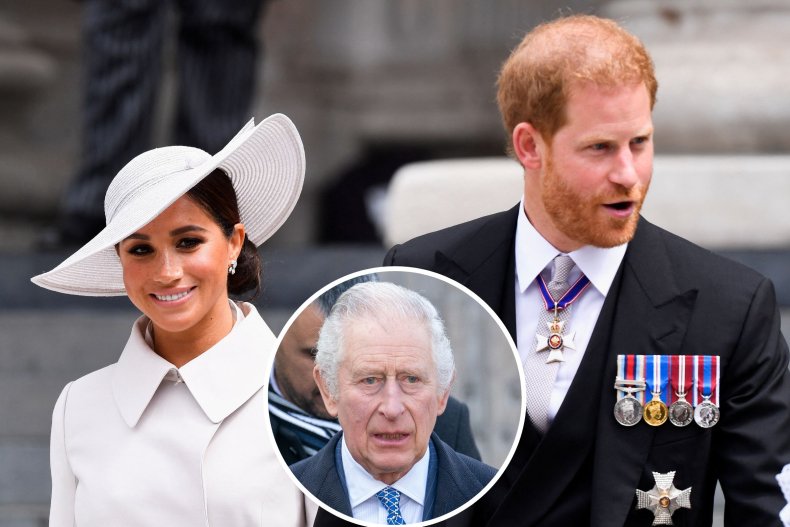 Harry and Meghan's Coronation Dilemma
There are many factors that may impact the couple's decision, including the fact the coronation is taking place on their son Archie Mountbatten-Windsor's fourth birthday, though any celebrations could no doubt easily be planned for another day.
Perhaps harder to shift will be Harry's own feelings about seeing family members face-to-face who may not be happy about the revelations in his book, Spare.
Prince William was the book's central antagonist and he was framed as the driving force behind a lifelong sibling rivalry that culminated in a heated argument in which Harry said his older brother bundled him to the ground and into a dog bowl.
Harry also accused William of screaming during royal exit negotiations in January 2020 and of ordering him to shave his beard off for his wedding because William had been forced to get rid of his own facial hair years earlier. There were trivial, but highly personal, details too, such as discussion of whether Prince William had been circumcised.
One passage read: "I looked at Willy, really looked at him, maybe for the first time since we were boys. I took it all in: his familiar scowl, which had always been his default in dealings with me; his alarming baldness, more advanced than my own; his famous resemblance to Mummy, which was fading with time. With age." Harry described William as "my beloved brother, my arch nemesis."
Spare also revealed that Meghan offended Kate Middleton by suggesting she had baby brain in the days before the wedding, while Meghan felt Kate was unreasonable about alterations needed for Princess Charlotte's bridesmaid's dress. Meghan was later that day reduced to tears by the encounter, Harry said.
Queen Camilla, meanwhile, was framed as a schemer who sacrificed Harry on "her personal PR altar" as she attempted to rehabilitate her public image following her role as the other woman in Charles and Princess Diana's marriage.
There will, in other words, be a number of royal family members beyond Charles himself who may not welcome Harry and Meghan's attendance on the day.
Public Reaction to Harry and Meghan at the Platinum Jubilee
The family's reaction may be the least of their troubles, however, as the public are likely to be significantly more direct than any royal would dare to be in front of the media.
Harry and Meghan were booed as well as cheered when they attended the Platinum Jubilee at St Paul's Cathedral, in London, in June 2022, and Harry has if anything become more unpopular since the release of the duke's book.
Polling by YouGov in January showed 24 percent of Brits felt positive about Harry, compared to 68 percent who felt negative, giving him a net approval rating of -44. This marks a drop of 18 points from -26 in YouGov polling conducted in mid May, 2022, two weeks before the Jubilee.
Meanwhile, Meghan was liked by 22 percent and disliked by 68 percent giving her a net rating of -46 in January 2023. This was a smaller drop of four points from May 2022, when she was on -42.
The public backlash against the couple brings with it an additional problem.
Police Protection for Harry and Meghan
Harry and Meghan's pariah status in the U.K. brings a greater risk to their physical safety and the couple may also be holding out for assurances they will be offered Metropolitan Police bodyguards during their stay in Britain.
The couple were given taxpayer-funded armed security during the Platinum Jubilee, but only for official events where they had a formal invitation, meaning any other engagements would have fallen to their private security detail who can't carry guns in Britain.
The extent of their concern around their safety can be seen from the fact they did nothing else outside their Frogmore Cottage U.K. home during that trip.
Since then, the risk to Harry will likely have only increased after his book Spare detailed how he didn't see the 25 Taliban he killed in Afghanistan as people but rather as "chess pieces removed from the board."
If the U.K. Home Office treats the Coronation in the same way it treated the Jubilee, then Harry and Meghan should be offered police protection for any official events.
U.K. Media Debating Harry and Meghan's Coronation Invite
Meanwhile, confirmation that Harry and Meghan have been invited sparked a lively debate in the U.K. media.
Shola Mos-Shogbamimu, author of This Is Why I Resist, wrote on Twitter: "I do expect Harry and Meghan to attend King Charles #Coronation—they have a level of maturity Charles and William are sorely lacking. I like how they consistently rise above the pettiness, envy & self-destruction Royal Family embodies. It's just 1 day—they've survived worse."
Meanwhile, historian Tessa Dunlop, author of Elizabeth & Philip, told Good Morning Britain Harry and Meghan should go to the Coronation.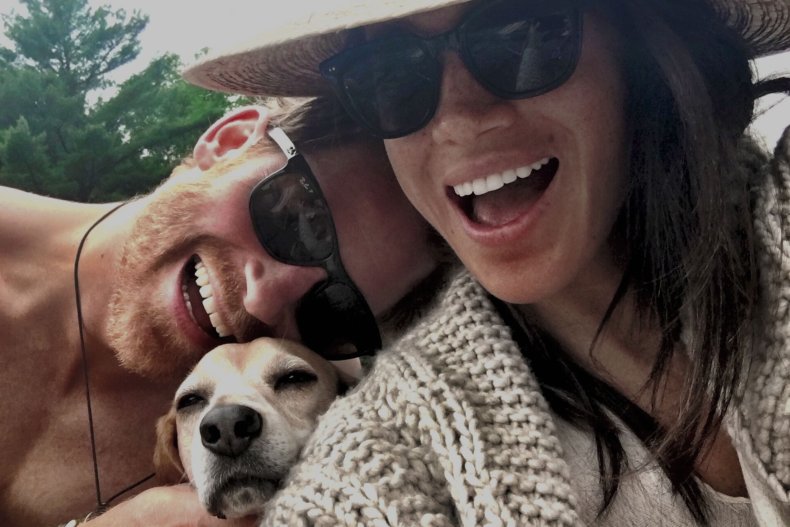 She said: "They're actually really quite ordinary in this extraordinary position and what they've done is they've behaved like rebellious teenagers, they're pushing not only against daddy but also against their school."
"Come back," she continued, "and go to the end of term ceremony."
Not everyone agreed, however, and Lin Mei, a U.K. commentator, told the show: "They probably will [attend], they're dammed if they do, they're dammed if they don't.
"However, I think no matter which side you [are] in terms of your opinion of Harry and Meghan, it's disingenuous if they come.
"They'll lose credibility even more so becuase they've gone with this narrative that almost they're oppressed and they've suffered with the Royal Family.
"If Harry is genuine about keeping the door open like he said, then there should be a level of conversation around that to say, 'do you know what, I've said enough, I've said my experience, now I want to heal with my family'. Maybe meet them in private prior to coming so we can repair."
Symbolism Behind Harry and Meghan's Coronation Dilemma
There is, however, one reason more than any other why Harry and Meghan may want to forget any fears about the U.K. public reaction and any awkwardness with royal family members.
Harry and Meghan will, shortly after the Coronation, have their British home, Frogmore Cottage, stripped away from them by Charles, and this trip will be their last chance to stay there.
More to the point, if Harry is not there to support his father at his Coronation, a once in a lifetime moment that represents the culmination of 70 years spent waiting to do the job he was born for, then what else could possibly bring the royal family back together?
If there remains any chance at all for a reconciliation then there must be willingness on both sides to put differences aside and agree to at least be in the same place at the same time.
The decision to go would symbolize a flicker of hope, no matter how small, that one day royal relations may be different, while a decision to stay in America would send a message to the world that Harry and Meghan are no longer a part of the wider royal family's story.