King Charles Accused of 'Cruel' Banishment of Prince Harry, Meghan Markle
Prince Harry and Meghan Markle were "banished" by King Charles III from their U.K. home and the king is "torching" bridges not building them, according to a former BBC royal correspondent.
The Duke and Duchess of Sussex have been asked to move out of Frogmore Cottage, Berkshire, Windsor, their home in Britain since 2019, their spokesperson said.
The couple invested significant amounts in the property, including repaying $3.2 million of public money that had been used to renovate it.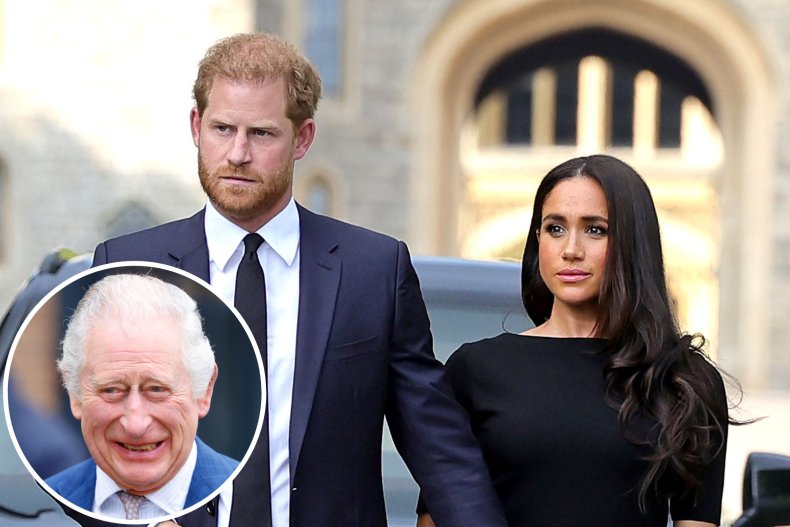 Frogmore also offered Harry and Meghan de facto police protection because it is on the private estate at Windsor, which has armed guards.
However, their spokesperson confirmed on March 1: "The Duke and Duchess of Sussex have been requested to vacate their residence at Frogmore Cottage."
The move sparked significant debate online with Peter Hunt, a former BBC royal correspondent, taking aim at Charles' decision.
Hunt wrote on Twitter: "Much of the UK media will portray this eviction as a righteous act by a strong king.
"It's anything but. Instead of building bridges the head of state is torching them. The banishment of his son is cruel, unnecessary and diminishes Charles."
What is particularly awkward for the monarchy is that U.K. tabloid newspaper The Sun reported the king wants to take back Frogmore so it can be given to Prince Andrew. This is part of plans to force the Duke of York out of his much-larger current home, Royal Lodge in Windsor Great Park, Berkshire, England.
The newspaper added that the request for them to leave was sent days after the release of Harry's book Spare on January 10. In it, the prince accused Queen Camilla of leaking stories to the media about him and Meghan.
Shola Mos-Shogbamimu, author of This Is Why I Resist: Don't Define My Black Identity, wrote on Twitter: "King Charles evicting Harry and Meghan from Frogmore Cottage is pure spite because of #Spare. A weak coward of a father—cruelty unworthy of a King. Like the Royal family don't have other properties to house the disreputable Prince Andrew? A very unwise move that'll backfire."
Piers Morgan, a host on Talk TV, wrote in a column for The Sun: "Despite all that's happened, Charles has made it clear to people that he still loves his second son.
"But there comes a point in every such dispute when a line must be drawn in the sand.
"And for Charles, that line came in the shape of Harry's tell-all book Spare, which dumped a Grand Canyon-sized load of rotten, stinking manure over his family. I don't blame him," Morgan added.
"If one of my three sons publicly repeatedly trashed our family in the way Harry's trashed his, they wouldn't be getting the ash from my annual Christmas Day cigar, let alone a luxury home."
Morgan wrote: "The Sussexes are said to have been totally blindsided by Charles throwing them out.
"But then they've been totally blind to the consequences of their treacherous behaviour for years, perhaps due to being dazzled by all the pieces of silver glinting in their faces from the myriad companies to whom they've sold their souls."
Dan Wootton, a host on GB News, wrote on Twitter: "I was concerned King Charles was being far too weak in his dealings with his treacherous son Prince Harry and destructive wife Meghan. But the decision to boot them from Frogmore Cottage after the unforgivable Spare is proof he isn't going to take their c*** forever. Good on him."
Whether right or wrong, the king's move is likely to further inflame the royal rift. It calls into question whether Harry and Meghan will attend the coronation.
Omid Scobie, co-author of royal biography Finding Freedom: Harry and Meghan and the Making of a Modern Royal Family, suggested the couple have been given until early summer to clear out of Frogmore. This means that they will still have access to the property for the coronation on May 6 at Westminster Abbey, London.
That would make their attendance much more straightforward logistically, though there may still be significant hurt feelings on all sides.
Jack Royston is the chief royal correspondent at Newsweek, based in London. You can find him on Twitter at @jack_royston and read his stories on Newsweek's The Royals Facebook page.
Do you have a question about King Charles III, William and Kate, Meghan and Harry, or their family that you would like our experienced royal correspondents to answer? Email royals@newsweek.com. We'd love to hear from you.