Prince Harry's Standing With U.S. Military Is 'Bleak' but His Support Is Needed—Expert
Prince Harry's recent partnership with Jill Biden in support of the U.S. military "will not go unnoticed" and will help overturn his "bleak" standing with American veterans, a reputation expert has told Newsweek.
The Duke of Sussex's lawyers said in a U.K. lawsuit last year that his "reputation is inextricably tied up with and substantially depends upon his links with the military."
There are signs Harry may want to build a similar relationship with America's armed forces community, after he yesterday shared a platform with the first lady in support of the Warrior Games.
However, current perception of him among U.S. service personnel range between apathy and unawareness, according to Eric Schiffer, chairman of Reputation Management Consultants.
"I think his image within the military is bleak at best but this will be a reminder that he wants to extend himself," he said. "That will resonate with certain members of the military.
"I think most up to now couldn't care less about him. It's a combination of apathy and just unawareness. I don't think there's any antagonism.
"He absolutely could get there though. U.S. veterans are regularly ignored sadly for their heroism and contributions, so having someone with a spotlight who can bring attention that is authentic and heartfelt and has some history associated will not go unnoticed."
Prince Harry yesterday told competitors in the Department of Defense Warrior Games they had come back stronger from "dark places" in a rousing speech after the tournament was cancelled due to COVID.
And the first lady praised his historic contribution saying: "You've dedicated your time, talents and heart to lifting up service members from around the globe."
Ingrid Seward, author of Prince Philip Revealed, told Newsweek: "Prince Harry probably does feel, as he's living there in America, that he needs to build a relationship with them.
"And it was the Warrior Games that gave him the idea for the Invictus Games."
Invictus is Harry's own version of the tournament and he was open about having stolen the idea when he launched it in 2014.
However, yesterday's event was not his first show of support for American veterans after he gave out food parcels with volunteers from the Mission Continues in Los Angeles in November.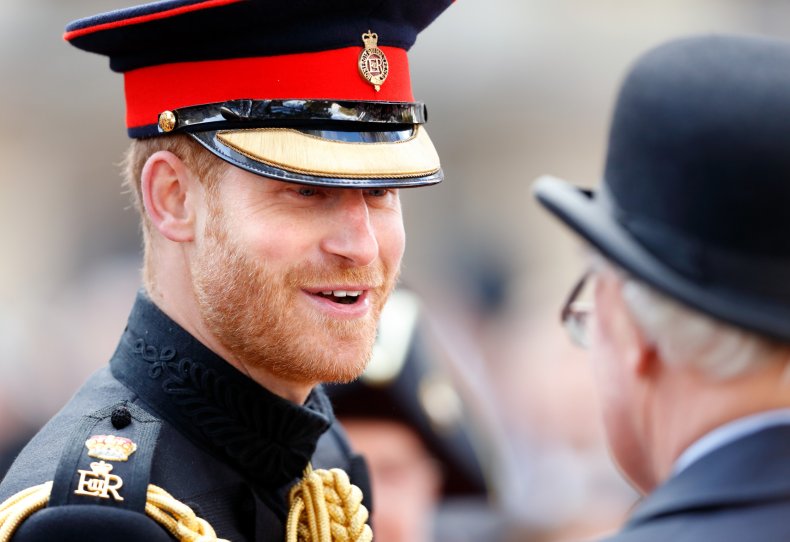 And he spoke about his time in the military to a U.S. audience on the Armchair Expert podcast in May, though host Dax Shepard acknowledged not previously knowing he had manned the guns of an Apache helicopter.
The duke told Shepard: "Helplessness, that is my biggest Achilles heel.
"There were three major times that I felt completely helpless, one when I was a kid in the back of a car with my mum being chased by paparazzi, two was in Afghanistan in an Apache helicopter and then the third one was with my wife."
Prince Harry's honorary military titles, including Captain General of the Royal Marines, were removed as part of his royal exit agreement earlier this year, though he retains his medals.
However, it remains to be seen whether he can build the same reputation for his military service in America that he had in Britain.
Harry's lawyer described how important the military is to his reputation in a lawsuit the duke brought against the Mail on Sunday last year, which was settled by the newspaper in January.
A December filing read: "[Prince Harry's] reputation is inextricably tied up with and substantially depends upon his links with the military and his role in promoting the welfare of its current and former members."