Prince Harry Tells Stephen Colbert His Favorite 'Smell' Is Meghan Markle
Prince Harry has revealed that Meghan Markle is his favorite smell during a pre-recorded question and answer segment with The Late Show's Stephen Colbert on Tuesday night, following an in-depth interview about the royal's controversial Spare memoir that aired in January.
Harry is no stranger to U.S. TV interviews, having conducted high-profile sit downs with The Late Show, Good Morning America and 60 Minutes so far this year.
As part of The Late Show's "Colbert Questionert" segment on Tuesday, Harry answered a quick fire round of questions spanning his thoughts on reincarnation to what his favorite song was and who he has asked for their autographs.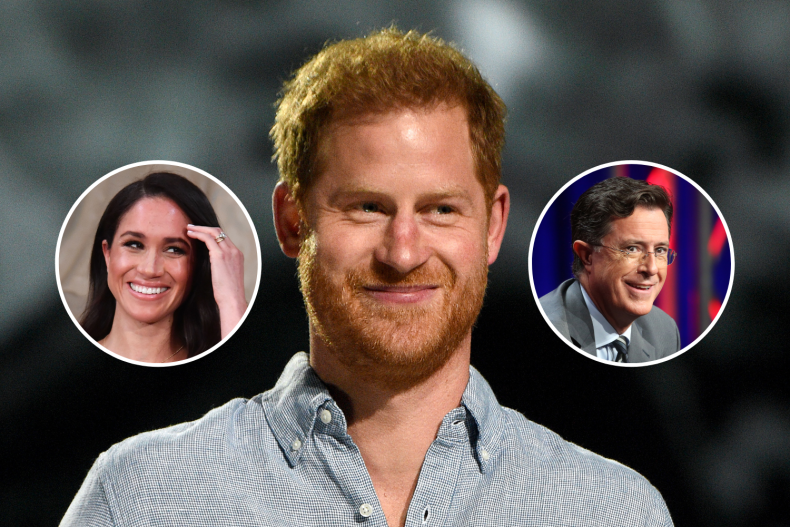 Kicking off the round, the prince revealed that his favorite sandwich was a "cheese and ham toastie [grilled] with dijon mustard on top," before going onto explain that he had to be careful with "Americanisms and Britishisms" because "it got me and my wife into a lot of trouble in the beginning of our relationship."
Giving an example of this, he offered: "Horse riding and horseback riding: Where else are you going to ride the horse?" To which he received a round of laughter from the studio audience.
When asked what was one thing he owned that he "should really throw out," the prince jokingly responded that it would have to be "ripped boxer shorts," adding that he didn't "want to let them go."
The lighthearted interview went onto reveal that Harry is scared of snakes because they can "get anywhere" unlike sharks, and also that he believes after death that humans "come back as animals."
When asked by Colbert which animal he would come back as, the prince responded that it would be an "elephant."
The interview did not go into any detail about Harry's strained relationships with royal family members such as Prince William and Queen Camilla, who he openly criticized in Spare, but there was a reference to the prince's wife, Meghan.
When asked about his "favorite smell," Harry, who married Meghan in 2018 and with whom he has two children, Archie, 3, and Lilibet, 1, said: "My wife."
Perhaps the most serious question posed to the royal was to describe "the rest of your life in five words."
The words chosen by Harry were: "Freedom, happiness, clarity, space" and "love."
These words relate to the stage in his life that the prince has built towards, having publicly discussed at length in his own words the strained period between himself, his wife and the royal family which led to their eventual separation from the monarchy and relocation to the U.S.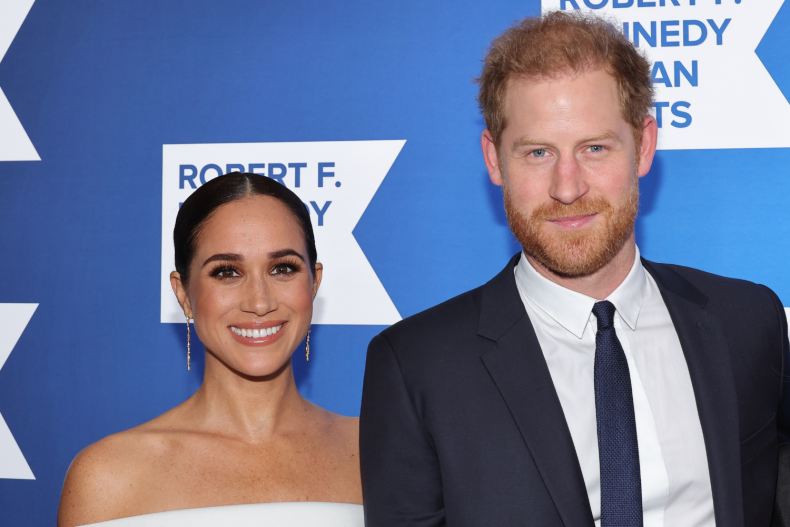 The "Colbert Questionert" segment's release comes after Harry and Meghan were roasted by American adult animated comedy South Park in February. The episode spoofed the couple and their extensive media exposure following the release of recent high-profile media projects.
In December 2022, the couple released Harry & Meghan, the six-part Netflix docuseries which charted the course of their relationship so far.
The show contained a number of bombshells, including the revelations that royal family members dismissed Meghan's press scrutiny, that Prince William screamed and shouted at his brother during a meeting with Queen Elizabeth II, and the couple's claim that William authorized a royal aide to give evidence against Meghan in a legal trial.
Harry's Spare memoir broke publishing records upon its January release, becoming the fastest selling non-fiction book of all time. This also contained a number of royal bombshells, including allegations that Queen Camilla leaked stories about Harry to the media and that William physically attacked his brother in an altercation about Meghan at Kensington Palace.
Despite these major releases providing the Sussexes with an opportunity to correct what they have perceived as incorrect and unfair media narratives, the result has seen their popularity in the U.S. plummet to their lowest levels ever.
Currently both Harry and Meghan's approval ratings are in negative numbers, with Harry at -10 and Meghan at -17. This contrasts heavily to December, prior to the Netflix show, where the couple were at +38 and +23, according research conducted by Redfield & Wilton for Newsweek.
James Crawford-Smith is Newsweek's royal reporter based in London. You can find him on Twitter at @jrcrawfordsmith and read his stories on Newsweek's The Royals Facebook page.
Do you have a question about King Charles III, William and Kate, Meghan and Harry or their family that you would like our experienced royal correspondents to answer? Email royals@newsweek.com. We'd love to hear from you.