What Prince Harry Said About Fall of Afghanistan After Serving on Frontline
Prince Harry has called for veterans to offer each other support—as the military community watches the Taliban seize power in Afghanistan.
The Duke of Sussex served two tours with the British Army and fought on the frontline in Helmand Province behind the controls of an Apache helicopter.
He previously said he still thinks about "the casualties we saw, and those we saved," but now Harry, like many veterans, is left watching the sacrifices made go up in flames.
The Taliban has now taken every major city and already the U.N. Security Council has been warned of "mounting human rights violations against the women and girls of Afghanistan."
Prince Harry spoke out through his Invictus Games Foundation, which supports injured veterans, in language that was sparse and avoided any hint of political criticism of Joe Biden.
In a joint statement with the foundation's chair and chief executive, he said: "What's happening in Afghanistan resonates across the international Invictus community.
"Many of the participating nations and competitors in the Invictus Games family are bound by a shared experience of serving in Afghanistan over the past two decades, and for several years, we have competed alongside Invictus Games Team Afghanistan.
"We encourage everybody across the Invictus network—and the wider military community—to reach out to each other and offer support for one another."
The prince's past comments on what his military service means to him have been less pared-back, speaking of "the solidarity of a shared value system of our community that fights for what is right and honorable, no matter what."
Those comments came on an appearance for the Declassified podcast in November when he described how the annual act of remembrance is rooted in a "hope for a safer world."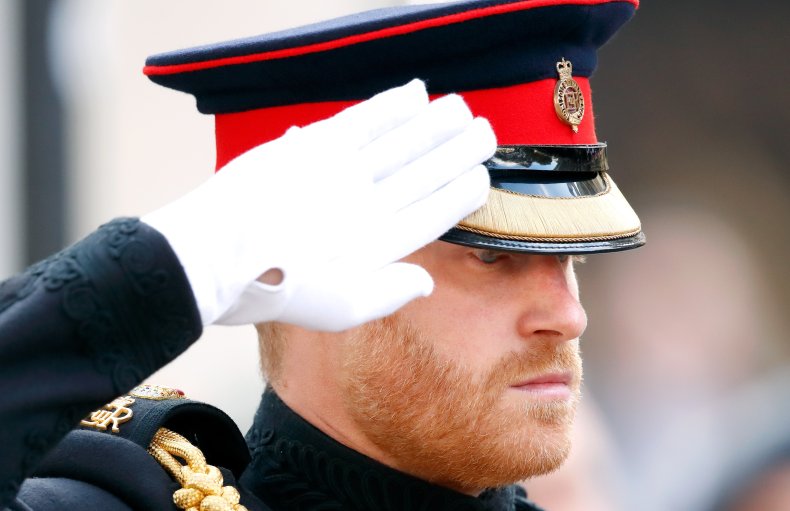 He said: "I spent 10 years in the military, with two tours in Afghanistan. When I get asked about this period of my life I draw from memories, I draw from what I remember and who I remember.
"Like the first time we were shot at and who I was with, the casualties we saw, and those we saved. And the first medivac we escorted out of contact in a race against time.
"Once served always serving, no matter what."
Last year, Prince Harry and Meghan Markle got drawn into a political controversy with Donald Trump over comments they made about the U.S. presidential election.
This time, the duke has been clear not to make any criticism of Biden's administration, though the stakes speak not only to his personal history serving in Afghanistan but also the priorities of the couple's charity work.
Meghan launched a mentor program for her 40th birthday, on August 4, to help women forced out of the workplace by the coronavirus pandemic.
She said in a statement: "In the past two years, and in large part because of the COVID-19 pandemic, tens of millions of women around the world have left the workforce, including over two million women in the U.S.
"So many of these women are also shouldering the brunt of the crisis, including schooling and caring for family members."
As Afghanistan falls, there is already evidence that women there will also suffer in ways not inflicted on the men in their community.
UN Secretary-General Antonio Guterres told the UN Security Council this week: "We are receiving chilling reports of severe restrictions on human rights throughout the country. I am particularly concerned by accounts of mounting human rights violations against the women and girls of Afghanistan.
"We cannot and must not abandon the people of Afghanistan."
Meanwhile, hundreds of desperate Afghan citizens were pictured filling a U.S. cargo jet in an effort to flee the Taliban.
Taliban spokesperson Suhail Shaheen wrote on Twitter: "The Islamic Emirate has ordered its Mujahideen and once again instructs them that no one is allowed to enter anyone's house without permission. Life, property and honor of none shall be harmed but must be protected by the Mujahedeen."