Prince Louis Clips Illustrate Your Day in Viral Video of Cheeky Young Royal
A video compilation of your day as told by Prince Louis' cheeky antics during the Platinum Jubilee has gone viral on social media surpassing 18 million views.
The video, which shows different clips of Prince William and Kate Middleton's youngest son with different time stamps denoting the time of day, has been widely shared across social media platforms after first having been created by an Australian news outlet.
Clips included in the viral video show Louis covering his ears during the jubilee RAF flypast captioned with the phrase "6am: Trying to snooze my alarm" and also a clip of the prince interacting with mom, Kate Middleton, captioned: "3pm: After my third coffee."
Social media users have praised the video and the prince with one Facebook commenter writing: "This kid is exactly how all kids should be. Love it."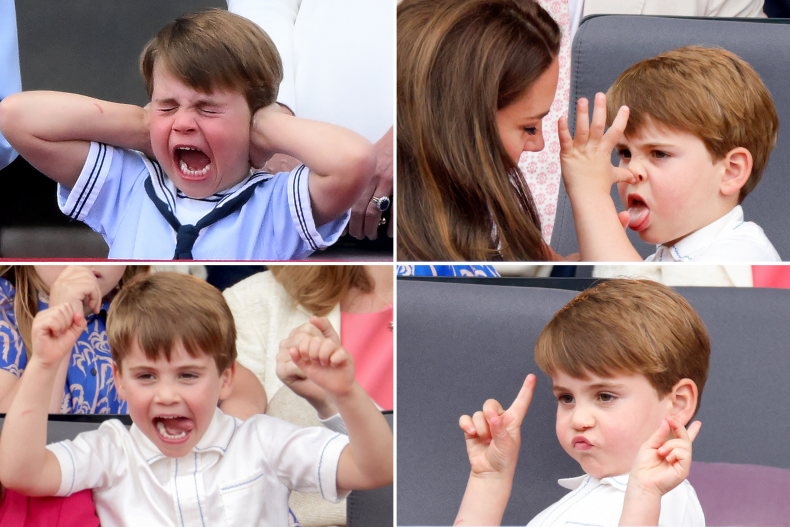 Another user said: "Real prince charming ! Love you kiddo"
Film footage of Louis throughout the royal weekend dominated coverage with the 4-year-old becoming a social media hit for his unreserved reactions from hyperactive joy to mischievous grumpiness.
With this attention also came some negative feedback from social media users who attacked Kate's parenting skills after Louis was seen covering her mouth during the jubilee pageant outside Buckingham Palace and shushing her.
Public figures came to the defense of the duchess including child care specialist and television "Supernanny," Jo Frost who posted to Instagram a caption that included the line:
"Catherine has never been one to shy away from publicly giving her children a fair telling off to behave and that's a sign of a confident parent who is able to hold boundaries whilst empathetically meeting her children's needs as well as understanding the circumstances."
In a rare acknowledgment of the critical discourse surrounding their son's behavior, William and Kate appeared to reference it in a tweet sent thanking the public for supporting Queen Elizabeth II throughout the celebrations.
The closing line of the couple's three-tweet message read: "We all had an incredible time, especially Louis..."
This was then followed by an emoji of a pair of eyes glancing to one side. Dictionary.com defines the use of this emoji as serving "to draw attention to something the user wants to highlight, especially in situations that involve drama and interpersonal tension."
The tweet then ended with the letters "W&C" which stand for William and Catherine, signifying that the message was authored by the royals themselves.
Most recently Mike Tindall, a former England rugby captain who is married to the queen's eldest granddaughter, Zara, discussed Louis' jubilee behavior on his podcast The Good, The Bad and The Rugby.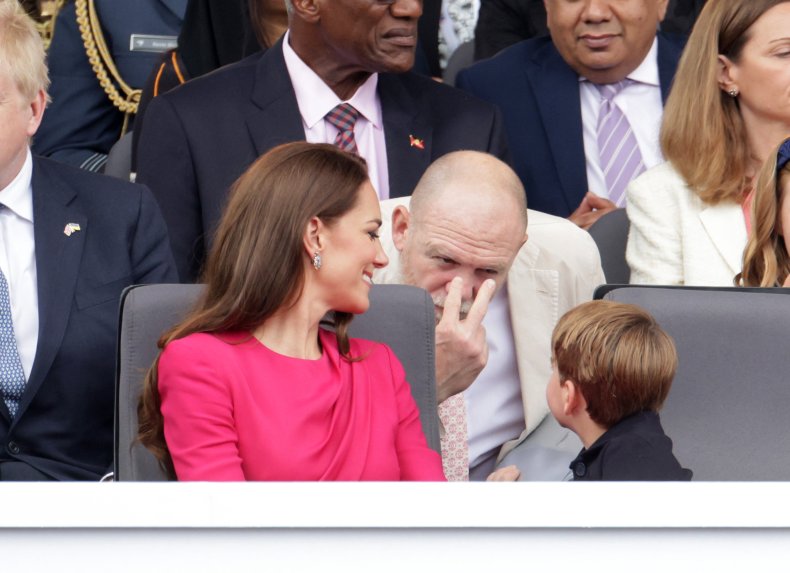 Speaking to James Haskell and Alex Payne, Tindall was asked what his interaction was with Louis after a photograph of the royal relation circulated online of him jokingly telling off the little prince.
"I actually can't remember what he was doing but he's such a good character is Louis," he said.
This followed comments made by Tindall on an earlier podcast episode that the prince was on a sugar high at the jubilee pageant after indulging in a selection of candy that was offered to the younger members of the royal party.
"Louis was just wanting to have fun and my two are always mischievous so it was trying to keep a lid on [them]," he said.
"There were a lot of sweets out back so they probably had sugar highs."
"It's tough for them, they're all young and they'd been sitting there from two till five it's a long time. As any parent knows you do whatever needs to be done."