Prince William made his strongest comments yet on racism and criticized past U.K. government immigration policy, while Prince Charles began a high-stakes overseas visit—splitting coverage in Britain's newspapers.
William spoke out in support of Britain's Caribbean population after a scandal that saw lawful migrants wrongly detained and in some cases deported decades after they were invited to Britain to fill gaps in the post-World War II labor market.
Not only that, but the Duke of Cambridge explicitly stated that "discrimination remains an all too familiar experience for black men and women in Britain in 2022" a year after a government-backed report declared the U.K. is no longer a country "where the system is deliberately rigged against ethnic minorities."
The dramatic intervention came on a key day for Charles, who charts a new milestone on his journey towards kingship during a politically charged visit to Rwanda.
The diary clash meant neither royal got a clean sweep of Britain's newspaper front pages, though father and son did share the publicity on a day royal news took a serious turn.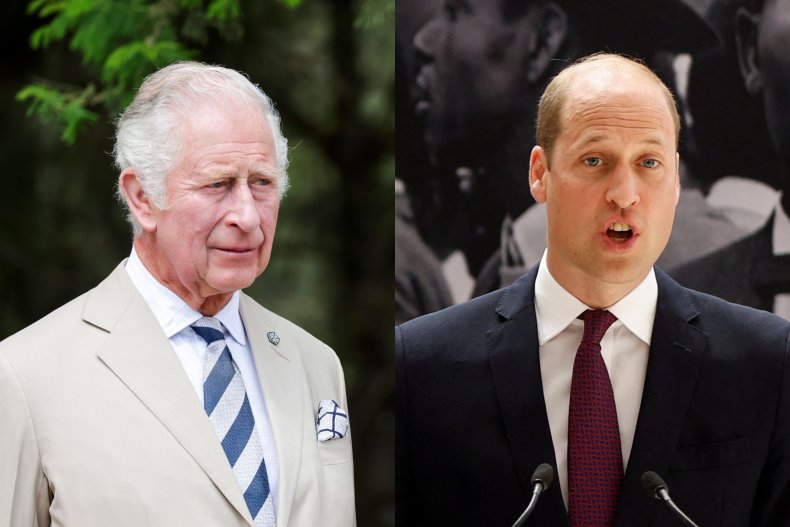 Prince Charles in Rwanda
Charles recently made his own controversial comment, reportedly calling a current U.K. immigration policy "appalling."
British Prime Minister Boris Johnson's government wants to fly asylum seekers thousands of miles to Rwanda to be processed in an effort to deter new arrivals.
On the same day as William's speech, Charles was preparing to come face-to-face with Johnson out in Rwanda later in the week ahead of the Commonwealth Heads of Government Meeting (CHOGM).
Charles also had a somber day visiting the Kigali Genocide Memorial on Wednesday, where he met survivors of the Rwandan genocide that left around 800,000 dead in 1994.
CNN reported that, during the visit, Charles laid a wreath that read: "We will always remember the innocent souls that were killed in the Genocide Against the Tutsi in April 1994. Be strong Rwanda. Charles."
The event made the front page of Britain's The Daily Telegraph, which will be a welcome outcome at Clarence House as the Prince of Wales is known to read the newspaper.
The big controversy, however, may be still to come for the prince when he sits down face-to-face with the prime minister.
During a school visit in Kigali, Johnson defended the Rwanda deportation flights when he told journalists on Thursday: "People need to keep an open mind about the policy, the critics need to keep an open mind about the policy. A lot of people can see its obvious merits. So yeah, of course, if I am seeing the prince tomorrow, I am going to be making that point."
Prince William Says Caribbean Population 'Profoundly Wronged' by Windrush Scandal
Meanwhile, William made some of the most politically charged comments of his royal career when he said Britain's Caribbean population were victims of racism in the past and Black people continued to face discrimination in the present.
It came after the royals were accused of racism by Meghan Markle and Prince Harry during their March 2021 Oprah Winfrey interview and race scandals involving William in the months after.
The Cambridges also had a difficult tour of the Caribbean in March when they were confronted with calls for an apology and slavery reparations.
William sought to put the negative headlines behind him Wednesday as he helped unveil a monument to the "Windrush" generation of post-World War II Caribbean migrants who helped to rebuild bomb-shattered Britain.
He also took aim at the government over a scandal that saw Windrush Brits wrongly deported because they lacked decades-old documentation proving they were legally in Britain—even though they were invited to the country to meet gaps in the labor market.
William said: "This is something that resonated with Catherine and me after our visit to the Caribbean earlier this year.
"Our trip was an opportunity to reflect, and we learnt so much. Not just about the different issues that matter most to the people of the region, but also how the past weighs heavily on the present.
"Sadly, that is also the case for members of the Windrush Generation who were victims of racism when they arrived here, and discrimination remains an all too familiar experience for Black men and women in Britain in 2022.
"Only a matter of years ago, tens of thousands of that generation were profoundly wronged by the Windrush Scandal."
Even beyond Meghan and Harry's interview with Winfrey, race has been an explosive topic in Britain in recent years after a government-commissioned 97-page report suggested the U.K. is no longer a country "where the system is deliberately rigged against ethnic minorities."
The findings of the Commission on Race and Ethnic Disparities were so controversial that its chair, Dr. Tony Sewell, had his honorary degree withdrawn, the BBC reported.
William's intervention landed him a spot on the front page of U.K. newspaper of record The Times.
Harry, Meghan and a Diary Clash That Went Less Well
Royal staff try to avoid diary clashes but some cannot be helped, and on this occasion, neither William nor Charles could have moved their visits.
However, when jobs coincide, it can wreck efforts to garner publicity that has been months in the planning.
One famous example came days after Meghan and Harry's relationship first became public in November 2017.
Harry wanted to protect Meghan from a tidal wave of publicity in the days after the world first learned of their romance and asked his communications secretary to issue a strongly-worded statement.
However, Charles was on a tour in the Middle East that stood to be wiped off the pages of Britain's newspapers by the explosive intervention.
Biography Finding Freedom described the fall-out: "The team at Clarence House, which had spent months putting together Prince Charles's tour in the hopes that it would be covered significantly, was crushed."
For more royal news and commentary check out Newsweek's The Royal Report podcast: