Prince William's Vaccine Photo Sends Royal Fans Into a Frenzy As They Praise His Toned Arm
Prince William has confirmed he received his first dose of the COVID-19 vaccine this week.
The duke of Cambridge, 38, posted a photo of himself getting the jab, leaving royal fans stunned at his toned arms.
He tweeted: "On Tuesday I received my first dose of the COVID-19 vaccine. To all those working on the vaccine rollout - thank you for everything you've done and continue to do."
Royals fans were quick to point out how toned William's arms are and the topic was also discussed on British show This Morning.
ITV presenters Holly Willoughby and Phillip Schofield talked about the duke of Cambridge's vaccine announcement with two of their guests.
Willoughby said: "Prince William has had his COVID-19 vaccine. He posted a picture on Twitter.
"Now, obviously this is great, it encourages other people to go and have their vaccine, but I was looking this morning on their Instagram page and I couldn't help but have a little smile at the comments underneath."
On Instagram, royal fans noted William's sporty physique, with one saying: "Congratulations! Also....wow, someone is working out!"
Another person added: "Looking buff there Prince William."
One more commented: "Wasn't expecting a gun show this early but happy I got an invite."
A person joked on Twitter: "Congratulations Your Buffness... I mean, Your Highness."
Some people pointed out how the duke of Cambridge received his vaccine when his age group was offered it in the U.K., without jumping the queue.
One person wrote on Twitter: "Great to see the Royals have waited their turn as I'm sure they could have insisted to have it earlier."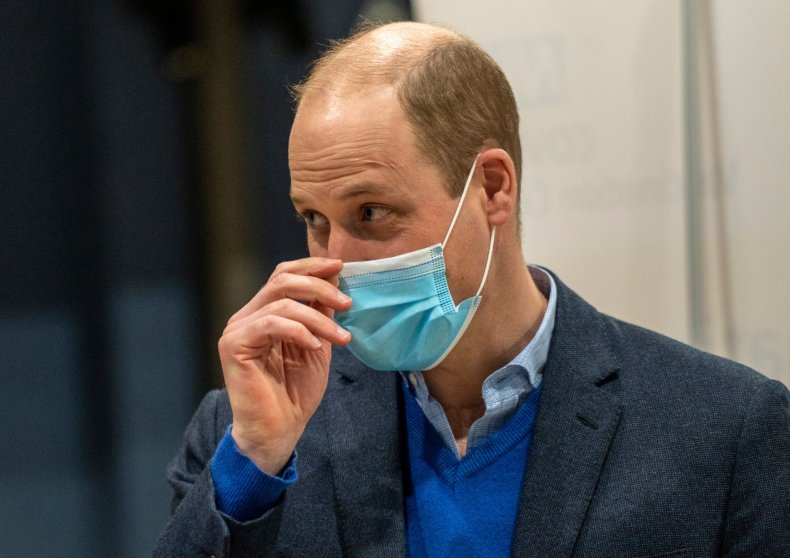 It is not clear which COVID-19 vaccine the duke of Cambridge received, but when scientists completed trials for the Oxford/AstraZeneca vaccine, Prince William held a call with them to praise their success.
Prince William said: "I'm so thrilled that you've cracked it."
The duke of Cambridge and his wife Kate Middleton regularly use social media to share updates about their work.
On Instagram and Twitter, they publish photos and videos of their royal engagements and also snaps of their private life.
The duchess of Cambridge is an amateur photographer and often takes photos of her three children, Prince George, Princess Charlotte and Prince Louis.
Earlier this month, Kate and William opened a new YouTube channel, with their launch video receiving more than 3.5 million views.
In the 25-second clip, William told Kate: "By the way, be careful what you say now because these guys, they're filming everything."
The channel, which also includes some videos of the Duchess of Cambridge's Hold Still photography project, has more than 525,000 subscribers.