Prince William and Kate Middleton's controversial tour of the Caribbean cost the British public about $274,000 and included two weeks of reconnaissance by aides that failed to prevent a PR meltdown.
The Duke and Duchess of Cambridge flew by private jet to Belize, Jamaica and the Bahamas to celebrate Queen Elizabeth II's 70-year reign, but they were ambushed with conversations about whether to remove the queen as head of state.
William and Kate were also criticized over PR mishaps including a photo of them greeting children through a wire mesh fence in Trench Town, in Kingston, Jamaica.
The Cambridges were also mocked over photographs of themselves being driven around while standing in the back of a Land Rover, in a conscious recreation of a colonial-era visit to Jamaica by Queen Elizabeth II and Prince Philip.
In both cases, the social media backlash against the imagery was seemingly not foreseen by staff, who the palace has now revealed flew out to the Caribbean nations for a little over two weeks at public expense between January 26 and February 10.
That detail was published on June 30 in the Sovereign Grant Report, the royal family's annual financial document, along with the £226,383 ($274,000) cost of William and Kate's Platinum Jubilee visit.
The travel costs for the trip, between March 19 and March 27, 2022, were the most expensive of any undertaken by a royal family member at public expense in the last tax year.
A Platinum Jubilee tour to the Caribbean by Prince Edward and Sophie, Countess of Wessex, will be included in next year's report as their visit took place in April 2022, after the start of the new tax year.
William and Kate had warm moments with supportive crowds in the Caribbean and staged some successful PR moments, including when they swam with sharks in Belize.
However, they were met with protests before they even touched down at their first destination, Belize, where a planned stop had to be canceled due to local opposition.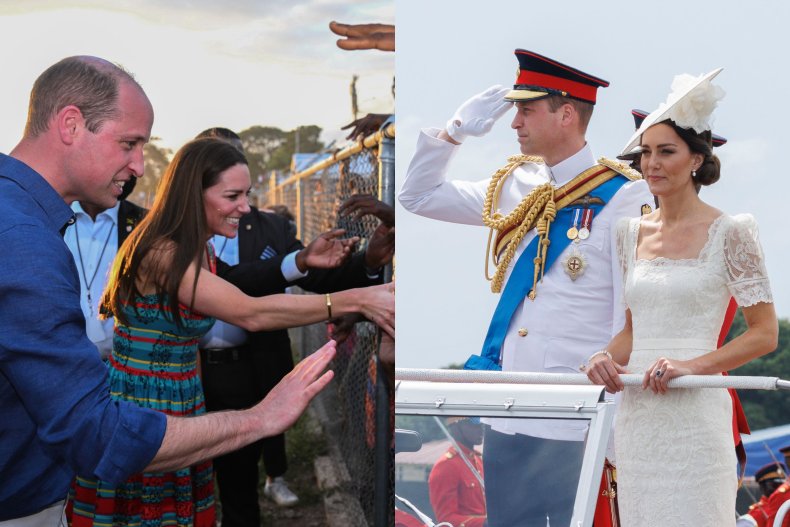 The situation didn't improve in Jamaica as protesters calling for an apology and slavery reparations set up camp outside the British High Commission in Kingston.
William and Kate were then told by Prime Minister Andrew Holness of his hopes to remove the queen as the country's head of state.
Video cameras recorded the moment the couple stood in stony silence listening to their host's account of how their visit—intended to celebrate the queen—"gives an opportunity" to confront unresolved issues from the past.
"There are issues here, which are, as you would know, unresolved," Holness said. "But your presence gives an opportunity for those issues to be placed in context, put front and center, and to be addressed. But Jamaica is, as you would see, a country that is very proud of our history, very proud of what we have achieved."
"And we're moving on," Holness said. "And we intend to attain, in short order, our development goals and fulfill our true ambitions and destiny as an independent, developed, prosperous country."
Later, the same day, William used a speech to condemn slavery, but stopped short of the apology asked for by protesters.
At the governor-general of Jamaica's residence on March 23, he said: "I strongly agree with my father, the Prince of Wales, who said in Barbados last year that the appalling atrocity of slavery forever stains our history.
"I want to express my profound sorrow. Slavery was abhorrent, and it should never have happened."
The saga was so fraught that it led commentators in Britain to debate whether it would represent the end of the royal tour as we know it, while William himself was left justifying royal trips overseas.
In a statement on Twitter, he wrote: "Foreign tours are an opportunity to reflect. You learn so much. What is on the minds of Prime Ministers. The hopes and ambitions of school children. The day-to-day challenges faced by families and communities.
"I know that this tour has brought into even sharper focus questions about the past and the future. In Belize, Jamaica and the Bahamas, that future is for the people to decide upon."
For more royal news and commentary check out Newsweek's The Royal Report podcast: