Prince William Embodies Leadership, Duty More Than Prince Harry—Americans
Prince William beats Prince Harry in the eyes of Americans on a range of characteristics including leadership, duty and trustworthiness, according to polling by Redfield & Wilton for Newsweek.
Harry's book Spare told the story of a sibling rivalry dating back to childhood in which the younger brother frequently felt marginalized in favor of the heir to the throne.
The Duke of Sussex went as far as to suggest that he was born partly to be an organ donor for Prince William and the competition between the two royals stretched from who got to wear a beard on their wedding day to who got the bigger bedroom at Balmoral.
On behalf of Newsweek, pollster Redfield & Wilton asked a representative sample of 1,500 Americans which brother they felt better represented eight characteristics. Prince William came out top in five out of eight, while Harry led in two and one was a tie.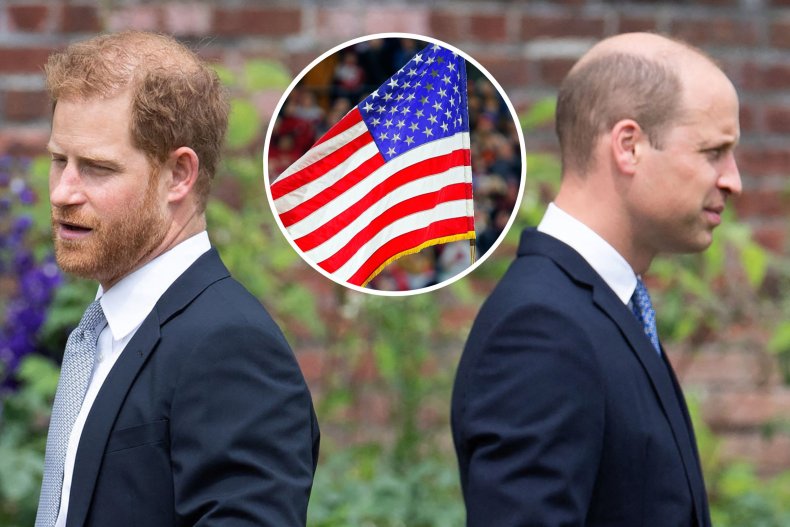 Duty
William, the Prince of Wales, scored highest on duty with a 20-point lead, as 43 percent picked him, 23 percent picked Harry and 34 percent said they did not know.
Duty has long been plank of the royal family's relationship with British society but at times a controversial one too.
Their uncle Charles Spencer gave a eulogy at Princess Diana's wedding in which he framed their mother as a counterpoint to the duty of monarchy.
At her September 1997 funeral, he said: "On behalf of your mother and sisters, I pledge that we, your blood family, will do all we can to continue the imaginative way in which you were steering these two exceptional young men so that their souls are not simply immersed by duty and tradition but can sing openly as you planned."
In his book, Prince Harry also seemed most comfortable talking about duty in relation to his military career and less so to the monarchy. While describing an argument with Prince William about Meghan, he wrote: "He was in full Heir mode, and couldn't fathom why I wasn't dutifully playing the role of the Spare."
Leadership
Prince William was picked as the better leader over Prince Harry by 40 percent while 23 percent chose Harry, giving William a 17-point lead.
While the concept of duty may be complicated for the younger prince, leadership is a characteristic he has frequently sought to display.
Harry and Meghan chose to receive a Robert F. Kennedy Human Rights Ripple of Hope Award in New York rather than attend the People's Choice Awards, where Meghan's Archetypes podcast won in the Pop Podcast category in December 2022.
He also spoke at the United Nations to mark Nelson Mandela International Day in July and the couple's lesser talked-about second Netflix project, Live to Lead, was also about leadership.
Tells the Truth
Prince William was more likely to tell the truth in the eyes of 36 percent of Americans than Prince Harry, chosen by 27 percent, giving the older brother a nine-point lead.
The Prince of Wales also led his younger brother on trustworthiness by 33 percent to 27 percent, a difference of six points.
Trust and truthfulness are key to Harry and Meghan's messaging as elements of their royal story require a degree of faith.
For example, Harry told 60 Minutes that Queen Camilla cultivated a relationship with the media in order to rehabilitate her own image after being framed as the "villain" of Princess Diana's story.
However, even if the queen consort leaked to the media, it is not clear how Harry would know her motivation and he has provided little evidence to back up some of his claims.
Loyalty
Prince William outscored his younger brother by eight points on loyalty, with 35 percent picking him and 27 percent choosing Harry.
On the one hand, Prince Harry's decision to reveal family secrets and launch stinging criticisms of family members may have been a factor on this question.
On the other, Harry's argument that royal family members leaked stories about him and Meghan to boost themselves and failed to defend the Duchess of Sussex against the media could also be viewed through the same lens.
Most Like Yourself
Americans felt Prince Harry was, however, more like them than Prince William, with 30 percent choosing the Duke of Sussex and 23 percent picking his brother, a difference of seven points.
This may reflect the relative success of some of Harry's more down-to-earth moments, for example in the less stuffy environment of The Late Show with Stephen Colbert in January or during his interview with James Corden in February 2021 when he rapped the theme song from The Fresh Prince of Bel-Air.
The fact that he scores higher on this characteristic could also give Harry a hint about how to repair his damaged reputation after a significant decline in his U.S. popularity.
Seeks Reconciliation
Prince Harry was also felt by Americans to be more inclined to seek reconciliation than Prince William by five points, with 24 percent picking Harry and 29 percent choosing William.
This may reflect Harry's public commentary on the rift at a point where the wider royal family members have simply not been commenting on Harry's allegations.
Asked whether he still speaks to William, the Duke of Sussex told 60 Minutes: "Currently, no. But I look forward to us being able to find peace."
The brothers were tied ot 31 percent each on the question of who is most a positive force for change.
Full Results
Between Prince Harry and Prince William, who do you think best embodies the following characteristics:
| | | | |
| --- | --- | --- | --- |
| Characteristic | Prince William | Prince Harry | Don't know |
| Is trustworthy? | 33% | 27% | 40% |
| Is loyal? | 35% | 27% | 38% |
| Has a sense of duty? | 43% | 23% | 34% |
| Tells the truth? | 36% | 27% | 37% |
| Seeks reconciliation? | 24% | 29% | 47% |
| Demonstrates leadership? | 40% | 23% | 37% |
| Is most like yourself? | 23% | 30% | 47% |
| Is a positive force for change? | 31% | 31% | 37% |
Jack Royston is the chief royal correspondent at Newsweek, based in London. You can find him on Twitter at @jack_royston and read his stories on Newsweek's The Royals Facebook page.
Do you have a question about King Charles III, William and Kate, Meghan and Harry, or their family that you would like our experienced royal correspondents to answer? Email royals@newsweek.com. We'd love to hear from you.