Prince William's 'Protective' Gesture to Kate Middleton Praised by Fans
Prince William has been praised online after a video of him offering a "protective" gesture towards Kate Middleton during a royal engagement last spring has gone viral on social media.
The video, showing the couple as they left the annual Commonwealth Day service at Westminster Abbey in London, was uploaded to the social media platform TikTok by user l0velycatherine. It has been viewed over 800,000 times and received in excess of 54,000 likes in 48 hours.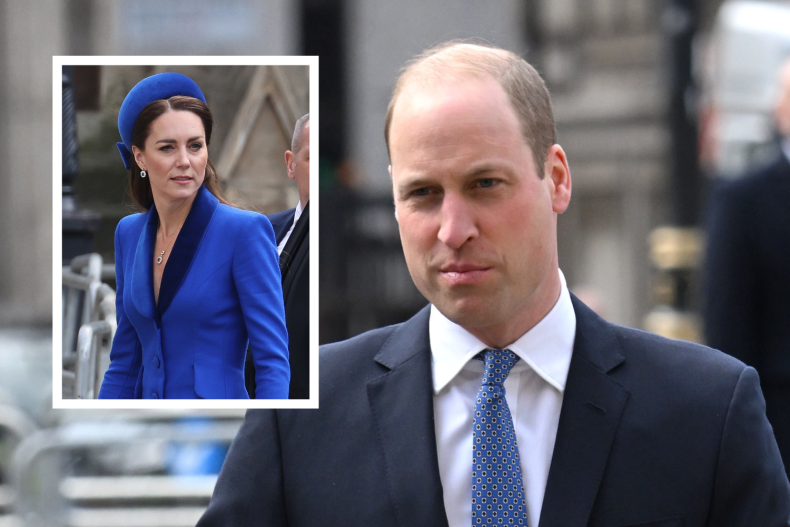 In the viral clip, Kate is shown refusing the offer of an umbrella outside the abbey as she met with children, having her hands full with a bouquet of flowers which had been given to her, and her handbag.
A few moments later, William is shown asking an aide for the umbrella which he promptly holds over his wife and himself as they finish greeting crowds of well-wishers.
This gesture has earned praise from commenters on the platform who have called the prince a "gentleman."
"A real prince charming! Kate for queen yo," said one TikTok user.
"Such a gentleman caring for his lady," wrote another, while a further added: "He's protective over her. He's always giving her reassuring body language at events like placing his hand on her back and making eye contact."
William and Kate are often spotted by fans at royal engagements exchanging public displays of affection (PDA), which include the prince's reassuring hand placement on his wife's back and even exchanging a rare public kiss on the cheek.
Most recently, the couple's PDA was praised during their tour of Boston in December 2022, which saw them undertake engagements connected with the second annual Earthshot Prize awards ceremony in the city.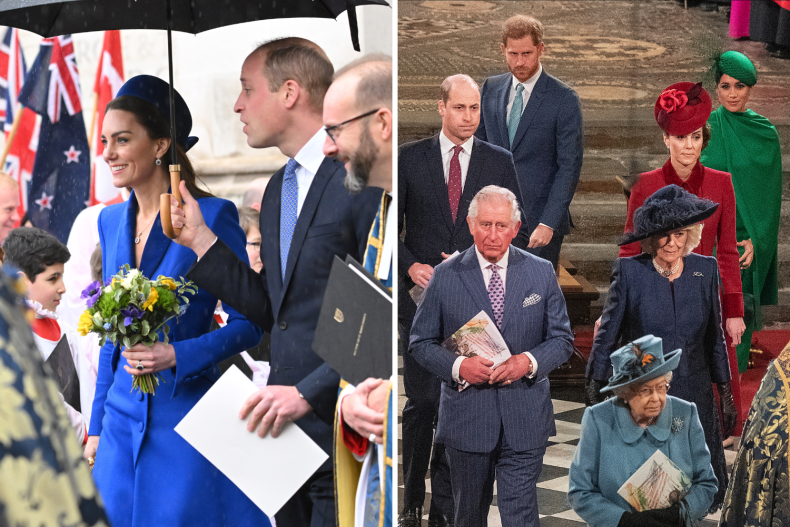 The 2022 Commonwealth Day service was particularly notable because it was the first to be held since 2020, owing to the COVID pandemic.
The 2020 event marked Prince Harry and Meghan Markle's last official public engagement as working members of the royal family, before they stepped away from the monarchy and moved to the U.S.
The service is traditionally attended by all senior members of the royal family, though Queen Elizabeth II did not attend the 2022 event owing to episodic mobility problems.
The 2023 service, which celebrates the member realms and nations within the commonwealth, will be held on March 13, and is expected to be fronted by the new King Charles III, who became head of the commonwealth upon his accession to the throne.
James Crawford-Smith is Newsweek's royal reporter based in London. You can find him on Twitter at @jrcrawfordsmith and read his stories on Newsweek's The Royals Facebook page.
Do you have a question about King Charles III, William and Kate, Meghan and Harry, or their family that you would like our experienced royal correspondents to answer? Email royals@newsweek.com. We'd love to hear from you.