William and Kate's Polo PDA Praised: 'On International Kissing Day'
Prince William and Kate Middleton's public displays of affection (PDA) at a charity polo match on Wednesday have been praised by royal fans on social media.
William and Kate's joint appearance at the charity polo match near Windsor Castle came after Prince Harry recently finished his polo season at the Santa Barbara Polo and Racquet Club with his team, "Los Padres."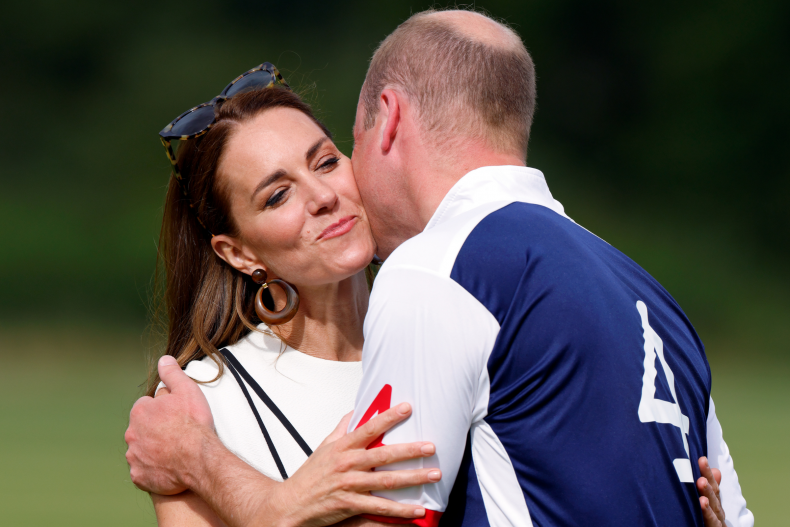 The Cambridges' tactile behavior at the match, which was played in support of the couple's shared charities, isn't the first time they have appeared affectionately together in full view of the public.
On their recent—and widely criticized—tour of the Caribbean, the couple were also praised for their apparent closeness, with William photographed holding Kate's hand, joking together and supporting one another at their individual engagements.
The couple arrived together at the Guards Polo Club ground near Windsor on Wednesday afternoon with William dressed ready to play in his match and Kate wearing an elegant white sleeveless midi dress with black piping, by trusted designer Emilia Wickstead.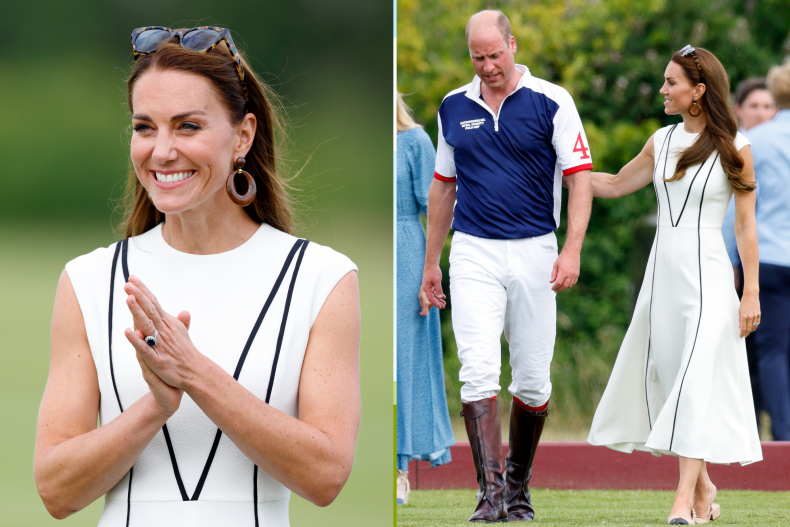 They were joined by members of their staff and Cambridge canine companion Orla, the family's black cocker spaniel, who was photographed throughout the event sitting obediently at Kate's side.
William's team took the lead during the match, which ended with a royal victory. The traditional prize-giving at the end of the event is where royal watchers were treated to multiple PDA moments.
Traditionally at charity polo matches where members of the royal family play their spouses present the prizes afterwards. The queen, Princess Diana and Meghan Markle have all been photographed in this capacity, as has Kate.
When William's name was announced from the prize stand, he strode over to Kate where he kissed her on both cheeks before accepting his reward.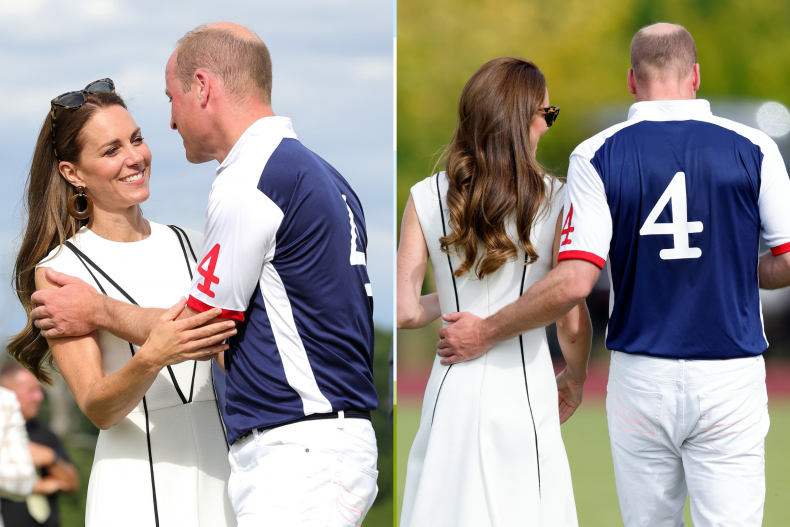 As the couple moved away from the ground at the end of the prize-giving they were then seen at points walking arm in arm and embracing one another.
On posting a photo of the royal couple's public kiss, broadcaster and royal author, Kinsey Schofield wrote on Twitter: "And on INTERNATIONAL KISSING DAY, no less!"
Another commenter also posted a similar image with the caption: "I just want to nip on and say that this photo of Prince William and Kate is EVERYTHING!"
Other posters enjoyed the rare opportunity to see the royal couple at an informal event highlighting the celebration of their 11th wedding anniversary in April, with one commenting:
"The Duke & Duchess of Cambridge looked adorable at the charity polo match today - so many cute moments! The Duchess of Cambridge was so proud of Prince William's win! 11 years of marriage and they are still so loved-up!"
William and Kate married at Westminster Abbey in 2011 and since then they have welcomed three children into their family, Prince George, 8, Princess Charlotte, 7, and Prince Louis, 4.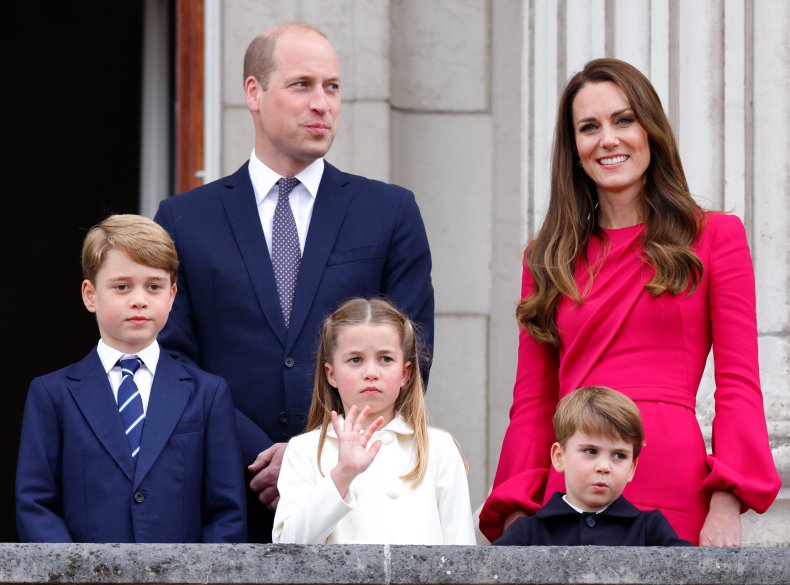 The entire Cambridge family were present during the celebrations of Queen Elizabeth II's Platinum Jubilee in June with the youngest member, Louis, stealing headlines with his cheeky behavior.
The family is reported to be considering a move to Adelaide Cottage in Windsor Great Park in the shadow of the queen's castle home this year. The queen, who now uses Windsor as her permanent residence, is said to have offered the Cambridges the use of the cottage, which would mean they would be neighbors.
William and Kate may be considering the move as Prince George nears the age where he will change schools, with Windsor being centrally located near many good options.
In July, a senior royal source announced that no comment could be made on the Cambridges move to Adelaide Cottage until it had been decided whether or not it would go ahead, effectively confirming that it was being seriously considered.