Prince William Protects Kate Middleton With Umbrella in Touching Moment
Prince William was seen fetching an umbrella to shield Kate Middleton from the rain on a recent royal job.
The Duke and Duchess of Cambridge arrived at the Commonwealth Day service, at Westminster Abbey, on Monday, March 14, without an umbrella.
However, as they left it began to rain and the couple were empty handed, with Kate having only a hat to shield her.
Prince William, however, was seen turning to one side and taking an umbrella from a bystander in military uniform before placing it over his wife's head in a video captured by Getty.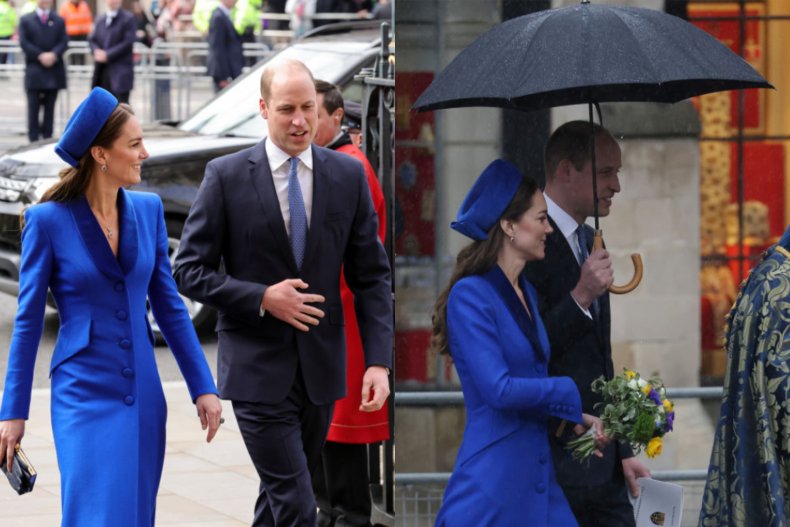 Kate wore a blue Catherine Walker coat dress in the color of the Commonwealth flag as she turned out to support the partnership of 54 nations, mostly made up of countries that were previously part of Britain's Empire.
Queen Elizabeth II, who is head of the Commonwealth, missed the service after experiencing two separate health scares in October and November and testing positive for coronavirus in February.
The Monarch, who turns 96 in April, released a Commonwealth Day message in which she renewed a vow to give her whole life to service, which was first made on her 21st birthday in 1947.
Elizabeth said: "In this year of my Platinum Jubilee, it has given me pleasure to renew the promise I made in 1947, that my life will always be devoted in service.
"Today, it is rewarding to observe a modern, vibrant and connected Commonwealth that combines a wealth of history and tradition with the great social, cultural and technological advances of our time.
For more royal news and commentary check out Newsweek's The Royal Report podcast:
"That the Commonwealth stands ever taller is a credit to all who have been involved.
"We are nourished and sustained by our relationships and, throughout my life, I have enjoyed the privilege of hearing what the relationships built across the great reach and diversity of the Commonwealth have meant to people and communities."
The Commonwealth Day service is a major date in the queen's calendar and is the latest in a long stretch of in-person visits she has canceled.
Elizabeth has been working from home, having some face-to-face meetings at Windsor Castle and others by video link.
However, there will be a memorial service for her husband Prince Philip on March 29, days before the anniversary of his death, which was on April 9, 2021.
It's still unclear whether Elizabeth will be able to attend in person and it would be a significant test of her ability to endure long royal engagements ahead of the Platinum Jubilee festivities in June.
Britain will celebrate her 70 years on the throne this summer with a series of events over four days from June 2 to June 5.
However, if recent events are anything to go by it may be difficult for Elizabeth to attend many of the celebrations in person.