Prince William's Triumphs and Challenges as He Turns Forty
Prince William turns 40 with one of his biggest royal projects ahead of him and at a time of conflict for the royal family.
The Duke of Cambridge celebrates the milestone after a year in which he launched the Earthshot Prize that helped him stamp his own perspective on the debate about the environment.
This also comes off the back of a Platinum Jubilee where the royals managed to avert an attempted comeback from Prince Andrew. On the other hand, it is far from clear whether the conflict with Prince Harry is over.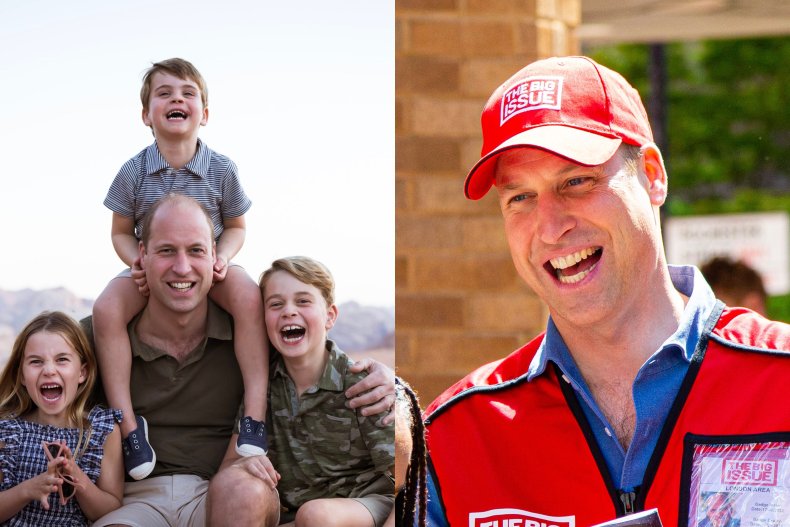 Prince William's Earthshot Prize
The duke launched one of the biggest projects of his royal career when he set up the Earthshot Prize which aims to solve the climate crisis through innovation.
Every year until 2030, five solutions to help the environment are to each be awarded £1 million (about $1.23 million). The first batch of solutions was designated at a star-studded ceremony in 2021.
William has long worked on environmental issues, including as royal patron of wildlife conservation charity Tusk.
However, what's different about Earthshot is the way he nailed his colors to the mast on an issue that will be epoch-defining for years to come.
Prince William placed his faith in science and technology to provide the solution to the climate crisis and told the world negative messaging was harming efforts to save the planet.
In an introduction to a book about Earthshot, he wrote: "The facts look terrifying, and I could see that this risked making people feel like they might as well give up. The global debate felt too complex, too negative, too overwhelming."
He added: "Following in their footsteps, I have seen people all over the world face what seem like insurmountable challenges yet come together with collective ambition, and a can-do-spirit, to find solutions to them.
"I strongly believe that change is possible, when you put your mind to it. I started thinking about what to do to change the equation to something else: urgency + optimism = action."
This marks him out from Prince Charles, who favors carbon pricing as a solution to tackle climate change, and Prince Harry, who has worked with companies like Google on using consumer choice to try to create the impetus for a greener economy.
William will take Earthshot to his younger brother's stomping ground in 2022 as, in its second year, the ceremony will take place in the U.S.
Taking on More Responsibility
William has also been taking on more responsibility in recent years and historian Robert Lacey went so far as to describe him as the new leader of the monarchy.
The author of biography Battle of Brothers wrote in a cover essay for People in September 2021: "The British throne has survived beheading, exile and enough scandal to stock entire libraries. Now a new leader—William, not Charles—is paving the way forward."
He added: "Following the April death of Grandpa [Prince] Philip, William has stepped up to become one of the top three family figures, adding the ginger of youth to royal strategy.
"It's a crucial inflection point—this heir-in-waiting is under pressure like none before in recent history."
Royal Family Conflict
The prince was said to have been a key player in discussions around whether Prince Andrew should be allowed to attend a June ceremony for knights of the Order of the Garter.
Andrew was accused of rape by Virginia Giuffre who filed a civil lawsuit in New York in 2021 in which she said she was forced to have sex with him while a 17-year-old sex trafficking victim. The duke settled out of court but did not admit liability and has denied ever meeting Giuffre—though he did eventually concede she was a Jeffrey Epstein victim.
The Duke of York ultimately pulled out after what the palace described as a "family decision" but a source close to Andrew said it was "a personal decision by the Duke."
It is just one of the family conflicts where William has reportedly played a key role in defining the strategy.
William has also been a key figure in the trans-Atlantic conflict with Prince Harry and Meghan Markle and there may be more flak to come in the Duke of Sussex's upcoming memoir.
William got off lightly compared to other royals during the Oprah Winfrey interview in March 2021, with his younger brother barely scratching the surface of their famous royal rift.
However, the prince put his head above the parapet days after Meghan told the world an unnamed royal had expressed concern their unborn child's skin might be too dark.
William told a Sky News journalist: "We are very much not a racist family."
He was the only royal to issue such a blunt denial as Charles stonewalled a question from a reporter.
Queen Elizabeth II hinted the royals had a different perspective when, in a formal statement from Buckingham Palace, she said "some recollections may vary," though she did not specify which ones.
Challenges Post-Oprah
The move was a bold one but there are signs it may have put William under the microscope on race.
The prince was accused of racism after a November 2021 speech at the Tusk Conservation Awards in which he said: "The increasing pressure on Africa's wildlife and wild spaces as a result of human population presents a huge challenge for conservationists, as it does the world over."
Movie executive Franklin Leonard, founder of the Black List, was among those to criticize the remark. He wrote on Twitter: "'There are too many Africans' is quite the position."
William and Kate Middleton also had a difficult tour of the Caribbean in March which included a series of PR missteps and a lively debate about removing the queen as head of state in Jamaica.
The duke may face more challenges in the years to come.
Homelessness and a Tribute to Diana
His own efforts to mark his 40th have seen William return to a subject close to his mother's heart—homelessness.
In an article for The Big Issue released on the eve of his birthday, he wrote: "I was 11 when I first visited a homeless shelter with my mother, who in her own inimitable style was determined to shine a light on an overlooked, misunderstood problem."
The magazine is famous in Britain for the lifeline it provides homeless people and those in poverty who are employed to sell copies in the street.
William did a stint selling it himself to promote the cause and in his article wrote: "In the years ahead, I hope to bring George, Charlotte and Louis to see the fantastic organisations doing inspiring work to support those most in need—just as my mother did for me.
"As she instinctively knew, and as I continue to try and highlight, the first step to fixing a problem is for everyone to see it for what it truly is."