Princes William and Harry Share 'Hilarious' Moment With Diana in Old Clip
A resurfaced clip that shows Prince William and Prince Harry sharing a "hilarious" moment with their mother, Princess Diana, has charmed the internet.
Lady Diana (@1ladyydianawales), an account dedicated to sharing old photos and videos of the late princess, posted the video to TikTok on April 2. It has amassed more than 2.5 million views and over 447,000 likes while giving viewers an intimate glimpse into life at Highgrove House—Prince Charles' family home.
In the clip, which was reportedly filmed in 1986, Diana attempts to stop William from running through one of the estate's gardens.
"When a soldier is slow to follow orders, his mother has her own tactics for bringing him into line," said the video's narrator in reference to the military uniforms Harry and William are wearing.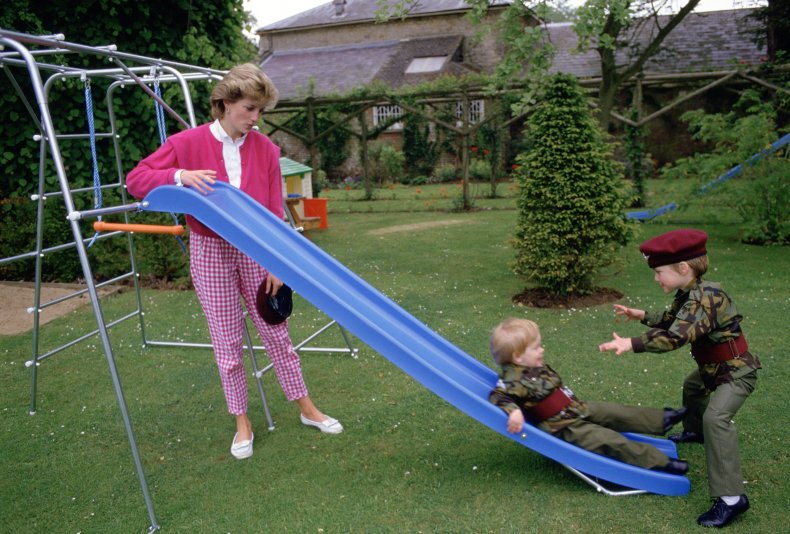 Diana, who is holding Harry, approaches William and says something to the effect of "let's go." However, William stands perfectly still and refuses to leave the garden.
"Alright, I guess Harry will have all the fun," Diana says as she turns and walks away from William, who immediately begins to chase after her.
"No," he shouts.
"It's alright," Diana says again as William continues to shout, "No, no, no, no!"
The clip ends with the three walking into Highgrove House together.
According to Oprah Daily, Prince Charles bought Highgrove House in 1980 "ahead of his marriage to Princess Diana." Shortly after their wedding in 1981, the couple moved into the home and raised their sons there, according to Harper's Bazaar.
Though the home itself—a three-story, nine-bedroom building—currently serves as the private residence of Charles and Camilla, Duchess of Cornwall, its royal gardens are open to tours, "including group garden tours and champagne and tea tours," said Country Living.
"All profits from the tasty produce on sale, garden tours and events are donated to the Prince of Wales's Charitable Fund, which supports mental and physical health activities, the arts and the environment," the magazine explained.
Viewers loved watching the moment between Diana and her sons, with many mothers saying that they use similar parenting tactics with their children.
"Hilarious," said one TikTok user.
"Love the 'no, it's alright'—mums across the ages and around the globe unite with these words and gestures!" commented littlebittybecc.
"Normal mom with normal kids. Gosh, I miss her," said Lynn.
"I love how Princess Diana handled William!" exclaimed wannabefamous.
Kelly Kelly added: "So we all use the same tactics I see."
"What a precious memory preserved," wrote irish0418.
Despite how charming commenters found the video to be, sympathies for the British royal family may be running thin at the moment. Last week, journalist Celia Walden told a British news organization that the U.S. is no longer "protective" of Harry and his wife Meghan Markle, Duchess of Sussex.
New polling also shows that the Duke and Duchess of Sussex have gained popularity among "ethnic minority" groups in the U.K. However, both have polled poorly among respondents in the "white ethnic group." Meanwhile, William's support among Gen-Z has taken a hit since Harry and Meghan's interview with Oprah Winfrey.