Princess Diana Depicted in BBC Drama About U.K.'s Most Notorious Pedophile
Princess Diana and Prince Charles will be depicted in a new BBC fictional drama about the U.K.'s most notorious pedophile.
Jimmy Savile—like Jeffrey Epstein—hid his predatory abuse behind a smoke screen of establishment contacts, wealth, and charity work.
The TV presenter's criminal conduct was only made public after his death, in 2011, and a Metropolitan Police investigation identified more than 500 victims.
During his life, he was knighted for his charity work and met Princess Diana and Prince Charles at Stoke Mandeville Hospital, in Buckinghamshire, in 1983.
The royal couple joined him in opening a new spinal injuries center, not realising at the time that the TV host and radio DJ was secretly targeting children at the hospital.
Now the visit will be recreated in BBC drama The Reckoning, starring Steve Coogan, due for release later in 2022.
A BBC spokesperson said in a statement released to Newsweek: "Prince Charles and Princess Diana do not have speaking roles but are seen briefly in a scene that reflects their presence at the official opening of the new Spinal Injuries Unit at Stoke Mandeville Hospital—where it later emerged that Savile had committed horrific abuse."
The show has already provoked controversy in Britain due to the fact Savile worked for the BBC and carried out abuse on the corporation's property, Metro reported.
News that Diana will feature led to U.K. tabloid The Sun and other newspapers suggesting the move may provoke Prince William, who recently clashed with the BBC over a separate issue relating to his mother.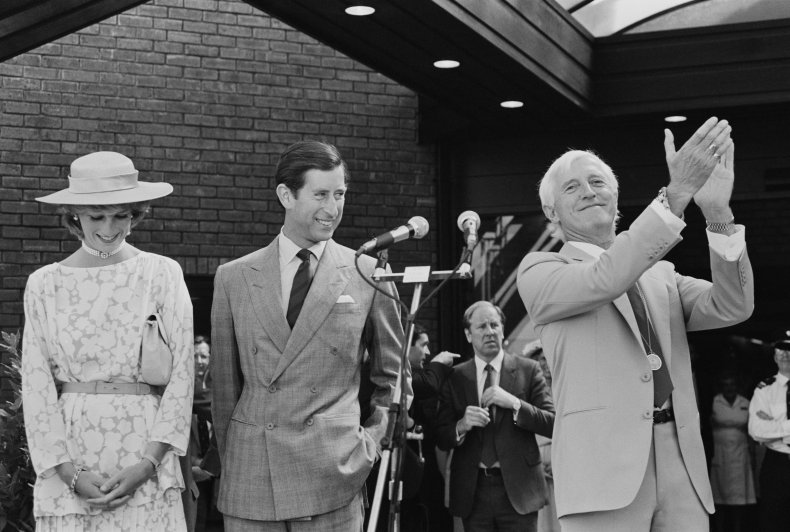 Martin Bashir secured a bombshell interview with Diana for the broadcaster's Panorama current affairs show in 1995 but was found to have used forged documents in his efforts to secure the tell-all interview.
After a damning inquiry, Prince William said: "It brings indescribable sadness to know that the BBC's failures contributed significantly to her fear, paranoia and isolation that I remember from those final years with her."
Penny Junor, author of The Duchess, told Newsweek she did not believe the new drama would cause a similar conflict between William and the BBC, nor offend Harry.
She said: "The fact of the matter is she did go to Stoke Mandeville. All sorts of people were friendly if not friends with Jimmy Savile because nobody knew what he was doing at the time.
"Its only with hindsight that we put our hands up in horror and say how could they possibly have shaken hands with him.
"But at the time nobody knew, everybody was taken in by him? I would be surprised if William or Harry had a problem with it as long as the film isn't suggesting she knew what was going on."
Ingrid Seward, author of Prince Philip Revealed, told Newsweek: "I wouldn't think they would say anything because there's so much else going on at the moment it might look a little bit 'look at me.'
"It's just not the moment. William is already having a go at the BBC about Martin Bashir which has much more far reaching consequences, so it would just weaken his case."