Princess Diana Came to Call Prince William 'The Man in My Life'—Book
Princess Diana came to rely heavily on Prince William in the final years of her life, taking to calling him "the man in my life," according to a new book.
In an excerpt from William at 40: The Making of a Modern Monarch published by the Daily Mail this week, royal author Robert Jobson has explored the relationship between the adolescent prince and his mother before her tragic death in 1997 when he was just 15.
Writing about William's leaving home at the age of 8 to begin boarding at Ludgrove School, Jobson writes that it was "a decision which left Diana in tears" but that the prince thrived there.
"His schoolwork was good, he excelled at sport and took part in several school plays," the book's excerpt said.
"For William, school was not only fun but a respite from his mother's increasing tendency to lean on him as an emotional crutch," the excerpt from Jobson's book said. "Later, even Diana privately admitted she went too far in burdening him with her problems."
Jobson reveals that Diana took to calling William "the man in my life" and that the prince was involved emotionally by his parents in their divorce.
When Prince Charles and Diana finally divorced in 1996, after being separated for four years, it was agreed that as part of the legal procedure the princess would relinquish her HRH (Her Royal Highness) title.
This meant that Diana would no longer hold her rank alongside the other female members of the royal family, instead being known as Diana, Princess of Wales until such a time as she chose to remarry.
Though reports vary as to whether Diana relinquished her HRH status willingly or not, Jobson writes that the decision had a profound effect on a teenage William.
"After their divorce was finalized, and William learned that his mother would be stripped of her royal title," he recounted. "He threw his arms around her and exclaimed: 'Don't worry, Mummy. I'll give it back to you one day, when I'm king.'"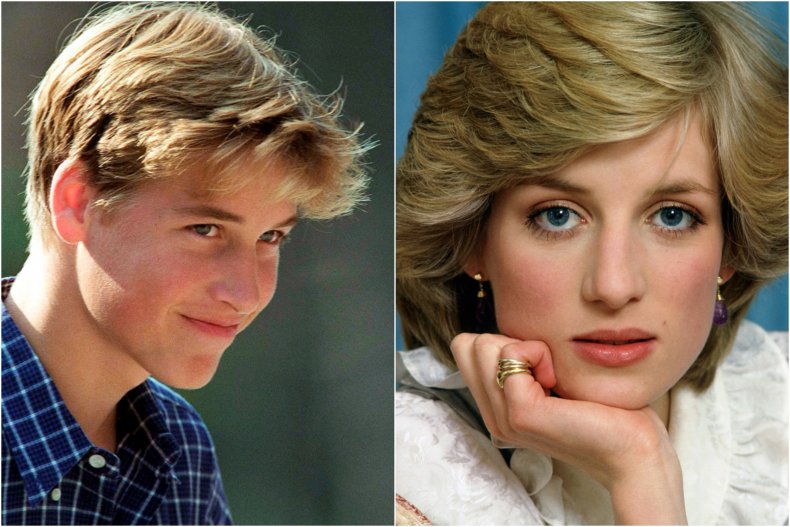 William's emotional involvement in his mother's personal and public pains have been further illustrated recently by author and editor Tina Brown. In an extract from her new book The Palace Papers: Inside the House of Windsor-The Truth and Turmoil, published online by Vanity Fair, Brown looks at how Diana's reliance on William shaped their relationship and that between William and his brother Prince Harry.
"Like many women whose relationships with their husbands have become dysfunctional," Brown writes, "Diana used her elder son as both a stand-in and a buffer." As a result, the prince became fiercely protective of his mother.
In an example of this protectiveness, Brown cited a lunch given at Kensington Palace by the princess for Daily Mirror editor Piers Morgan at which William was the only other guest. "He is clearly in the loop on most of her bizarre world and, in particular, the various men who come into it from time to time," Morgan wrote after the fact.
Discussing the wife of rugby player, Will Carling, who laid partial blame at the princess's door for the breakdown of their marriage after they had been romantically linked in the press, Diana told Morgan in front of William, "She's milking it for all she's worth, that woman...Honestly, I haven't seen Will since June '95."
To this, the prince told Morgan, "I keep a photo of Julia Carling on my dartboard at Eton."
"The exchange reveals much about the dynamic between mother and son," wrote Brown. "For Diana to include the future heir to the throne at a meeting with one of the royal family's most reckless tabloid tormentors and freely refer to a casual affair was, on its face, amazing.
"It suggests that her boundaries were dissolving and, with them, her judgment. Not only was William used to hearing about her lovers, as Morgan notes, but he'd also found a way to deal with it at school."
The scars of the painful last years of the princess's life are still evident through William's relationship with the media and his recent condemnation of the 1995 BBC Panorama interview given by his mother which, following an enquiry by Lord Dyson, he believes "was a major contribution to making my parents' relationship worse."
Speaking after the publication of Dyson's findings, William said:
"It is my view that the deceitful way the interview was obtained substantially influenced what my mother said. The interview was a major contribution to making my parents' relationship worse and has since hurt countless others. It brings indescribable sadness to know that the BBC's failures contributed significantly to her fear, paranoia and isolation that I remember from those final years with her."
Even though the prince's protectiveness of his mother is still evident 25 years after her death, Jobson reveals that William didn't always find this an easy mantle to bear.
"[William] sometimes felt uncomfortable at being appointed her champion," he wrote.
"One day, the Daily Mail writer Bel Mooney and her daughter Kitty were invited, along with others, to have dinner with him and his father," Jobson wrote. "Charles began to chat about his love of The Goons, the comedy radio series of his youth, and Bel burst into a chorus from the show called The Ying Tong Song. When Kitty turned to William and pointed out how embarrassing parents could be, his response was telling. 'Papa doesn't embarrass me — Mama does,' he said."
Though this embarrassment may well have been a natural occurrence in any adolescent teenage boy, both William and Harry's love for their mother has been regularly displayed since her death: from both boys organizing a special 10-year memorial concert, to both giving the middle name 'Diana' to their only daughters.